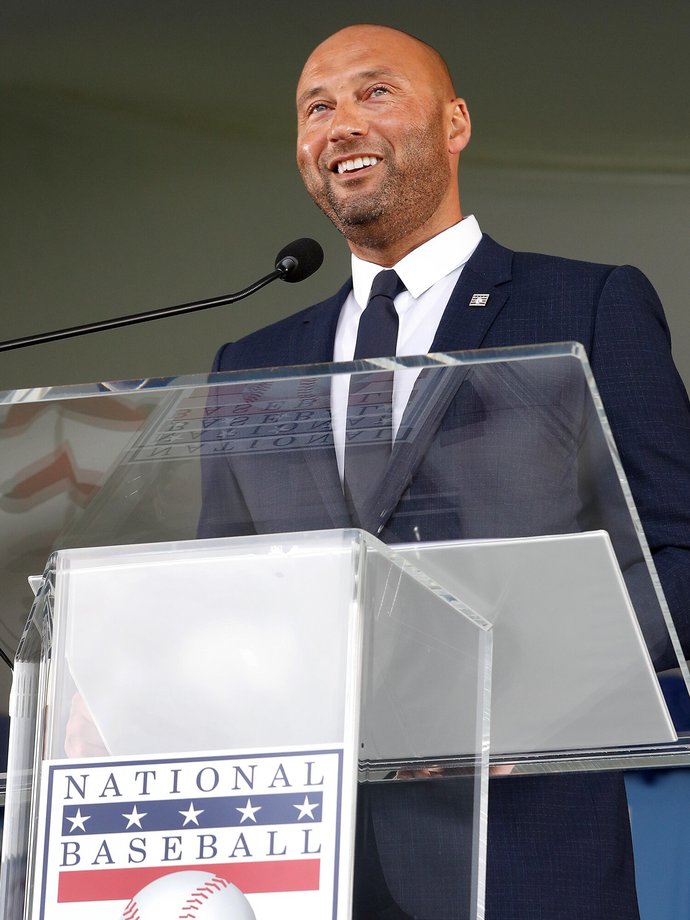 Derek Jeter (uniform #2) played Major League Baseball for 20 seasons (1995 to 2014)... all as the shortstop with the New York Yankees. Jeter played in 7 World Series, winning 5 of them. He was the 11th Yankees Captain from 2003 until his retirement.

I've had season tickets for the New York Yankees since 1998. I watched the majority of Jeter's career in person from the Right Field Bleachers, Section 37, Row GG, Seats 1 and 2 in the original Yankee Stadium until 2008, and from the Right Field Bleachers, Section 203, Row 16, Seats 22 and 23 in the new Yankee Stadium until his retirement. I was at every home playoff game and every home World Series game during this era.

I won't go into specific details, because Derk Jeter's career statistics speak for themselves... especially his playoff and World Series statistics:

https://www.baseball-reference.com/players/j/jeterde01.shtml

My favorite player growing up was Don Mattingly. However I'd be crazy if I didn't recognize how Derek Jeter ranks just behind the Baseball Immortals that played for the New York Yankees (Babe Ruth, Lou Gehrig, Joe DiMaggio, and Mickey Mantle), and ranks with the next tier of Yankees greats (Yogi Berra, Whitey Ford, and Mariano Rivera). Combining production and longevity, Derek Jeter is the best position player to wear the New York Yankees uniform in my lifetime.

So do you have any favorite Derek Jeter memories? Did you get to see him play in person? Please comment below! Also, as always GaG, enjoy!
Updates
Just after Halloween expiring, with New York City still reeling and raw from the September 11th attacks less than 2 months prior, Derek Jeter gives Yankee fans, the City, and maybe the entire country a moment of euphoria, becoming "Mr. November" when he hits a home run just minutes after midnight in the bottom of the 10th inning to win Game 4 of the 2001 World Series. It would be the only walk-off home run of Jeter's illustrious career.
https://youtu.be/86jDXpG
Updates
https://youtu.be/EtFiZuGL08g
https://youtu.be/86jDXpGtUoo
I realized after I posted both of these videos (one in the first update, and the other in the responses) that Derek Jeter is probably the only player in Major League Baseball history to hit a home run on the very first pitch and very last pitch of a World Series game.