I just got home from seeing Beauty and the Beast. To put it simply, it was amazing. I felt like I was reliving my childhood. Prepare for spoilers of course.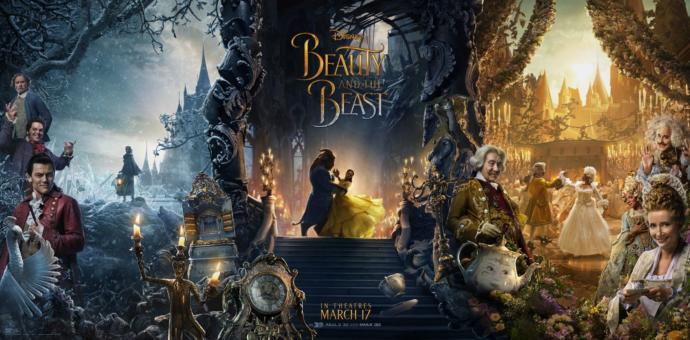 When I was a kid, Belle was my favorite princess. Like me, Belle likes to read. Also like me, she has brown hair. That was all I needed to like her. As I got older, Belle was tainted by idiots who dont know what Stockholm Syndrome is. If you want a fictional character that actually has Stockholm Syndrome, look up Harley Quinn. Joker pushed Harley out of a window, and she stayed with him because he made up by buying her flowers. Prince Adam never hurt Belle. Right here, Emma Watson makes a really good argument in Belle's defense.
Now that we have that out of the way, you can see that the producers still worked to make sure that Belle was more independent and make Gaston more of a villain. Belle even invents a washing machine so that she has more time to read and still get laundry done. Luke Evans does a good job of portraying a narcissistic asshole. He even looks exactly like the animated Gaston. Emma is basically the real life Belle, so of course she was great. Dan Stevens was excellent as the Beast/Prince Adam. I think they changed it just enough to make it modern without ruining the story. I was looking forward to watching Maleficent because Maleficent is a truly sadistic villain. She cursed a baby because she wasn't invited to a party. I don't even hate kids that much. I assumed Maleficent was going to be a story where we can get inside Maleficent's twisted mind. But the story was twisted to make it a story where the women save each other. I hated that so much. I was so glad that Disney went back to the original story for Cinderella. They knew it paid off for Cinderella so they did the same for Beauty and the Beast
Since the plot is so well known, I'll instead focus on the things that were changed. Belle is the inventor in the family and her father is an artist. A back story for how Belle's mom died is also added. Belle and Prince Adam go to Paris. They didn't stay for long because Belle wanted to go back. Belle even said, "lets go home." I love that part I think she loved him but didn't know it yet. And of course, Lefou is gay but I assumed he always was. Not only did Gaston try to lock Belle's father in a mental ward, he also tried to kill him. Technically it wasn't Belle that broke the curse. The last petal had fallen and it was too late for Belle to do anything. Belle was crying over Prince Adam's dead body, when the Enchantress walks in. Belle says that she loves Adam, and the Enchantress reverses the curse.
As for the parts that people thought were upsetting. No, I don't understand it. I'm talking about the ending fight where the wardrobe redressed those thugs in women's clothing and one of them actually acted like he liked it as if he was maybe enjoyed cross-dressing. And the ending dance where that guy goes up to LeFou and starts dancing with him like a couple. In real life Josh Gad has a wife and kids. I don't know about the other guy but honestly, I thought the cross-dressing moment was hilarious. I didn't really pay attention to that because hello! My eyes were concentrating on Belle & Adam dancing. And the father who was painting the scene. It was wonderful. And who really cares about those little parts? It did NOT take away from the movie. None whatsoever.
Beautifully done and I would love to go see it again. It was grand and marvelous. I loved it. Disney couldn't have done better. I think it might be better than the live action, Cinderella. But I'm biased because I like Belle. My favorite part has and always will be, the library scene. I still get goosebumps watching the scene even in the animated movie.
Aghhhh it's so beautiful. If I ever win the lottery, I'm recreating this library.