Most of us have had the experience of our first love, and then you had your first taste of heart break. Well, that was one week ago for me. At the age of 17 I haven't had as many experiences with love or breakups as most of you have so you're probably already thinking "What does a 17 year old kid know about love?", well I hope I know something above love after spending nearly 3 years, or 17% of my life with this one girl and after spending that much time and her dumping me I feel the heart break. I'm not here to smash my ex or to say what waste of time it was; I'm just going to explain some tips on how to cope with the heart break and how to move forward.
1. Moving forward
The reason why you feel so sad and so alone is because you just lost your best friend and you're probably thinking where do I go? What do I do? It's a simple answer, just keep going forward. No matter what you do or how many times you apologize for what you've done she may not want you back so why put your whole life on hold for her? And even if she takes you back things will never be the same as when you were dating. Since she may not take you back it's time to focus on yourself.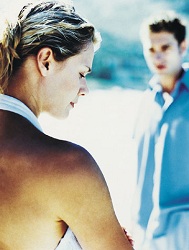 2. Focus on yourself; not on her.
By saying 'focus on yourself' I don't mean dedicate all your time to thinking about yourself and what great of a person you are. By focusing on yourself I mean that if you keep focusing on her and what she does you will never be able to mend your own heart and do things that make you happy. To focus on yourself do things that bring you joy. For example I haven't thought about my ex for the past hour and a half because I have been too focused on writing this article because it's what I enjoy to do. See what I mean? Find a new hobby, hang out with friends, do volunteer, there is a ton of stuff you can do to stay distracted from the pain and maybe help someone else along the way.
3. Recognize that you're a great guy
I know you think that you're a crappy guy and you should have treated her better but is there anything else you could have done differently? The answer is no, because how can you take things back, what's done is done. People keep telling me "Nick you're a great guy", but truth be told I don't feel like I great guy right now but as time goes on I know I will feel fine and the scars will disappear. By understanding that you're a great guy and how she lost out you can move on to the next step.
"

I haven't thought about my ex for the past hour and a half because I have been too focused on writing this article

"
4. Accept the Anger and Forgive
It's time to forgive not only her but also yourself. You're going through the stages of a break up and men always go through the anger stage the most severe, most men say "I can't forgive" or "I don't care" but you do care that's why your reading this article. You may be cursing her and feel like punching a wall but looking to the past in four months time you're going to be cursing yourself as you walk into Home Depot looking for drywall (just ask my brother) so don't even bother being angry, you only going to bruise your hand, wallet and delay your hearts healing time. You need to forgive yourself and forgive her if you're going to be able to move forward. You don't have to verbally apologize to your ex you can just forgive her in your heart along with forgiving yourself for whatever you thought you might have done.
5. Get back in the game
So what you got dumped, is that going to hold you back for the rest of you prime years? I hope not. I understand if you don't want to go on a date a day after you broke up with your girlfriend, (and if you do go on a date the day after you broke up you might have the answer to why she broke it off with you). Everything takes time, time to grow up and time to move on and when you think you're ready to get back into dating don't hesitate because there will be someone out there for you even better than the one who broke your heart, and who knows maybe that's the 'one' for you.
---