What's the first thing you think of when you find out a friend met someone online? What if they met someone through work? What about the bar scene?
How we choose to find someone, or where we are at the time when we meet someone has got its pros and cons. A lot of people complain that they can't meet someone the conventional, natural way – which would be in person and probably by chance. When there are so many other ways to connect, you simply have to find out what's right for you, and what kind of person you might attract.
These are my observations only, and I don't speak for anyone else. I'm usually a fair-minded person, so just know that the pros and cons I see for all methods are because I know that people can find love and blow an opportunity all because of circumstance. The perception that follows each method are just my opinion.
Meeting in person… by chance
By and large, the hardest way to find someone. Do people really hook up from squeezing lemons in grocery stores? This method usually relies on perfect timing and no amount of planning can see it coming. You could be sitting in a restaurant with a table close by to someone and offer them a bite of your dessert (yes, this actually happened to me once). Seize your opportunity because no one will seize it for you when you're on your own out in the world. Go to more sporting events. Do volunteer work. Get involved with your community. Whatever it takes to get you out of the house and meeting people is the way to get this done.
Meeting online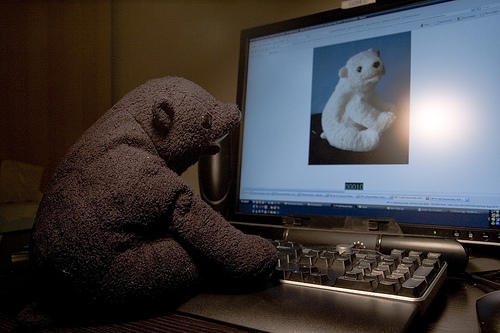 This is the easiest way to go "shopping" for what you want. The problem is weeding through profiles that are meant to catch your eye that aren't genuine. Ask the person why they're online. If it's because they have a job with long hours, guess what – admitting this means you won't see them much either. If they are too shy, you probably will have a barrier to break down. Also, the stigma attached to dating sites, even though most people have or are using them is that you have a dependency online and the intent is for a relationship which seems pushy once you meet. Try using it as a tool for friendship, this way you can establish some bond together that has nothing to do with being online. Telling friends, "We were hiking every Saturday, and then finally she agreed to go to dinner with me," might quash that online-dating stigma.
Meeting at work
Unless your employer has strict guidelines about dating your co-workers, then meeting someone at work is a great way to connect with someone who you already have something in common with. This is a perfect opportunity to offer to help someone with tasks, ask them to help you, and be there for each other when it comes to references. You also see each other often which is a great excuse to talk to them. The drawback of course is when things might not work out, and the awkward feeling of continuing a good working relationship. Don't jump in to things. Your workplace is a great opportunity to sort of "date" before you even date so you do get to know if it's worth it.
Meeting through friends
This is very good and very bad. Your social scene is already formed with an opportunity to be hooked up by friends, people who should care enough to see you with the right person. Often times, friends just don't want to see you lonely, so though their intentions might be good, finding someone good for you doesn't always happen. You already can meet the person with friends, rather than the terrifying "first date" where you can be comfortable with people you already know and like. You also get a chance to "know" the person before knowing them. Collecting information from your friends makes it easy to tell if you think the person will even be right for you. But always show some respect because if this person doesn't work out – remember they were someone's friend—the person who thought you might like meeting them, and you will have to choose your words carefully if you didn't find them appealing. Also, if a breakup happens, will you be able to deal with a possible division within your friendships?
Meeting through family
Great news…Your family will automatically be approving if your mom knows that her friend's daughter is looking for someone. Or maybe your dad took some liking for a guy he knows at the golf club who he thinks would be good for his daughter. These are almost noble-like set-ups because for most, who knows you better than your parents? They've heard your woes and cries at what didn't work out in your past dating experiences. So before you scoff at the possibility that your parents will have found someone totally sexually unappealing for you, and only someone they might have thought was good to have for an in-law, consider that they've gotten to know your type and know that they just want to see you happy. A parent who tries setting you up with someone who is just terrible for you really isn't the goal. Downfall: girls, your father truly is looking for someone to keep his meathooks off of you and it shows.
The bar scene
This is just my opinion, but I think this is a terrible way to meet someone for anything long term. Many people tend to be plastic at bars. They get dressed up and act in a way they wouldn't outside the bar. You're getting a version of someone who is not going to be the person you will eventually know. Also, many people go to bars to spend time with friends, and don't take kindly to be interrupted. As for me, the type of woman I am, the leering and expectations that we're there to hook up are off-putting since I only had gone to bars to enjoy live music or be with friends. As for hooking up, the only good thing about the bar scene is that you have loads of selection, and often times casual sex can be a probability. But do you want a relationship to form from casual sex? Also, knowing that someone is carousing at bar is sometimes an indicator that they've been there before. Alcohol is usually the crutch, and to me that's not a genuine way to start off. The bar might be a better choice if you see what you like, but end it there and offer to see them outside the bar the next day for dinner so that you can eliminate the fussy bar scene altogether and get to know the person in a natural setting.
Meeting through your religious group
For those who are religious, this might just sound like the best way to resolve any conflict between you and your love's possible contrast in beliefs. You see each other probably once a week, and you both know where you stand when it comes to your faith. Easy connection for religious compatibility, yes, but what if religion is all you have? Ask yourself if the main goal in finding a partner is in fact your connection to faith because when the chips fall, faith will be what you both turn to in hopes to make it work. If there is no other compatibility, will you feel your higher power is disapproving? Also, many religious groups are intertwined with family, community, and gossip. Much of your being together will come with expectations that others have on you. One wrong move and suddenly everyone knows about it.
If I am missing examples, please feel free to add them. I see a lot of people on Girls Ask Guys trying hard to meet someone and don't even realize how easy some of these methods really are. Know where your comfort zone is, and grab a hold of the opportunity when it strikes.