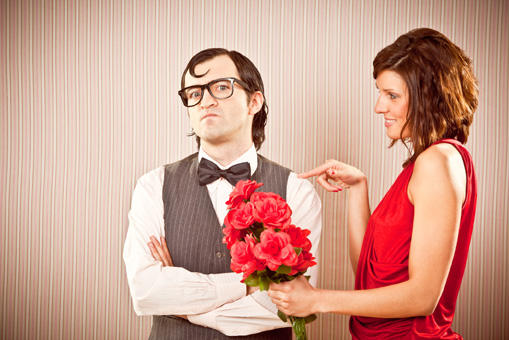 5 reasons why women should ask men out more often and an explanation of the current situation when asking someone on a date
In the past it has been basically required of men to ask women out, and even into this day and age where things are changing this is a fact that really hasn't changed that much. A lot of women question whether or not guys like when they are asked out by girls, other women dont really care either way and are perfectly fine with guys approaching them, and still others claim to have approached men before. Whatever the case may be though, women asking men out is still a rather new idea that is almost more of a theory then an actual proven concept since it happens so rarely.
During my high school years I was a typical shy, awkward guy who was so scared of girls I couldnt even talk to them. I sat at my desk and dreamed of girls coming and asking me on dates, I looked around and saw dozens of girls with better social skills then mine, and hoped that they would come ask me out since they were clearly more capable of doing it then I was. I would look approach girls and stutter, sweat, and just get really hyped about it. Telling myself it was stupid to get worked up over, and having friends back me up still had no effect and it quickly became clear after a botched attempt to ask a girl out, that I wasn't capable of doing it at the time. So I just gave up all together, after a couple failures at getting girls I determined that the pressure on me to be confident in myself, to present myself well, and to in a sense convince the girls why she should go on a date with me, was too much and I just couldnt do it. I went through the remainder of high school, and the first 2 years of college waiting for women to ask me out, I would see a girl I liked and look at her, try to get her to notice me, I would "bump" into her at random places trying to get her to talk to me more, with the ultimate hope that she would ask me out.
It wasn't until I was in my second year of college that I was sitting down with a really good friend and describing my struggles with being too shy to ask girls out. He told me 2 things which really changed the way I looked at the whole situation of dating. The first thing he told me was "You are taking a girl's approach to relationships", which I realized, after some thought, was completely true. Most girls in this day and age focus more on getting guys to notice them, rather then asking the guy out, while the approach most guys take is to initiate the conversation with the girl, ask her out, etc.
Which brings me to the 2nd thing my friend told me, which was that "Girls just dont ask guys out". I thought about it, and at least in my life this principle has held true. I have never been asked out by a girl, and none of my friends have been either. I have done polls online and reached a conclusion that most guys are never asked out by girls, or only asked out by girls less then a couple times. As frowned upon as gender stereotyping is in this time period, it seems stereotyping when it comes to relationships is fairly justified due to the massive amount of truth the stereotype supports. When most high school and college aged guys have never been asked out by a girl that really does say something.
Every once in a while I meet girls that claim they have asked guys out, and I know those women are out there, but for every woman like that there are at least 5 times as many women who want the man to ask. This can be for a variety of reasons, whether they are very traditional, or shy, or what have you, but the fact is, some women would rather pass up the opportunity to date a guy, then ask him out. This was demonstrated in my senior year of high school, when a girl really wanted to go to prom with me. She talked to me a lot, and I considered asking her, but I was just too nervous that she would say no so I went with a friend instead. A couple months afterwards I found out this girl really wanted to go to prom with me, but rather then asking me herself, or even just telling me upfront, she chose not to go to prom at all.
This is the attitude many women take, and a lot of other women have an attitude that "If this guy doesn't ask me out, another one probably will", which also has an element of truth to it. As little as some guys have been asked out by women, most women have been asked out at least once, although some many more times. This means that if that one guy they like never asks them out, there could be a couple other guys to choose from that ask her out at some point or another. Of course this doesn't apply to all women, only some, but it is an ideology that exists because of the before mentioned gender stereotypes.
Guys are expected to ask girls out, while girls are expected to get the guys attention. Since the guys are asking girls out, you have many guys asking out the girls who are best at getting their attention, so the girls that are very attractive, or really awesome people have multiple guys interested in them, while girls who aren't nearly as pretty, or outgoing, or approachable have far less guys approaching them. This doesn't mean those girls are worse then the other girls, it just means they aren't as good at getting the attention of guys, perhaps because they should be asking them out instead.
Meanwhile not all guys ask girls out, I myself am an example of a guy who was too scared to do it for most of my life. I didn't have good social skills, I was shy, and horribly inexperienced. I talked to some girls who were really outgoing, and had 3 or 4 boyfriends. I wondered why they wouldn't ask guys out, why girls like that wouldn't approach guys like me(opposites attract right?). I didn't have any experience dating, I was shy, and socially inept, so it would only make sense that the person who was more experienced, more outgoing, and friendly, and more confident would do the approaching, intitiating, and asking out, right? Apparently not, in sophomore year of college I met one such girl. She was very attractive, and through facebook stalking her, I found out she had 2 previous boyfriends, she was more outgoing then me, and friendlier. We talked a lot, and after a while I got the impression that she liked me. I thought about asking her out, but I was so scared, and I had no idea what to do, it had been years since I had tried asking a girl out, and I had never successfully done so anyway so I wasn't sure what to do, so I didn't ask her out. Our relationship as aquaintences was very interesting. Some weeks we talked a lot, others not at all. We lost touch a couple times, and reconnected (usually because of her), but I was still to scared to ask her out. A couple times it seemed like I lost my chances with her, then finally my friends basically set up the date for me, and she agreed, and we started going out.
After a couple months of dating I asked her why on earth she didn't ask me out, and she told me "Because your the guy, you are supposed to do that". I thought about that statement for a moment. What made me qualified to be the person doing the asking then? Was it my lack of social skills? Or my inexperience with dating? Or how about my poor confidence around women? It was actually none of those, it was just my gender that made me the person doing the asking. Even though she was by all means more qualified in the relationship and social category then I was, I was the one expected to make the first move; because of my gender. I have seen tons of arguments against this, some women claim "Women are more fragile then men" or "Men can handle rejection better" and other generalized claims like that, but I honestly feel that it really depends on the person. I know for a fact some women were more confident in themselves then I was in high school. I know if I got broken up with by a girlfriend in high school I would have cried like a baby for a week or more, whereas other girls in high school would break up with a guy and be over it in a day or two.
Some men get just as emotionally distraught as women with relationships, and likewise some women are not very emotional at all with relationships, its all just generalizations. Now I am trying to encourage women to see past gender stereotypes and see the positives of asking guys out, because right now most women I know are against the idea. Most of them claim its shyness, or being scared, or wanting to honor tradition, but let me ask you this. If a guy is too shy to ask a girl out, and girls dont ask guys out then will they ever be in a relationship?(Unless you have awesome friends like mine) No. If no one does the asking then the relationship won't happen, the guy has barely any chance of being asked since girls seldom ask men out. That's just the way it works, so for shy guys, its either you stop being so shy and get over it, or you stay single. For outgoing women how can you claim to be shy in those situations when you really are very friendly, outgoing, etc.
There are guys out there forcing themselves to be less shy to ask girls out, but you have the natural gift of talking and communicating, and you are holding off? The responses I get to this are largely rejection focused and being scared of it, and the general consensus seems to be that women think its better for men to be rejected then women(which is based off of generalizations, that I have already addressed). If you are genuinely quiet or shy then you have a better excuse not to ask guys out, but even then I think you should stretch yourself to see where guys come from, and the perspective of having to ask someone out. Its not as easy as it sounds at all, having to try to sell yourself to another person and convince them why they should date you, but it obviously can pay off well. To encourage this, and show girls that it really is okay for them to ask guys out, I have a list of 5 reasons why girls should ask guys out more.
1. Guys actually don't mind girls asking them out
Some women have this idea that guys think its weird when girls ask them out, or that guys dont want girls asking them out. I am sure this is true for a small percentage of guys, but most guys I know would love if a nice, confident, self respecting girl asked them out. That would show a lot of confidence(a trait a lot of guys like), and it would make our lives a million times easier by serving as a refreshing change to daily life. Some guys I know have asked out 10 or more girls(either casually or on serious dates) which can get a little tiring, if one girl approaches you and breaks that up then it just seems so much better.
2. Girls who don't ask, might never get the guy
As I found out a lot in high school, if you dont ask someone you like out, chances are you might never go out with them. As a girl it is more likely then as a guy, but if you dont blatantly get his attention or aren't already friends with him, then he might never notice you. There could be 400 girls in your school, if you dont talk to him much and you can't get his attention what would make him want to date you? I can tell you what would definitely get his attention though, asking him out. Instead of just giving up on that guy, why not ask him out? That would certainly get him to notice you, which brings me to my next point...
3. If he rejects you, chances are he won't judge you much
If you confidently go up to him and ask him on a date, and politely thank him if he says no, I guarentee at the very least he will be impressed by your confidence and your abilitiy to approach a guy and ask him out. With guys its expected to ask a girl out confidently, so if you dont you are seen as a loser, but for girls it isn't expected, which means you have more to gain. If he says no then no big deal, he said no, but he will probably admire your confidence for going up to a guy and asking him out, since that is still very rare.
4. You are missing out on great guys by waiting for guys to come to you
Just think of all the great guys out there who are too shy to talk to girls, to shy to come up and initiate a conversation. I know I was one of those guys for the longest time, and I not trying to brag, but I can at least claim I am a nice guy, I am respectful of women, and I am easy going. A lot of women like traits such as these, but they would have never known I had these traits to begin with because I never approached them, and they never really thought of me. A lot of women get frustrated with guys who are obnouxious, uncaring, or downright disrespectful to them, and while all types of guys can be good, or bad, the most confident guys also oftentimes turn out to be the most cocky, self centered, and oblivious guys out there. Obviously if you are very confident and you think you are the greatest person on this earth, then you will be more inclined to ask women out, since you dont see why they shouldn't date you, in doing this though some women might take the bait and think he really is that great. After dating him for a while though, the women might then realize that this guy is really just a tool who is self centered and doesn't care about her. This isn't describing all shy guys, but a lot of them also tend to be more humble then their confident counterparts, and are therefore more caring of their girlfriends, unfortunately girls never realize this because shy guys dont ask them out as much, if at all. If you are tired of dating tools but can't figure out why you keep dating them, think to gender stereotypes and see if that could be the problem. Maybe cocky self centered guys are more likely to ask out girls, so you keep seeing those types hanging around, whereas the nice guys dont ask as many girls out so you dont get the opportunity to date them, unless you ask them out yourself.
5. Its just a good thing to do in this day and age
Honestly why should your gender determine how you act in dating settings? In recent years there have been movements to promote gender equality throughout America. To serve in the military your gender doesn't matter anymore, why should it matter when asking people out? The stereotype of "women staying home and taking care of the kids" has been gradually replaced with the idea of a working woman who make money for the family as well, if this idea is so supported, then shouldn't gender roles in relationships be reevaluated as well? Why should a girl not ask out a guy just because of her gender? If she is more outgoing, friendly, and open then the guy, then there is no reason why she shouldn't make the first move, she is fully capable of doing so, and hopefully after reading this, if you are a girl, you feel more empowered to go out there and ask out guys, casting aside expectations of your based on your gender.