Now an unspoken agreement between men and women in dating is this:
1. Men entertains the girl
2. Girl enjoys man company and girl will want commitment
3. Girl will give out sex to acquire commitment.
For most guys women aren't that sexually attracted towards you and want you for what you can do for them. This is why so many women leave their man if he loses his job or stops entertaining her as frequent. The other guys who women are sexually attracted towards tend to be very specific, usually 6'0+ and good looking.These guys usually get most of the hookup/ONS sex from women in their prime years.
The problem with dating world today is too many guys are the equivalent of girls who give up sex date 1. This is to say they make themselves freely accessible (give out their resources) and thus the woman have no need to give you sex because she is getting what she wants. Now, when I speak of resources this can be anything from money, having a car and giving the girl you like a drop, helping her with notes or even companionship/attention. By giving her what she wants from you she has no need to give you sex because she got what she want.
Therefore here are some helpful ways you as men can get what you want.
1. Assume that all woman are replaceable
Women have a mindset in dating where they look at most men as disposable and easily replaced.This is why most of relationship are ended by women (e.g. 75-80% women initiate divorce) and women who very easily will drop her man for another male she deems better due to her hypergamous nature. We even see it in songs like Beyonce where she preaches that men are disposable and replaceable.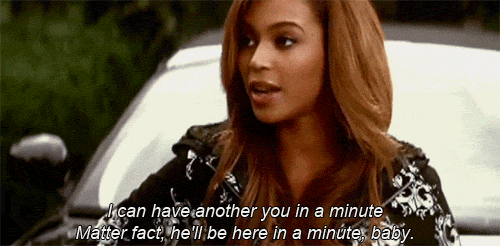 Many men however, are hopeless romantics who think the girl they like is the one, and end up getting totally used by her, attached to her or fixated over her when she is not interested. Men, must adopt a similar behavior to women. Treat all of them as replaceable and don't get too attach even if you are in a relationship with one.
So if a girl flakes on you, does silly mind games of hot/cold expect you to chase her while she wiggles her thumb on whether she wants you then you either drop her ass or put her in the back burner and go pursue other women. The tone of a relationship is set from day 1 of interaction (even before you become a couple), if you chase her then she will always have control and you will always be her little bitch.
2. Do not accept friendship if you want more and don't wait too long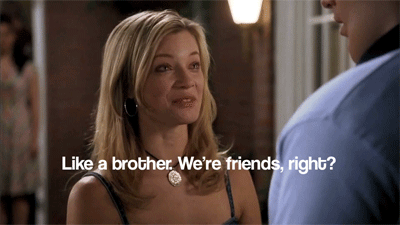 If a girl has not shown sexual interest in you within a month of knowing her chances are you are in the friend zone and she sees you as a friend only. The thing most guys do wrong with women is they drag their feet becoming texting buddies with a girl, hanging out with her and basically like i said giving the girl what she wants from him free of charge. The girl therefore has no need to give you sex because your giving her what she wants and she will be happy with this arrangement.
As a man you need to make sure both of you are on the same page from day 1. Show her you see her as a lover by being flirtatous, touching her sexually when the need arise and even being so bold as just coming out and asking her if she wants to get fucked. The quicker you have your answer on whether sexually interest is there or not the better you will be as a guy. Waiting around and twiddling your thumbs texting a girl and building rapport by hanging out with her a lot is stuff that only works in romantic comedies.
It's better you get the answer soon of whether you had a chance than find out later after wasting so much time/energy on a lost cause. And if she hits you with let's be friends then you do not need to accept that if you want more; she will never change her mind unless she is really desperate or your value (looks, money, status) goes up significantly.
3. Match her interest level and never chase
The problem with a lot of guys who fall head over heels with a girl is they chase too hard often showing more interest than she is towards him. This is a bad thing for several reasons.
1. Woman's hypergamous nature results in her wanting men better than her. A man who chases a girl is signalling to the woman on some level that she is more valuable/better than you and therefore more often than not you get sent to the friend-zone. The only instance where this work is if the girl is sure she wants you from the get go.
2. Poor allocation of resources/time. The amount of time you put into this girl, you could have been allocating to other girls who would have been more receptive towards you and thus increased your success.
3. Being too eager shows to the girl you don't got much else going on in your life, if you can allocate so much of your time towards her.
4. Do not throw any money her direction on dates and make her pay for her share.
A couple years back a woman was on a dating site and she actively went out on numerous dates with men but not for the purpose of finding love/companionship. She used these dates to get free food at expensive restaurants in her town and even said she knew which guys she was going to fuck from the very beginning. Again, this goes right back to giving out your resources freely and women not needing to reciprocate with sex.
As a man you should not be spending a dime on a chick you just met, and should be taking her on inexpensive dates where she is expected to pay. If the bitch doesn't like it then drop her ass and find another girl, and be thankful you just got rid of a gold digger. The only time you should ever be throwing money at a girl is when you've fucked her and you are confident both of you want to have a relationship with one another.
5. Always talk to other women and have a plan B,C,D....etc
Women are flakey and constantly talking to multiple niggas while you are courting her trying to win her over. Thus, as a man it's most effective not to place all your eggs in one basket and go after 1 girl no matter how special you think she is. Hell, you showing her you have other options beside her might even work in your favor because she sees she has competition, and that you don't need her per say. Women as a gender are sexually attracted to men who do not necessarily need them but want them in their lives.
In addition this mindset should be kept even when in a relationship with a girl. Now, i'm not saying to cheat but from time to time show her that you are still desirable and can get other women by flirting with other women in front of her so she doesn't take you for granted. You got to make her feel lucky that you choose her to be your girl not that she choose you because no one else wants you.