I am a PRO!!! I've been internet dating since the beginning, when Meg Ryan messaged Tom Hanks and it pinged "You've got Mail!"
Some of you probably don't remember this movie, but it was pretty cutting edge... in 1998. Back then some people actually still "dialed up" to access the world wide web. I was single at the time, prior to a failed marriage. Needless to say, I tried Match.com and back then it was free! Fast forward 20 years and here and there I have dabbled with online dating. I've been on POF where I met John, a man I dated for a year. I've met people off Facebook, like Jason and Richard and Bill, all of whom I only stayed with 3 months each, and I knew previously from high school. I'm currently on Bumble. But alas, I've had 20 solid years of internet dating experiences (excluding the 8 during which I was married). When I went back online post marriage A male friend of mine rehauled my profile. I needed a better photo. I needed to be more direct to better filter potential dates. I THOUGHT my profile was great but a guy I trusted and was not romantically interested in me, my best friend, was telling me it wasn't good. So in his honor, I am taking the time to let guys know what comes off as cringeworthy.
The shirtless Venus Urbino photo
For those of you guys not into art history, there is a famous painting by Titian, Venus of Urbino. She lounges in a chair and coquettishly stares at the viewer.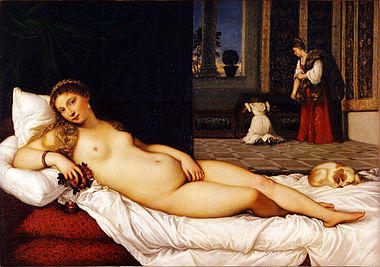 This was considered very risqué and seductive for the time. Some men must have remembered this from school because I have seen many a shirtless pic of a man in his bed on online dating profiles
WHY??? Is it normal for people to take half-naked selfies in bed... just for themselves? Maybe you think this makes women think of you in bed and therefore you think it makes them think of sleeping with you. Let me assure you it does not! It makes us wonder why you are alone taking selfies of yourself ALL THE TIME! Like is nowhere sacred from the camera's lens? Is this all you do in your spare time? Take selfies??? If you feel like your chest is your best feature and you need to showcase it, set up a "candid shot" at the volleyball tournament or show a pic of you paddle boarding on the bay or a trip to a random water park. You are a guy! glamour shots in repose simply don't translate!!!
Never been Married, No kids
I love how men write this well into their 50's as a badge of pride. I'm not totally against this phrase if one is 30 or younger. I'll even give leeway to those in their 30's who live in areas like New York City, where on average people are single until they are older. But if you are 40 and above this is a HUGE turn off for most psychologically healthy women. WHY didn't anyone want to marry you?? Do you have commitment issues? Are you impossible to please? Can you not keep a woman happy long enough for her to even consider having children with you? Maybe you are infertile??? If your answer is yes to any of the above, it doesn't make you a particularly good candidate to date, no offense. I mean, sure, noex-dramaa, but healthy people who have exes have healthy relationships with them. People who were never wanted by anyone ever or never wanted anyone themselves typically have greater psychosocial issues. Don't advertise this if you want to meet someone decent.
The 2nd amendment Photo
Internet dating has often gotten a bad rap, because often you are meeting strangers. I am safe and only meet in a public place for instance. I tell people where I am going. I guard my drink! I am responsible but I still want to meet people. I just take safe guards. So should you! So this photo makes no sense to me.
I get that you like to hunt! I eat meat. It's all cool. But seriously!!! Why are you posting photos of you, a stranger, with an arsenal of weapons?!? It's a hobby, but until we KNOW you, don't think it hasn't crossed our minds that not only do guns kill animals, they can be used against humans as well. This photo could scare away a potential victim, errr, I mean date, who would be very supportive of her mate hunting on the weekend for sport. But let's save the photos of your big gun for the NRA application! List it as a hobby, sure, but don't show us the weapon you plan on using us after the first date to kill us. It makes us nervous.
This site is GREAT!
So you finally start messaging. Great! And you tell her how much you LOVE this site. Which begs the question, why are you messaging her now? I'm all about positivity. Turn that frown upside down. But if you are thrilled being on line you probably aren't likely to get off of it, even when you meet a great gal and date her for a while. I'm not asking you to wear your heart on your sleeve for everyone to see, but tell a girl you want to meet someone and haven't yet. show a little vulnerability in your response. Let her know you are on line for the same reasons she is, whatever they are.
Knight Rider Photo
I'm glad you like your car. I like mine too! But I'm a soccer mom so my SUV probably isn't as cool as your Ferrari.
Yes, I enjoy being picked up in a cool car. But no, if you are a goon no matter if your car can send me back to 1955 and has a flux capacitor, I will not be interested in you if you show me a picture of it. In fact, showing me your cool car is a turn off. I am proud of my collection of ceramic dogs! some are worth thousands!!! But my online dating profile is not the place to show them to you. You can see them when I invite you into my home. I can see your car when you pull up to the restaurant. Let's save these reveals for the appropriate time and place. Otherwise I will think you are more interested in flash and speed then you are in human connection. A photo of your V8 will not entice me.
Honorable mentions;
A man who takes photo's of photos. If you can figure out how to digitize your photos bite the big one and go to the Genius Bar. It's not rocket science. Misogynistic photos. While your guy friends will love the pic of you flanked by cheerleaders, most women don't want to be reminded that professional cheerleaders are hotter then they are and this is your ideal. It doesn't make you look desirable, It makes you look shallow and insensitive. Photo's with no friends. If you have no friends this says volumes. If no one wants to be in a photo with you ever this says volumes. None of these volumes are good...
Have any thoughts on what makes a profile a dud? Share!
---