I know I'm basically ripping off @ChronicThinker at this point but I just want to add myTake on this... See what I...? Nevermind.
This is not to take the piss out of anyone, but I will be very happy if it does regardless.
So let's go into the wilderness and observe the life of a nice guy, or nice girl, because those exist too. So for the sake of simplicity we will call these stereotypes "Nice Kin".
How a member of the Nice Kin is born.
Nice Kin at the start are not necessarily the stereotypical loser. They can be athletic or even considered by some to be attractive, but the way that they officially become nice kin is that they have this idea. The idea that being nice is what makes you qualified for any lover you want, and that society is wrong and should adjust to their own standards of "chivalry" or "gratitude" and it may sound humble but it's borderline Narcissistic. Believing you are entitled to anything based on "being nice" is what turns you into "Nice Kin."
So I'm going to go in depth on the psyche of these stereotypes. What to watch out for, and how they are affected and who they affect, and what type of culture they are. Starting with describing...
The Nice Guy.
__________________________________________
A nice guy is usually a stereotypically unattractive (or at least not super attractive) straight male. Often embrace hipster or contemporary subcultures, and use them to define themselves. They have a facade of being gentle, polite, and understanding men who will treat their suitor right. In reality they are shallow, entitled, and immature man-children.
Many attributes of their character lead them to form into the nice guy they are perceived to be, and I shall list them down below.
__________________________________________
Immunity to irony:
These types of categories mainly consist of people not looking in the mirror. These nice guys always project their feeling outward and not inward, causing their delusion.
__________________________________________
Unrealistically high standards:
They usually worship the most beautiful or sexually stimulating woman, and usually go for the types of people who have a vision of a "league" where as Nice guys usually perceive that league as their downfall based on how attractive they are. They also tend to ignore the feelings of the less attractive women in their life and see dating these women as "settling" or "beneath what they deserve", even if they are unattractive themselves. It's the immunity to irony once again.
__________________________________________
White Knighting:
This leads up to defending women purely based on their desire for the woman they're defending to... Show gratitude in a way. Most of them purely want sexual favors and ultimately
__________________________________________
Obvious Facade:
Being "Nice" is their facade, they take basic human decency and act like it's their most defined character trait. Claiming that their "the nice guy that keeps getting left in the friend zone", acting like a victim, and that's he's just a calm, collective, and peaceful individual, when all he actually does is pretend to care about your feelings, making his personality rock bottom.
__________________________________________
Sex driven:
It all leads to them constantly mentioning that they're a virgin. Personally, I'm still a virgin so I can talk about why this should never be your motivation to be kind to people. They believe that being nice is like a good deed, in the sense that you're usually rewarded for it. And the reward some of the Nice Guys expect, is sex. This is weird considering the purpose of a good deed is to not have to expect a reward. An actual good person is supposed to do things for others not expecting a reward, not saying that you should let people walk all over you, but even if a reward IS merited, Sex SHOULD NOT be that reward.
__________________________________________
Love Driven: (this can also apply to both genders)
Now not all guys are driven by sex, but some genuinely love and care about you sometimes, but while this is true, they are also not capable of understanding YOUR feelings, and don't ask what you want. This meaning if you are not the one to be with them, something is wrong, and society is wrong, and being an asshole is their only way out of the "Friend-zone."
__________________________________________
He WILL try to ruin your relationship:
Nice guys are extremely protective and possessive. If you say one negative thing about your boyfriend, it'll be music to their ears. This is because it gives them a way to attempt to manipulate you into believing you should date them instead and that you're in an abusive relationship.
__________________________________________
Projection of self hatred: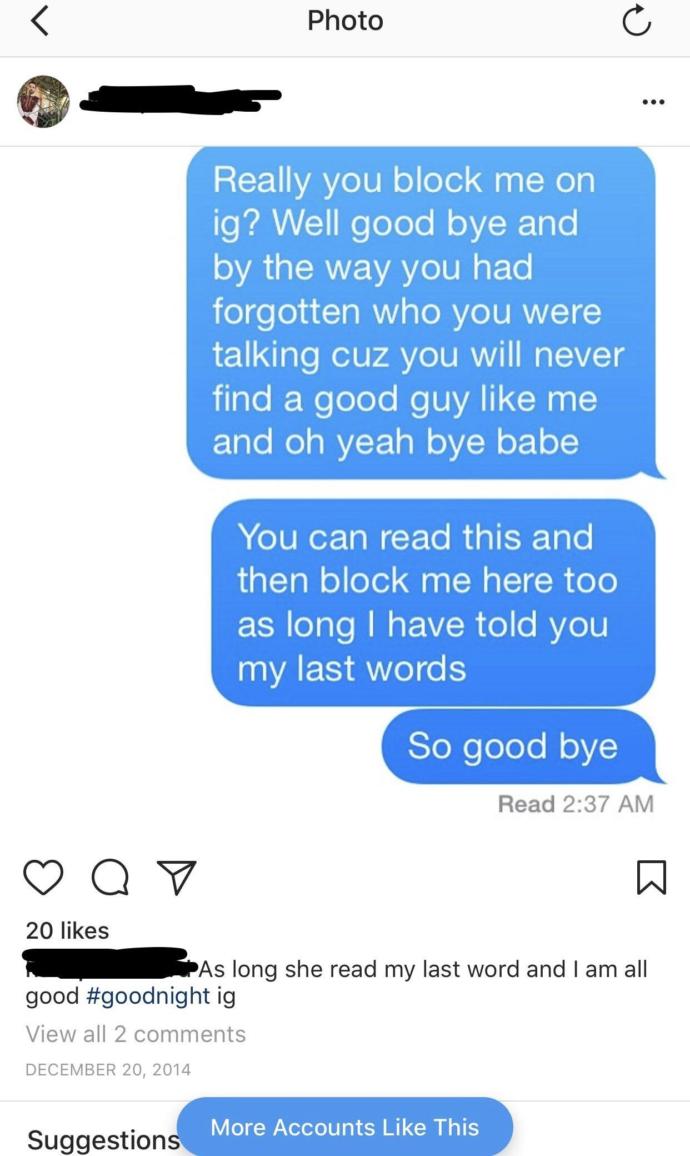 This is especially true when dealing with your significant other. A nice guy will feel crushed if you reject him but still consider him as a friend, and will definitely get mad at you calling you a slut, or claiming you lead him on, or many things a man with no mental stability would say. Be prepared to get insulted, if you believe he's nice when he claims to be nice... Watch out.
__________________________________________
Sex blaming:
Here is where all logic goes down the drain and now social issues revolve entirely around this one nice guy. If you begin dating a guy that is even remotely more attractive than him, that guy is now classified as "an asshole". He now thinks because he cannot get a girlfriend, it is because he's too nice. He now believes that girls only date assholes, and that if he becomes an asshole, he'll finally get the love he deserves ... Which is where the blatant misogyny begins.
The facade breaks: The final phase, the angry social media posts, the infinite anguish, blaming his misfortune on all women, the trucks of salt pouring and pouring everywhere as of result of the tragedy that he is stuck in "the friend zone." Claiming he's a nice guy and that the world is against him because he's too submissive, when in reality, his mask is finally off, and we get to see the real person underneath .
__________________________________________
But remember... There's a funny thing about nice guys. Because behind every nice man, there's a nice woman who has the potential to be twice as powerful. Which leads us to...
The Nice Girl.
The Nice Girl is stereotypically an unattractive straight girl, (or maybe she is attractive) Who has experienced a lot of relationships and are usually dumped relatively quick, or are too shy to ask their crushes out. They have a facade that their a sweet innocent girl with the cruel world against her, but in reality she is a shallow, judgmental, and hopeless romantic.
__________________________________________
Lack of support:
This might rarely apply, but the saying that girls have each other's back, might not be true with a nice girl. They may be very introverted and shy, and choose not to interact with others based objects prejudice and insecurities.
__________________________________________
Self pity:
A stigma girls can face sometimes is comparing themselves to others based on appearance or even how expressive they are as opposed to their female friends. Or the reverse thinking "why can't I get a boyfriend, I'm so nice! I don't understand."
__________________________________________
Obvious facade:
oh yeah, girls do it too, and even though it's less likely it's put on for sex based on biology, this girl will be a total Angel around you. And when she's around other people, she's completely vitriolic, pessimistic, and rude to others around her. She will be your best friend until the end, but will be PISSED if that's all she'll be after she's been nice to you, and finally gathers the courage to ask you out.
__________________________________________
A Hopeless Romantic:
She see's a cute guy, and is always nice to him. Especially if he's new to a school or a workspace. She'll introduce you to all of her friends, parade you around like you've been BFF's since you came in. And without a doubt. They will also ignore other men in their life who are actually very similar to nice guys, only they're ACTUALLY nice people who are just trying to help them, or even actual nice girls who will try to convince her it's not because nice guys don't exist, and that she can't have a "bad boy."
__________________________________________
Will try to ruin your relationship:
"Are you sure she's not cheating on you? I mean I would never cheat on you that's screwed up. I think she's cheating on you!" the whole song and dance of trying to place mistrust in your girlfriend so they can be yours. I once met a girl who begged this one boy to be her girlfriend, she cried, she claimed his girlfriend is a horrible person, that she doesn't really care about him, and put the whole victim sticker right on her chest. And I feel sorry for the guy because it worked, he broke up with his girlfriend, he dated this new girl, then she fucked him and left. Word of advice, never let feeling sorry for someone affect your judgment when it comes to that. Because she was not a victim in the slightest in that scenario.
__________________________________________
Sex Blaming:
If you date a girl that is even remotely more attractive than her, your girlfriend is now a slut, whore, snake, bitch, all of the demeaning terms that come with her being your girlfriend. They will then take to social media and say things like "just because I don't like twerking or dick riding means I'm not entitled to love, so that means I have to be a slut in order to get a man!" just pouring salt everywhere. Blaming guys from the fact that they do not want to date them is probably what's keeping them single.
The facade breaks... And they're back to square one of complaining about their loneliness.
__________________________________________
The Nonexistent Friend Zone.
I'm just going to break down why I believe the friend zone does not exist in the slightest.
The most important piece of evidence is that if you're pursuing someone and being their friend purely with the motivation to fuck/date them, you're no their friend, and frankly you'll be lucky to still be their friend if they find out.
You are not trapped with being friends with this person.
The person you want to date is most likely to NEVER change his/her mind.
If your crush calls you a friend, it doesn't mean that they don't have feeling for you, it's because you're not currently dating and it would be ridiculous to call you anything else at that moment.
You are not trapped with this person. Your decision to stay is purely based off of wanting to be with them, which is your own mistake.
__________________________________________
The war between Nice Kin and Narcissists.
Most people of the nice Kins opinions are left with less than dignified responses from people who are Narcissists.
An example would be if they pursue someone and the person rejects them in a Narcissistic way. Narcissists and Nice Kin are mortal enemies because they're both extremely idiotic and lack self awareness, but Narcissists don't help them understand their situation at all.
Like if a member of the Nice Kin said "Girls don't want to date me because I'm a nice guy" a Narcissist clashes with this and says "girls don't want to date you because you're ugly, gross, and short and we're not."
Or if a nice Girl were to say "Guys don't date me because I'm not a slut who likes to show skin and cleavage" a Narcissist would clash with that by saying "you're just jealous of pretty girls because you're a fat and ugly and we're not."
Narcissists will never help when it comes to this because someone else's problems usually have nothing to do with you, and the best way to deal with any situation of this category is to remain humble. It is sometimes even a catalyst for the nice kin's mindset.
__________________________________________
By the way if you're going to argue against my points, in order for me to take you seriously (in that you read my entire myTake,) the password is "Tomato" . If you don't end your point with the word "Tomato", you are not worth my time because you did not read my entire myTake.
__________________________________________
Wrap up.
Ultimately my point is that if you are like these people I just described, I have a message for you.
Just be yourself.
You don't have to let social psychology work into trying to find a girlfriend, if you want love, lower your expectations. Because at the end of the day, the perfect girl exists, but you haven't found her, women don't owe you anything based off of favors.
Men don't need you as a servant, and let's be honest, prince charming isn't going to come and rescue you from... not having a boyfriend.
Women and Men are not vending machines, in which you put "being nice" in the slots and expect love or sex to come out.
Being single is not the end of the world, and you should learn to be satisfied with being yourself, and stop posting memes about why you're single. Then proceed to stalk Instagram models minutes later.
Have a good day.