For me personally, my favorite dates and guys I dated were guys I met in real life. There are many things I learned about myself when I tried all these dating sites such as Tinder, EastMeetEast, Coffee meets Bagel, International Cupid, and other dating sites and i realized how important physical AND emotional chemistry was. Like actually really realized it.
1. Online Projects an Idea of Someone as well as Yourself
I've matched with guys I simply liked the idea of. Sure they were physically what I liked, and sure we hit it off. Problem is one or both sides of the interests are insecure and have the need to keep playing their best cards when we finally meet in real life. Conversations are stale during dates, and eventually we both realize we don't actually have any real chemistry, or it's only one sided. The fact that it is easier to like the idea of someone more online has lead me to encounter more desperate and mentally unstable people.
2. Communication Seems to be Inefficient
Rather ironic but, since online is full of strangers even if you've been "talking" for awhile there is always room for "miscommunication" or deliberate ignorance. It is easy to say one thing online to fish someone, but have completely different intentions. In real life, I briefly meet the guy, maybe I find him attractive, find his personality is one I click very well with, feeling is mutual, then BAM! Enough chemistry for an actual relationship. I'd say if I ever found a successful online relationship, it would be one that acted like how you would meet traditionally. Briefly start out as friends rather than rush in to get someone's pants off. And NEVER ignore the other's discomfort. If someone is looking for a hookup, say so.
3. Fetish Freaks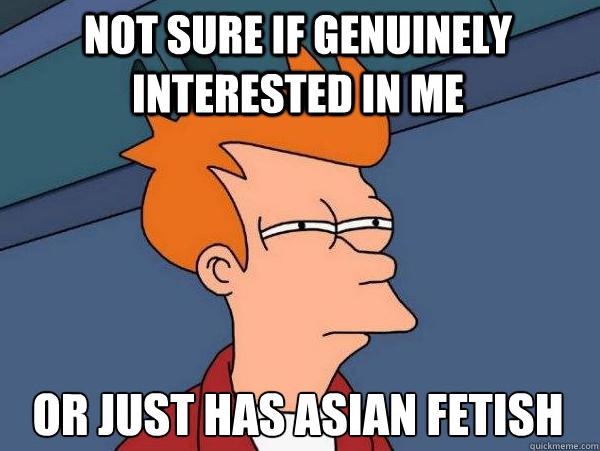 Not saying I don't encounter this in real life because I certainly do being Asian with the whole "Asian Mystique" trend going on, I am a magnet for creepy losers that no one wants to date. I don't get it nearly as bad as some of my friends since I am mixed, but it is still an absolute nuisance. For this reason I always preferred other mixed Asians, or very westernized Asians. It's one thing to have a foot fetish, or baby/daddy fetish, but to fetishize an entire race is truly dehumanizing whether you see it or not. Do not go off about how Asians only date whites, there are plenty of us that are disgusted with entitled attitudes of white men.
These are my reasons for choosing chance meetings over online dating. What's your story?