Would you ever date a albino person?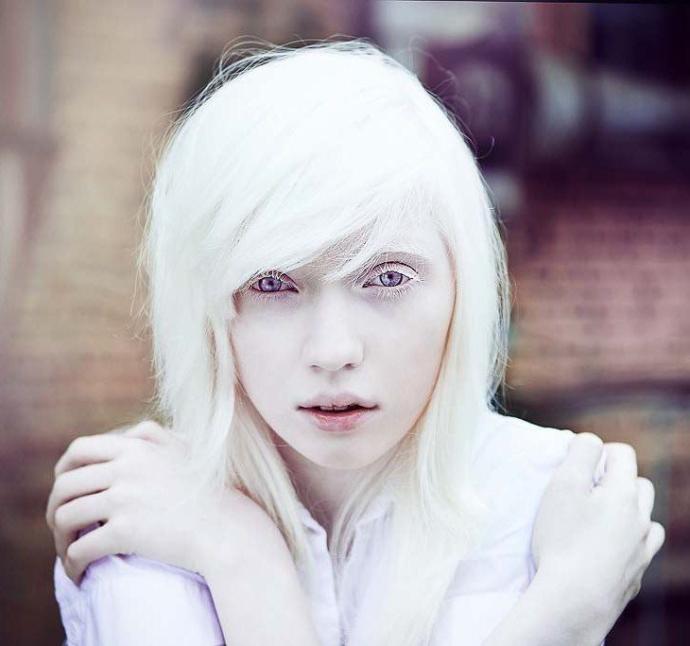 Updates:
---
Yes, assuming physical attraction (the provided picture is pretty attractive, especially the purple eyes, though the girl looks half frozen [not sure if I feel that's a good thing or not]).
I would be a bit unsure of planning certain activities which involved staying outside (would have to ask if they were viable), but on the whole would not have too many issues.

Yes, but not in Africa. They hunt albinos and murder people over there. There's this pervasive belief that their limbs have magic healing properties &... I have heard some shit.

I work with an albino person sometimes. She's actually fairly attractive. Although, like a lot of albinos, she has vision problems, and can't be outside very long.

But sure, I'd date one.

If I found them attractive and liked their personality, yes :)

Hell yeah, she looks really sexy.

Albino people are more prone to skin cancer from sunlight so I dont want my partner to die easy and leave me alone.

Well if they are pretty like the girl in the photo, i don´t know why i wouldn´t, it isn´t even that strange.

*looks up some pics* I think albino women look pretty when simply snow white. :) (Was the princess albino with a black wig? lol)

Albanian people are very cunning and manipulating

I would certainly date an albino. Really, appearance has little to do with why I choose to be with someone. It's about that "click" that you either get with someone or you don't. If an albino girl and I click, then what do I care about the color of her skin?

If she looked like that, hell yes !! :)

Yeah I don't think I'd have a problem with it

Yes i don't see it being a deal breaker.

I don't know if this a guy or a girl in the photo but I'm good either way

I don't know. Maybe. The one on the picture is pretty, although I thought albinos people have red eyes.
My preferences for physical appearance are odd, in the sense that I like the odd, lol. I find albinism to be quite attractive, right up there with facial scarring and inhumanely long nails. :3

So, yes, I would date an albino person. I HAVE, actually, gone on a date with an albino person, but as much as I appreciated his odd phenotype, we didn't click otherwise.

Why not? If I love him, yes!

Yes, I think they're very unique😊

No I wouldn't but I like dark haired olive skinned men, I don't even like blondes or red heads that are not albino white so they would be too light for my taste

Um, ya. Well it depends if I like them. I really care less about them being white.

If I was attracted to them with looks and personality yes. Being albino wouldn't be a deal breaker for me

I would no problem some look great. I personally really like light hair and pale skin so

I went on a couple dates with one. He just had an incredibly boring personality

Yes I would if we click, then why not...

No, I want my men tall tan fit and ready!

sure, nothing wrong with albino people at all

yes sure if he was a nice guy

I'm albino and the people saying how they wouldn't date one is very upsetting. Anyway i'd date an albino

Yes. I find them so stunning.
Click "Show More" for your mentions
Select as Most Helpful Opinion?
You cannot undo this action. The opinion owner is going to be notified and earn 7 XPER points.