1. We don't get any sleep
You are probably gonna say that no student ever gets any sleep. I can't speak for everyone, of course, but I don't know anyone besides my fellow to-be doctors that have a class on Monday at 6:30 am. As a result, we spend a lot of our time in school catching up. Here are some examples from my school: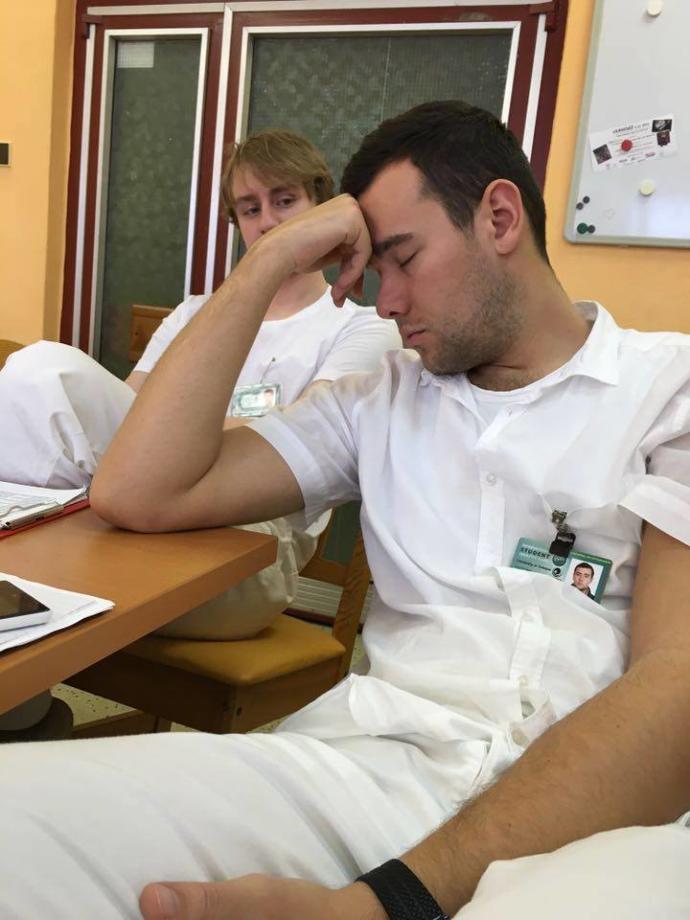 Yup, that last one is me.
2. We have no idea what we're doing
When taking your blood, measuring your blood pressure or doing some other simple task they let the students do (in my country at least), we don't really know what we're doing. It's kind of an estimated guess, really, when looking for a vein or listening to the sound of your breathing in the stethoscope. Thankfully, the doctors who already have their degrees are always there to check on us.
3. We are all hypochondriacs
Learning about viruses, genetic disorders and diseases, you get a bit paranoid. You're feeling really calm, just casually studying a bit, and suddenly, you're convinced that you're dying of 12 diseases at the same time. It's kind of like trying to check your symptoms on WebMD, except you can't just close your laptop when you get paranoid. Also, trying to self diagnose is a thing. And it fails 100% of the time, it takes so long to get the degree for a reason.
4. We live off of coffee
This one is definitely true for more than just med students. There were days I haven't consumed anything but coffee, cigarettes and antidepressants. Not surprisingly, it gets stressful when you need to know 1500 pages by heart for a single exam. And when things get a little better, and we actually have time to eat, ramen or frozen pizza are the key ingredients to any student's food pyramid.
*yes, I know coffe and cigarrettes and instant noodles are bad for my health, and that as a future doctor I shouldn't be doing those things, I've heard a thousand times, thank you*
5. We are still just like you (kind of)
Even though we have a shit ton of stuff to read up on, we don't have time to eat and sleep, and we complain how impossible everything is, we still procrastinate like crazy. When I watch House M.D. it's basically studying right? I mean differential diagnoses and stuff.. Also, there are very few of us (at least in my circle of friends) that would dare to miss a party. I mean sure, pathological physiology is important but it's ladies night at the bar just around the corner and there's shots for $1!!
Take this myTake with a sense of humor please. I wrote this based on my experiences in my first 2 years of studying medicine, so not everything I said will apply to everyone everywhere. As always, I'm just expressing my opinion on the matter :)