I think a lot of people will agree with me, especially students when I say that, The school system is inclined towards one type of student.
What type?
The type that can sit still and listen to lessons, do all of their homework and obediently throw everything they've memorized back up for their teachers in a test. The system only pretends to cater for students who have different learning styles and who can't study a meaningless set of facts printed on black and white paper – not to mention trying to listen to a teacher drone on for hours. This often leaves students disengaged and thus at a disadvantage because their grades incorrectly portray their "intelligence". Worse, it affects the psychological well-being of the students for the rest of their lives.
The whole education system looks to manufacture one type of student and doesn't take into consideration the fact that students are individuals, each with their own set of strengths.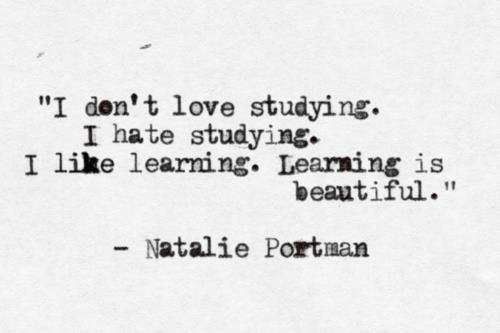 Schools need to stop trying to manufacturing doctors, engineers and accountants and lawyers. More than foot specialists and chartered accountants and corporate litigators, the world needs global thinkers and problem solvers.
Schools train students to look for the generic "right" answers to problems. They're so focused on ticking off a checklist drawn from the curriculum guideline, that they seem to forget that the world doesn't work to a syllabus.
The best world-changing ideas come from people who can think independently and innovatively, but schools don't simply don't encourage originality in any real way. An education should nurture students' own passions and interests, and to help us to develop and test great ideas of our own, not just to learn about Newton's or Shakespeare's, for God's sake. I'm sick of learning about Newton!
The teacher's main objective seems to be to cover everything that will be in the final exit exam and not to deviate from the curriculum. But how does this fit with what students want, and with what the world wants? Students should be free to explore and ask questions, not just be given pre-moulded answers. Have I forgotten to mention that most of these are hardly used in the real world!!! I don't see my uncles or dad or even my mother working on a trigonometric equation or even an integral problem before they decide to watch TV or cook food. I don't see anyone working on quadratic equations before leaving the house to know how much time they'll take to reach their destination! Have you? I don't think so.
The education system teaches subject-confined skills. An experiment write-up for Biology is Biology specific and the skill cannot be transferred to Physical Science because the process of writing a hypothesis or setting out a table is completely different. A Business Economics essay has its own format and is written in bullet points, a practice which is unforgivable in English.
All of this teaches students to put things in a box and file things separately in their mental library. LIFE DOESN'T WORK IN BOXES!
We focus on the nitty-gritties and the details when we should be broadening our horizons and learning how something like a war in Syria doesn't only effect Syrians but South Africans too. Nothing in life is ever isolated like the sections in a Geography exam. I was so glad when I didn't have to study Geography anymore!
Teachers are given too much power over students. It's a tyranny where if the teacher doesn't like you, your marks will be affected. And hey, this has happened to me. So don't tell me that this isn't the case.They can be extremely biased towards students because they have a set opinion of certain kids. It seems that you create a reputation at school early on, and that reputation follows you for the rest of your time at school.
Teachers seem to be oblivious as to the influence they have over your self-confidence and thus your future. (Or maybe they know, but don't care.) It's like when your Grade 10 English teacher tells you that your creative writing skills are bad and from then on, you have a constant mental block where it comes to anything creative or any task that has to be written in paragraphs. They can make or break a student, and the problem is that teachers 'know better', so students believe them. Teachers shouldn't be allowed to grade and criticize "intelligence" or "creativity" – they simply don't know enough. Rather, teachers should try to help develop those skills constructively.
And there are many other problems with the 'education' system.
It's unfair that boys should suffer in classrooms because teachers tend to prefer the girls because they "work harder" and are capable of "studying" and "behaving" and have "neat handwriting". And it's just as unfair to be reinforcing the fact that girls are 'better behaved' because this makes them into stereotypical 'meek and mild' women instead of independent go-getters. Like seriously?! WTH?!
I remember the last day of our schools. Everyone was promising to stay in touch and I was excited too... Excited to finish school officially and forever...
[I was going through a rough patch during the University entrance exams and I was so frustrated. High School literally messed me up, messed me up emotionally. It was nerve-wracking. And I'm glad I'm done with it forever now.]
[As you guys must have noticed, this take is different to what I usually write about. I tried something different and I had this saved as a draft for a while now, and I finally decided to post this. Hopefully, you guys liked it. ]
All love,
Angelina25 <3