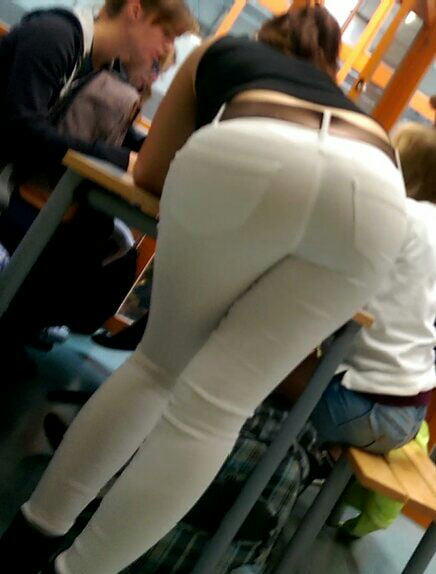 This is my fifth year in education, and I have learned so much in the past five school-years. At this point, nothing really surprises me anymore.
In these five years, I've interned at an Urban Title I high school, I student taught in an affluent rural high school, I've subbed in various schools(mainly Urban Title I), did a small teaching gig at a Catholic K-8 school, and I even did some time at an Urban Charter School. Needless to say, I've pretty much seen every demographic there is to see when it comes to teaching.
What shocks me more than the kids, administrators, and parents, are the teachers themselves. If you think teachers are a bunch of Ron Clarks who are passionate about their career, and are innocent little angels praising God on Heaven's doorsteps, you're definitely mistaken. As a matter of fact, walking into your average teacher's lounge(which my school doesn't have, oddly) is like walking into a family feud at times. It gets ugly, and is another piece to the puzzle in the dismal burnout rate for teachers.
Before I begin, keep in mind, my experiences have primarily been in high schools(grades 9-12). I've spent a decent amount of time with Jr. High School students(7th, and 8th grade), but only a fraction of time with elementary ages(K-6). So, this is mainly from the high school teacher's perspective, and as always, I'm going from what I notice about most teachers I've came across. I should also mention that my experiences are exclusively here in the United States of America(in one state-Ohio).
In this Take, I'll discuss some secrets that I betcha' didn't know 'bout teachers....
Secret: Teachers Actually DO Gossip About Students
If you thought the gossip was bad in school, you should hear it from the teacher's point of view.
I've heard teacher's literally make fun of students for the way they act, look, their academic performance, etc. I've heard teachers gossip about the students' personal problems, medical problems, behavioral problems, and the list goes on. There have been times I've been disgusted with how some teachers talk about other students to be honest. In my opinion, it's highly unprofessional, and there are consequences at times for these actions. There have been teachers wrote-up, scolded, and even terminated because of their student-bashing.
I do gossip about students to other teachers, but it's light gossip. It's more on who is dating who, who is working where, and who is playing what sport-type of gossip.
Secret: Teachers Recognize Student Cliques Quite Easily
Did you ever wonder if teachers realized you were the unpopular nerdy kid with no friends? Unfortunately, we do notice that, as well as every other bully who hated you. Little did you know there was another reason to hate your life in high school.
This shouldn't be too surprising at this point, given I've already mentioned our gossiping habits. I know which students belong in their cliques quite well: The Tier 1 Sports Jocks, the Tier 2 sports jocks, the nerds, the geeks, the gamers, the goths, the kids who hang out in a group with no stereotypical clique, the loners(who decide to form a small clique within each other), etc.
Nobody is safe as a high schooler.
Secret: Teachers Have Cliques Within Themselves
I remember in my first year of college, I was disappointed to find out there were just as many cliques among traditional college students as their were among high school students. I remember working low-wage jobs outside of my current career, and noticing cliques, but I just brushed that off as a situation with po' folk with nothing else to do. I remember telling myself it would get better in my career field-which it did, a little bit.
Unfortunately, I'm surprised at how cliquey teachers can be(it's especially a problem in suburban schools). In some schools, it's solely by department(math, English, science, social studies, fine arts, etc.). In others, it's about seniority(all the new teachers stick together, while the veterans hang out together). Either way, it creates a toxic work environment. I've noticed this within other careers, but why does it have to carry on to teachers? Aren't we supposed to be the ones who try to diffuse cliques?
I've never been the type who falls into one type of clique, and I'm disappointed to see my colleagues fall into this.
Secret: Teachers hate being called down to the principal's office too.
When you're a kid, or a teenager, it's easy to think all of the adults stick together in a hive mentality, and pick on the kids. As Pink Floyd told, "teachers, leave them kids alone."
Perhaps the line should include a "oh, and principals, quit bullying teachers" because principals will often lay the foot down on their teachers more than the students. I was personally bullied by a principal at my former school last year(long story), and has since been harassed by my current principal. It's almost as if administration is out to get the teachers, and is cited as a huge reason why teachers quit. And if you're a teacher in his/her first five years, it's going to be brutal, because many seasoned veteran principals don't remember what it's like to be young, and fresh out of college. I have the impression school administration is bought out by the corrupt political system, and it allows them to abuse their power.
Secret: Teachers don't necessarily like the content they teach
The words "what the fuck?" probably just ran through your head, but allow me to elaborate here.
You may not have heard, but in 2009, the United States of America adopted the Common Core State Sandards(CCSS), which is basically a subtle way of saying the government will control what we teach, how we want to teach it, and exactly the way they want us to teach it. In other words, many teachers are essentially following a scripted curriculum(which is a huge problem here in Ohio).
Now, there is another side to this: Some teachers actually do hate their content, regardless of how well it's controlled. They hate the subjects they teach at times. I've known teachers who only teach to be a coach for the school they're in, or pick an "easy" subject to teach so they have more time at home.
School is becoming less about the content, and more about the testing anyway.
Secret: Many Teachers actually hate their jobs
This is the last "secret" I'll share, because it's the reality many people don't want to admit: Not only do many teachers hate their job, there are now more teachers who hate their job than there has ever been.
It's boiling down to some of the things I already mentioned in this MyTake: A toxic work environment, possessive administration, a lack of freedom, a nonsensical content, the salary, student behavior, and other factors I won't go into. It's trickling down to a poor quality of life-in an economy where families still struggle just to make it to the next paycheck.
I'm part of the 45-55 percent of teachers who don't currently like my job.
What other questions, or concerns do you have about teachers? Let me know in the comments below.
---