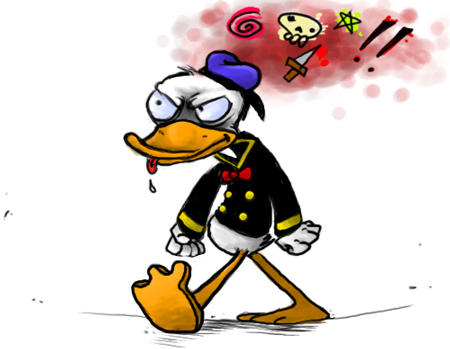 I thought that maybe it would pass. I thought that maybe I would get over it, but today the katanas are coming out! Well at least to some of you Deadpool fans today.
1. The fans that act as if Deadpool is the first and only popular movie to break the fourth wall:
So screw Fight Club then huh? There are plenty of well known movies that broke the fourth wall that came out before Deadpool like Ferris Bueller's Day Off,
American Psycho, George of the Jungle, etc.
2. The fans that act like Deadpool the only Rated R Marvel movie ever.
I'm just going to lay these here.
Blade
The Punisher
3. The fans that act like they know everything about Deadpool just because they saw one movie:
No one is asking you to be a scholar but people who go to see the movie once all of a sudden one to act like experts. I wonder how many people actually noticed that the love interest Vanessa is actually supposed to have powers but whatever, what do I know.
Young mutant shape-shifter Vanessa Carlysle fell into a life of prostitution in Boston where she met and fell in love with mercenary Wade Wilson.
4. The fans who say Ryan Reynolds voice is better in the Deadpool game because he sounds more like Deapool:
This one has to be my biggest facepalm annoyance ever with some Deadpool fans. Marvel is known like DC to keep their shows and games, separate from the movies.
The Deadpool Game came out 3 years ago. Nolan North has played over 15 video game characters, with some of them including comic book characters. So I don't think he has a hard time getting voice acting jobs. In fact Nolan North has played the voice of Ghost Rider, Hawkeye, War machine, Desmond Miles, Cyclops, Penguin, etc.
What really annoys me is that no one else has said this about other comic book based video games. I have never heard, 'Oh Hugh Jackman should have played the voice of Wolverine in the video game!"
---