You can find first part here
(In alphabetical order by their last name/nickname)
1) Don Dokken (Dokken)
Lead vocalist of the Glam Metal band Dokken, he released only a solo album that it was pretty similar with his work with his band. It didn't produce any hit singles but it had moderate success in US, Sweden and Swiss charts.
2) Stephen "Tin Tin" Duffy (Duran Duran)
Not many people know that Stephen Duffy was actually the original vocalist of Duran Duran, before Simon Le Bon joined. He never became as much successful as Duran Duran, but he managed to score a Top 10 UK hit, with his song Kiss Me.
3) Donald Fagen (Steely Dan)
He had moderate success as a solo artist, not only in the US but in some European countries as well, but most notably he managed to make it in the US Top 20 with his recent album Sunken Condos, despite the fact he is an old artist. It's a rare occasion for a 70s artist to reach a high spot in the 10s. I.G.Y. is perhaps his biggest solo hit, reaching #26 in the US Hot 100 charts.
4) John Farnham (Little River Band)
In most countries, this man is considered an one-hit wonder artist, particularly for his song You're The Voice, but in Australia he is considered a legend, and they even have a statue of his. He was also singer for Little River Band for a short period of time. His album Whispering Jack is the biggest selling album in Australia. This album also included another big hit (in Australia at least), called Pressure Down reaching at #4 in the AUS charts.
5) Bryan Ferry (Roxy Music)
Both known as lead singer of the influential Art Rock band Roxy Music, and as a solo artist. Whilst he had many hits in UK either as a solo artist or with his band, he had only one US Top 40 hit called Kiss & Tell. His music videos (either solo, or with Roxy Music) were memorable because of the pretty girls who were starring at them!
6) John Fogerty (Creedence Clearwater Revival)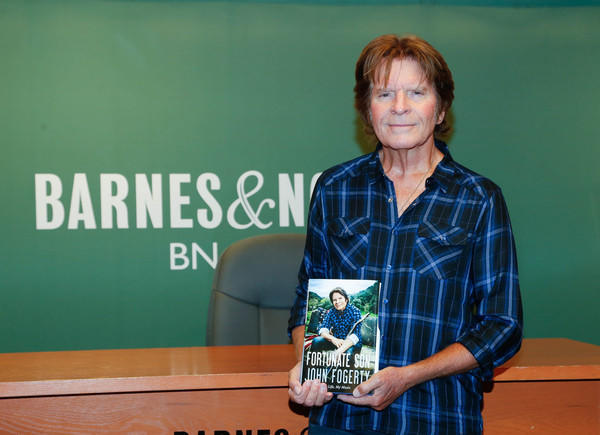 One of the most successful solo artists, who came after the band. His biggest album would definitely be Centerfield, and The Old Man Down The Road, would be his most successful song, reaching #10 in Hot 100 charts, and #1 in the US Mainstream Rock charts. Despite the big success he had during the 80s as a Solo artist, he is kind of forgotten in our days.
7) John Foxx (Ultravox)
He was the original vocalist of Ultravox, when they were a more experimental band than commercial Synth-Pop, yet not commercially successful. Likewise he didn't meet any huge commercial success as a solo artist, but he is well known as one of the pioneers of Electronic Pop music. His album Metamatic is considered his best and most successful solo work, reaching at #18 in UK album charts.
8. Peter Frampton (The Herds)
Also a founding member of the band Humble Pie. His solo breakthrough, came with his Live album Frampton Comes Alive! which is perhaps the most successful Live album ever. Also his follow-up album I'm In You sold very well. Since then his popularity started to decline.
9) Glenn Frey (Eagles)
Guitarist and Keyboardist of Eagles' as well, and he had the second most successful Solo career among Eagles members, after Don Henley. His most successful songs would be You Belong To The City and The Heat Is On, from Miami Vice and Beverly Hills Cop soundtracks respectively. Both reached #2 in the US Hot 100 charts.
10) Peter Gabriel (Genesis)
Lead vocalist of the Genesis, during their more experimental period, but mostly known for his solo efforts. Although his most commercially successful album would be So, his best material are definitely his first 4 solo albums. Also his music-video of Sledgehammer, is considered one of the best 80s music videos, featuring early 3D computer graphics.
11) Bob Geldof (Boomtown Rats)
Whilst he was never successful in the US neither with Boomtown Rats, nor as a solo artist, his song Do They Know It's Christmas? which he wrote along with Ultravox's Midge Ure for the charity supergroup Band Aid, reached #13 in the US Hot 100 charts. His biggest solo hit is This Is The World Calling, and it was a #1 hit in Norway.
12) Lou Gramm (Foreigner)
Although his solo career wasn't big, he had two US Top 10 solo hits in the late 80s, Midnight Blue and Just Between You And Me. Apart from his two solo hits, both of his late 80s albums, and of course everything he did with Foreigner till 1987, are milestones in Rock history.
13) Rob Grill (The Grass Roots)
He only released one solo album called Uprooted, without any commercial success. Still it's one of the hidden gems in Rock music.
14) Adrian Gurvitz (The Gun)
And also member of The Three Man Army. Both bands didn't meet any commercial success. As a solo artist, he scored a Top 10 UK hit with his song Classic. Although, his best solo album would definitely be II Assassino.
15) Sammy Hagar (Montrose)
Originally a member of the Hard Rock band Montrose, but mostly famous as the former frontman of Van Halen. He had a pretty good commercial success as a solo artist, through all those years, scoring multiple hits, not much in the Hot 100 charts, but in the Mainstream Rock charts instead.
16) Daryl Hall (Hall & Oates)
Obviously his career with Hall & Oates duo, overshadowed his solo work. Still he managed to score a Top 10 US hit with his song Dreamtime. What is notable as well, is the fact that Daryl Hall as a solo artist was more successful in UK than in US, whilst Hall & Oates, weren't so much successful in UK as they were in US.
17) Terry Hall (The Specials)
Also a founding members for 4 other bands, Fun Boy Three, The Colourfield, Terry Blair & Anouchka and Vegas. Although this man is considered a legend in Pop music in his homeland UK , he never made any international impact. His most successful band among all, would definitely be The Specials, a Ska/2-Tone band. His solo works never met any particular success.
18. Steve Harley (Cockney Rebel)
As a solo artist, all his albums failed to make any success. Apart from his albums he had many singles that failed to chart as well. But he had a Top 10 UK hit with The Phantom Of The Opera, a duet with Sarah Brightman.
19) Deborah Harry (Blondie)
Despite the fact she is American, she was always more successful in UK than in US, both with her band and as a solo artist. Her most successful solo hit was French Kissin' reaching #8 in the UK charts. One of the songs, from her album Rockbird called In Love With Love, was a #1 hit in the US Dance charts though.
20) Nick Heyward (Haircut 100)
Despite the big success of his album Pelican West with Haircut 100 and his follow-up solo album North Of A Mircale, he never managed to recapture the same success again. I should also mention this man had a very good song called Change Of Heart, from the album I Love You Avenue. Different than his usual jazzy-pop style, leaning towards an AORish direction. It should've been released as a single.
---