Behind The Voice
1) Demi Moore
Demi Moore as Esméralda in The Hunchback of Notre-Dame.
2) Renee Zellweger
Renee Zellweger as Angie in Shark Tale.
3) Emma Watson
Emma Watson as Princess Pea in The Tale of Despereaux.
4) Brittany Murphy
Brittany Murphy as Gloria in Happy Feet

5) Catherine Zeta-Jones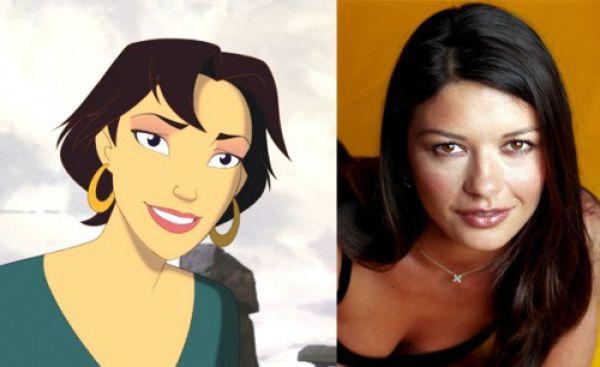 Catherine Zeta Jones as Marina in Sinbad: Legend of the Seven Seas
6) Sandra Bullock
Sandra Bullock as Miriam in The Prince of Egypt.
7) Miley Cyrus
Miley Cyrus as Penny in Bolt.
8.) Madonna
Madonna as Princess Selenia in Arthur and the Invisibles
9) Charlize Theron
Charlize Theron as Monkey in Kubo and the Two Strings
10) Liam Neeson
Liam Neeson as Aslan in the Narnia series.
11) Brad Pitt
Brad Pitt as Metro Man in Megamind.
12) Mark Hamil
Mark Hamill as the Joker in the Batman Arkham series
13) Hugh Jackman
Hugh Jackman as Roddy in Flushed Away.
14) Nicolas Cage
Nicolas Cage as Grug in The Croods
15) John Travolta
John Travolta as the canine Bolt in the movie Bolt
16) Vin Diesel
Vin Diesel as the titled character The Iron Giant
17) Gerard Butler
Gerard Butler as Stoick the Vast in How To Train Your Dragon
18.) Jason Statham
Jason Statham as Tybalt in Gnomeo & Juliet