Warning: Fangirl Alert
I'm afraid I must admit... I have an obsession.
Guns N' Roses. Weren't they just so pretty?
I have to say, this is going to be MOSTLY about how they were in the '80s.
Back then, they were GUH-ORGEOUS. And even now, you have to admit they're not bad for a bunch of old dudes (especially considering how much they drank and how many drugs they did). Axl obviously took care of his voice, too- even on video, it's still great now.
Speaking of Axl, LOOK HOW CHISELED.
He was so hot. The long red hair, the green eyes, the sharp corners, the tattoos, and not to mention the voice...
He had mental disorders, bipolar and psychosis, which are both very relatable to me. And let me come back to this again- THE VOICE. So amazing. He has a vocal range of around five and a half octaves- the average person has only two or three. His voice goes SO DEEP and SO HIGH, it's insane.
Aaaaaand next up, Izzy Stradlin. The quiet one with the great guitar parts, and vocals... Exhibit A:

Izzy sang leads on Dust N' Bones and it sounds great. I'm listening to it right now.
Izzy wrote a lot of great songs and additions; he just might be my favorite. Then again, there's Duff... and Steven... And Slash and Axl... Okay, so I can't choose a favorite.
Then there's Duff. He's so hot... it's undeniable.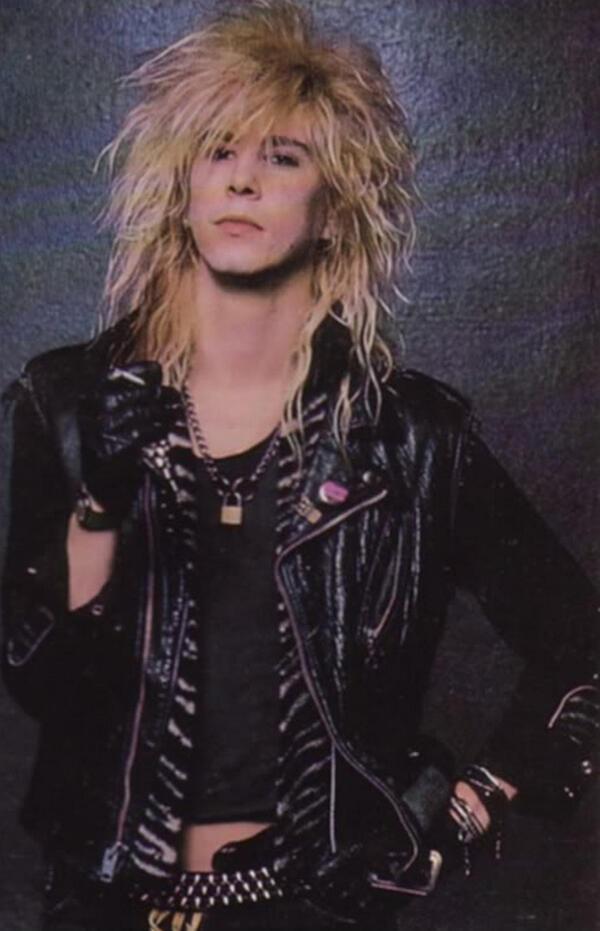 Duff is awesome. He sings and plays bass, guitar, and drums. He did a lot of kickboxing and cycling once he got sober and now he's totally ripped. He's the youngest of eight kids in his family and, if I may say so, did exceptionally well living up to his siblings' achievements.
Random Fact: His family dubbed him "Duff" (his original name was Michael) at the age of two and the name stuck.
Another random fact: He had the nickname "Rose," so him and Axl were called "the Rose bros."
Then there's Steven:
Constantly smiling, I swear he's the happiest guy on earth. His nickname, Popcorn, seems really very fitting. He had some killer drum lines on Appetite For Destruction, it's too bad he had to leave before the Illusions.
Last but certainly not least, there's Slash. So much talent in one man. So much hair, too. The signature top hat really adds something...
He's just so, so pretty. I can't come up with better descriptors for any of them. Hot, maybe? That's overused in this take too... Sorry for my redundancy, but it's true.
Slash has a TON of killer solos. Really, anyone who hasn't really listened to Guns N' Roses, I really recommend you do.
Individually, these guys are all great musicians. Together, they were something unbeatable. When I hear Guns, my brain just kind of spontaneously melts.
For beginners, here are some songs I recommend.
Estranged: It was just okay at first but after I listened to it a few times, I loved it. There was a span of about two weeks when it was the only song I listened to. Slash's guitar solo is unreal and I absolutely love the intensity of the lyrics and the bass line. The video's also pretty cool.

Dust N' Bones: I love Izzy's voice and again, the lyrics are great.

Rocket Queen: The beat is just great. This one's off of Appetite. You should listen to the original version, but I LOVE this version live from Tokyo in 1992 even if Steven and Izzy were gone. Duff's bass solo in the beginning is just so groovy, lmao. They're just so fuckin' hilarious in this video.
Added bonus: There's an extra verse and AXL RAPS! Lol.

Mr. Brownstone: For a song about heroin, it sure is intricate.

It's So Easy: Also from Appetite, and they have a promo video for it and everything. Killer bass line.

November Rain: The recently released piano version from the recent remaster is my favorite, so I'll post that and the original (which fairly recently reached one billion views on YouTube).

Shadow of Your Love: Recently released in the US, an early song of theirs from 1986.

One In A Million: Despite it's highly controversial lyrics, this is still probably my favorite song from their EP, GN'R Lies. Once you hear their explanation for the lyrics, it comes off a lot better, so I'd recommend you also look that up... They decided to leave this one off of the AFD remaster because of the stir it caused when it was released.

Speaking of GN'R Lies, I can't leave out Patience...

Lastly, I'll add Back Off Bitch, a highly underrated song from Use Your Illusion I.

Thanks for your viewership, and I apologize if I somehow offended any of you.