Back again with another 15 love songs that I personally enjoy. Now as a disclaimer, this time around I am claiming that these songs may involve love just different kinds of love, it can and could involve temporary love and love lost as well as love being fought for. They are still love songs, they just take on different forms of love. These songs are also not in order just simply numbered.. Now that we have that out of the way, let's get started!
1. Then He Kissed Me - The Crystals (1963)
I know this song mostly from hearing it on the beginning of adventures in babysitting and wishing that was my girlfriend exciting about seeing me, man her boyfriend was a jerk... terrible.. but this was and is a great fun uplifting song
2. Going To The Chapel Of Love- The Dixie Cups (1964)
This is such a fun and dreamy song. I only wish it was this easy....
3. I only wanna be with you - Dusty Springfield (1963)
This is another fun and upbeat song. It reminds you how you feel when you first meet that special someone and you can't stop thinking about them and singing about them :)
4. I'm Into Something Good- The Herman's Hermits (1964)
This is another catchy song. Noticing a pattern :) but uplifting and it is basically the same feeling of love that the last song had, young love where you just can't get that special person off your mind
5. Sooner or Later- Grass Roots (1971)
This is a fun one about love where you are just waiting for that person to come around to you or just it is just a matter of time before you find love in you life
6. Crazy Love- POCO (1978)
This is a sweet slow song that is about a broken relationship with love that is hard to forget. It is almost hard to hear that it is about a broken relationship as you are just letting the words of crazy love make you feel good and warm inside.
7. Best of my Love- The Eagles (1974)
This is again about lost love but love that is not quite lost yet but is fading. I give you the best of love, sweet darlin' keeps ringing in my head and that is all I can focus on, such a passionate main chorus and it's the Eagles! or at least for those that know classic 70's music
8. Everlasting Love- Carl Carlton (1974)
This is another uplifting song. But it is about getting a love back that should have stayed together and a desire for a everlasting love
9. Never Knew Love Like This Before- Stephanie Mills (1980)
This is about a love that changes you, a love that you thought did not exist and then comes around and surprises you, I hope that can happen for all of us gaggers...
10. Should've Known Better-Richard Marx (1987)
This is about a love where you give your all and it takes it from you. He still wants it "Now I'm a prisoner to this pain And my heart still aches for you" But he is caught in a struggle, love can be tricky sometimes...
11. Make Me Lose Control- Eric Carmen (1988)
This was a song that I recently rediscovered on the radio, I know I heard it before but it always escaped me. That chorus really gets me going. and yes, he is known for hungry eyes from dirty dancing but this is a great one too.
You might ask, where is the love :)
"We put the top down and park with the moon in the sky
And the wind is so hot in our hair, like a fire in July, oh yeah
Jennifer's singin' "Stand by Me" and she knows every single word by heart
Was love always this good, or could this be just the start?"
This is about just falling for a girl and finding that love can find you when you least expect it.
12. Arthur's Theme- Christopher Cross (1981)
This is a great song. It is the theme for the Arthur movie but it is so romantic. It is whimsical and dreamy. You just the lyrics move you
"Once in your life you find her
Someone that turns your heart around
And next thing you know you're closing down the town"
"When you get caught between the Moon and New York City
I know it's crazy, but it's true
If you get caught between the Moon and New York City
The best that you can do
The best that you can do is fall in love"
13. Stupid Cupid -Mandy Moore (2001)
for those that catch this, I know!, I know!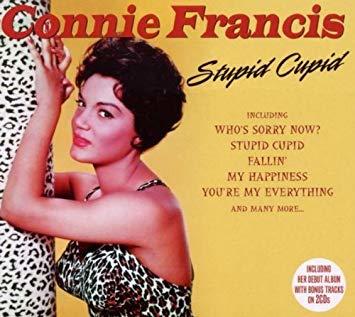 Connie Francis (1958) She was the first one, but I like Mandy Moore's take a little better plus... it was featured on …. Donkey Konga :)
and for those that grew up in the 2000's it was featured in a Disney Movie
The Princess diaries, I am sure a couple of girls remember that movie and maybe the book it was based off of :)
I love Mandy's vocals on it, even if the music is a terrible pop backtrack, but just her voice is what makes it good. Needless to say, it is about being pushed around by love :)
These next two, I found recently just by hearing them and I really like them both, so I am including them as two new favorites I just found :)
14. Every Time I Think Of You- The Babys (1979)
This is a great soulful song and really upbeat
with words like
"People say a love like ours
Will surely pass
But I know a love like ours
Will last and last"
It just makes you feel really good and it was surprising to find it, I don't think I have ever heard of the babies before I heard this.
15. Then Came You- Dionne Warwick and The Spinners (1974)
I have heard of the Spinners and Dionne Warwick but not both together! But this is a great duet and it is about a love that you never knew existed before. it was a really cool find and yes it is disco ish but it still is good :)
That's it for me, hope you enjoyed my fifth list :)
---