#Warning THIS IS A #MovieReview TAKE ON THE FILM "65". IF YOU HAVE ALREADY WATCHED OR DO NOT INTEND TO WATCH, THEN PLEASE KEEP ON READING. BUT IF YOU INTEND TO WATCH, WHICH #iHighlyRecommend THEN YOU HAVE THE CHOICE TO KEEP ON READING. I TECHNICALLY DID NOT SPOIL ANYTHING BELOW.
Alright, so #MarchMadness includes the release of a bunch of great films like Shazam, Creed III, Dungeons & Dragons, etc. I look forward to a few of those, and even bought a Creed souvenir cup from the theater today, but it was a MUST that this dinoholic see "65".

Apparently so many of the above films are outshining this, so theaters have limited rooms showing it, basically 1 showing every 2 hours (since its a short film). I'm very sad to hear that this film had mixed reviews, but I personally thought it went from 0 to 100 real quick! Okay, so maybe 0 to 100 to "65". Nah, I'm just playin. I'd say it was a solid 8/10.
I looooove that it not only stayed true to the commercial/trailer (yea screw you JW Dominion for making people have to pay for an "exclusive dvd" in order to see the extra scenes from your trailer), but it also got straight to the action!! It carried itself quite well in my opinion, especially to only have 2 people starring. (Then again, the intro did include a few others).


It was filled with several dinosaurs with 2 to 10 of each. The film had a GREAT number of jumpscares too! Sucks that I had a theater filled with quiet asses. I should've thrown skittles at them to wake em up, but my fam and I surely enjoyed our time.

Now I don't know what kind of dinosaur l that is within the trailer that looks like a TREX, BUT it crawls on all 4's like a gator. I was like yeaaaa buddy! I looooved it! It takes forever for his ass to appear but it was amazing. And no I'm not referring to the skull crawler looking things nor the actual T-Rex. Don't worry, they are in the film too along with some weird beak pterodactyl lookin fcks, a bunch of insects (like in King Kong 2005), and a few other plant/meat-eaters. As you can tell, I'm no dino expert. I just love to see people trying to survive these mf hoes 🤣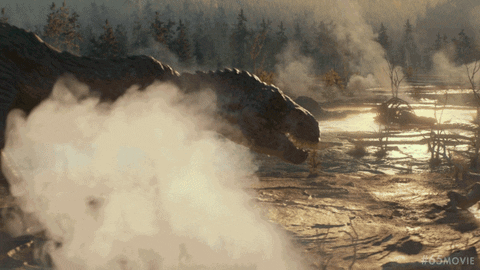 The kid in the film was adorbs, annoyingly so, but thats a kid for ya. Adam was lookin handsome TO ME (for once) but I couldn't understand his mumblin ass for the first 15-30 mins. He had the nerve to tell the kid that he couldn't translate what she was saying but mf what were YOU sayin? I couldn't even tell you what he stated as his name during the first 10 minutes of the film. Like I said, I hate his voice. Like just be cute. Don't speak. Let the dinos roar 🦖😂🦖
Thank goodness for the upcoming yelling at eachother because that, I could totally translate. Then again, about those screams... you already see what you're up against, yet you both continue to scream, attracting attention AND then when being attacked, you choose to waste a few bullets/grenades? I don't get it. But for the few that they killed with those weapons, it was with very good aim and on point. Kudos!! Still, it was silly, because they come up with this code whistle but hardly use it. They just kept choosing to scream! May as well have been Jeff Goldblum waving the red flare...

This film is no walk in the Jurassic Park but I still loved it! I'm absolutely buying it on DVD once its out (as a collectors item). Again, I highly recommend seeing "65", but I expect you to rate it anywhere from a 6 to 8/10. It has a few predictable tactics but the dino action and jump scares will keep you on the edge of your seat.

If you miss it, I hear its getting re-released later in the year when there's less competition in theaters. But by then, people will be watchin the film online lmao 🤷‍♀️

#FeelFreeToList #65Film #ThatsAllFolks