I live with my dad and only see my mom a few times a year. My 13 year old sister and her 14 year old boyfriend are having sex. She posted videos of them doing it (the sound and her moaning) when my mom wasn't home. She posted that she thinks she might be pregnant and skipping school and
all of this crazy shit. I am on a fake account and screenshotted her (she has no idea it's me and will add anybody). I censored out her face because she's a minor. Like I seriously don't think her mom has any clue and I don't think it's my place to say anything but she's 13. She's also a huge smartass and has a nasty attitude with everyone and thinks she knows everything. I don't know what to do? Send my mom a text with these screenshots or leave it alone?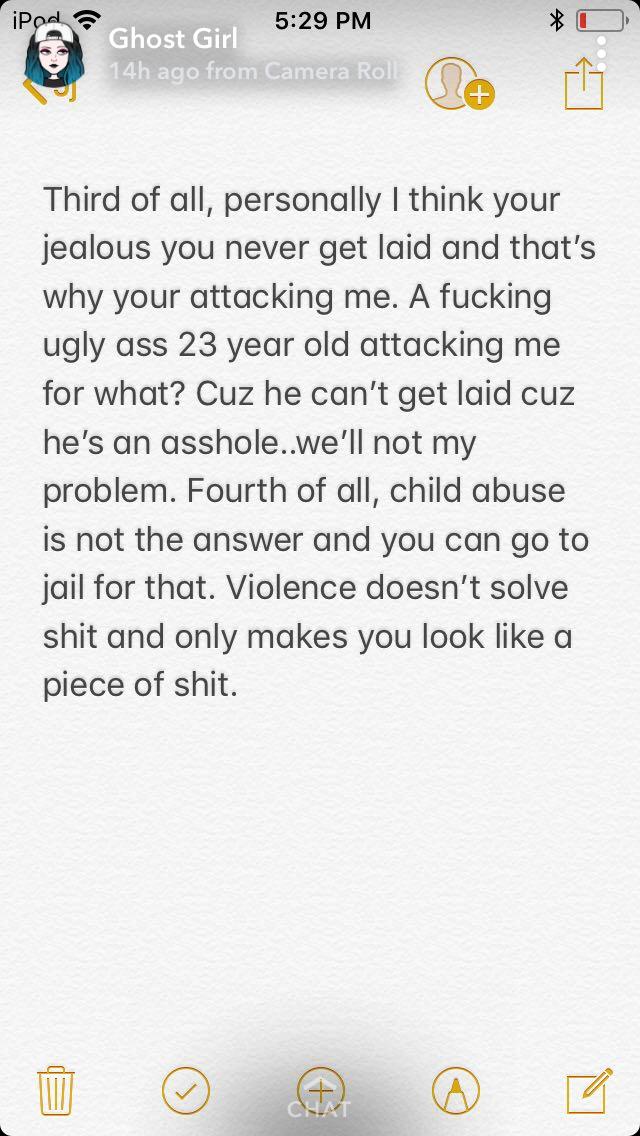 Yes send your mother the screenshots

Don't say anything, it's not your place
Select age and gender to cast your vote:
Updates:
---
Most Helpful Guy
Oh gosh, have her take it down IMMEDIATELY! In many jurisdictions, posting the video of underage sex constitutes as child porn!

If this is discoverers by the police (and/or any adults legally obligated to report it to them, like school personnel), she's going to jail for creating, possessing, and distributing. She'll also be on the national sex offenders' registry for life! She has REALLY messed up the situation.
Most Helpful Girl
Well it seems like she knows the consequences of having sex at her age and still went ahead and did it. Unfortunately, it's not uncommon in this day and age for kids as young as 11-13 to be sexually active. My mom is a middle school counselor and she hears all kinds of things like this and the principal gets involved and it's crazy. I would send it to your mom and see what she has to say, if she wants to start fights and stuff then be like sorry I told you I thought you would wanna know what your 13 year old daughter is doing apparently I was wrong. Never again. Or you could let it be it's own surprise when she ends up pregnant and IT WILL show.