Beauty is in the eye of the beholder, but that eye can change depending on the location and time period. Buzzfeed had explored this idea by creating a video with models to depict how the ideals of a women's body had shifted throughout history.
We all have probably imagined how the women of the time period had dressed, but we probably didn't think about what was expected of body types. The white bathing suits that the women are wearing highlight the differences in body structure, doing away with other historical elements like clothing or jewelry.
It goes to show that there is no right or wrong way to see it when it comes to women's body types and that all of them were beautiful at one point in history, not just the one's that frequently occur today.
1. Ancient Egypt (1292-1069 B.C.)
Women in this era were independent, and enjoyed things that would take centuries for women to enjoy again. Ancient Egyptian culture was positive towards sex, and sex before marriage was widely acceptable. Women were allowed to own property without their husbands and could initiate divorces, just like modern society. They would often inherit titles like Pharaoh when the previous holder would die.
Art from this era depicted women with long, braided hair, which highlighted symmetrical facial features. Their bodies were slender, with skinny waists and slim shoulders.
2. Ancient Greece (500-300 B.C)
Aristotle called the female body that of a "deformed male". Ancient Greece was a male-dominated society, and had to live up to high standards of perfection. Women were expected to look masculine, and were shamed for not looking like it. They Ancient Greeks were focused more on males and their beauty standards anyway at the time period.
Nudity was also widely accepted in Ancient Greece, but statues of females were usually covered up. It is believed that Aphrodite of Cnidus was the first nude female sculpture in classical Greece, which depicted plump, full-figured bodies.
3. Han Dynasty (206-220 A.D)
Medieval Chinese society was patriarchal , and resulted in little roles for women in the society to take on.
In the Han Dynasty time period, women were expected to have small, delicate bodies with radiantly pale skin. They were also expected to have long, straight black hair, red lips, white teeth, and a dainty walk with small feet. Because of this, foot binding was common, which involves binding the foot at a young age to achieve the small, ideal foot. To achieve the slender body, breast binding was also widely practiced.
4. Italian Renaissance (1400-1700)
The Italian Renaissance was Catholic, and they were supposed to represent purity, so women were separated from men in both public and at home. Renaissance women had their value linked with their status to men that had a role in her life, whether it be her father, husband, or God.
Beauty standards were thought to reflect her husband's social status. This meant that plump, rounded bodies where the ideal. Also strawberry blonde hair, pale skin, and high foreheads were also common, and considered the norm and beautiful.
5. Victorian England (1837-1901)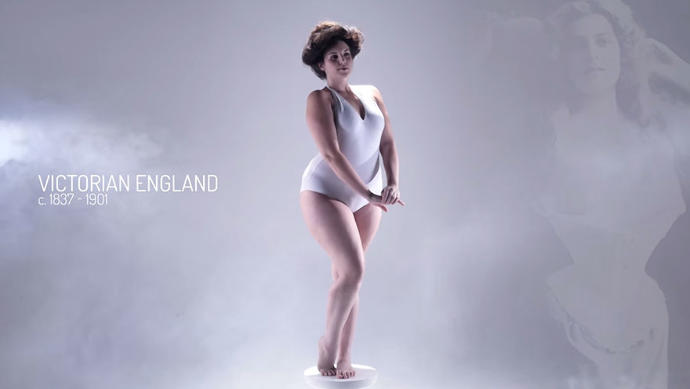 The Victorian Era lasted the length of Queen Victoria's reign. She was an influential figure of the time, a young queen who was a wife and mother. She embodied the ideal views of womenhood at the time. Family and motherhood were valued greatly in Victorian society.
To represent these values, women often wore corsets, which clenched their waists in as tightly as possible and created the widely desired hourglass figure. These pieces were painful and restricted their range of motion, and were used to flaunt their separation from physical labor. Women wore their long hair as a symbol of their femininity. They would usually wear it it up-dos.
6. Roaring Twenties (1920s)
The Woman's Suffrage Movement ended in the Twenties, which gave them the right to vote. Women often held down jobs after World War I and wanted to continue working. Alcohol Prohibition caused the rise of liquor stores, and with the boom of "talkies", created flappers.
Women preferred the boyish look overall, and liked to hide their waists and wear bras that flattened their breasts. Beauty was a rectangular, curve-less body.
7. Hollywood Golden Age (1930s-1950s)
The 1930s through 1960s gave rise to the Hollywood Golden Age. During that time, Hays Codes were going strong, and these limited the roles that women could take on in films, so the ideal beauty standards were widespread.
Ideal bodies were like that of Marilyn Monroe's: curvy bodies and slim waists with medium-sized breasts.
8. Swinging Sixties (1960s)
Women benefited greatly from the Women's Rights Movement. They had access to birth control, and gained more rights. London had a huge influence on sixties fashion, and mini skirts and A line pieces were in style.
Twiggy, a popular model at the time changed the way that the ideals were seen. The ideal body of a woman had shifted from curvy to tall and thin.
9. Eighties (Supermodel Era) (1980s)
Jane Fonda started the aerobics fad in the eighties, which pushed for people to get active and healthy. Women began to strive for fit figures.
Supermodels like Cindy Crawford were the ideal of this era: tall, slim, athletic, but still buxom. There was also a rise in cases of anorexia. Experts think that this may be due to all the emphasis on exercise.
10. Nineties (Heroin Chic) (1990s)
After all the emphasis on health and fitness, fashion took a turn in the opposite direction. Thin, petite and pale described the ideal of this time period. Kate Moss called this the heroin chic look in the 90s, because heroin use had gone up.
11. Present Day (Postmodern Beauty) (2000s-Today)
From the 2000s and so forth, all of these standards have seemed to come together. Women are expected to skinny, but not too skinny. Flat stomachs are in, but women should also have large breasts and a prominent butt, which wasn't really expected until now.
Plastic surgery has gone up to achieve these ideals, and people have been using selfies as reference in order to have it done. What is the world coming to? I wonder what the next trend will be.
What body type did you best match up to? Which was your favorite era? What do YOU find beautiful? <3
---