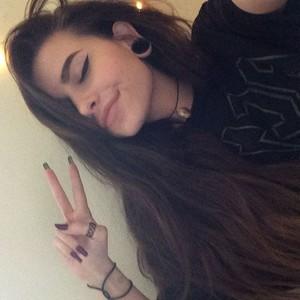 It's become a very common style that is widespread on social media sites like Instagram. Typical age range for it is mid teens to early 20s. Best described as I'm-not-trying-yet-I-really-am, it typically involves very precise makeup (sharp eyeliner wings and drawn/shaped eyebrows) with relaxed hair and clothes that are just tight or short enough to show off, but just loose or sporty enough to stay in line with the I'm-not-trying facade.

Now let's be honest, guys, do you like this look? If not, what look do you prefer?
I'm attracted to that look

Not really attracted to that look (comment a look you prefer)
Select age and gender to cast your vote:
Updates:
I think many people are confused by my calling the look "ultra modern". I called it that because it's a recent style trend that has become widely popular on social media and that several younger women have gotten into. "Tumblr girl" is a more appropriate name and hopefully less confusing name for the look.
---
Most Helpful Guy
Hell no! These girls' personalities are just as unoriginal as their style. They are a bunch of damn sheep who blindly follow the herd yet claim that they are a special snowflake. Bitch, if you are a special snowflake then why the hell is there 50 million other girls just like you? I only date people that actually have a personality. It's disgusting and pathetic how so many people spend their whole lives trying to fit in by mimicking each other. You can never be the best you can be if all you do is copy others.
Most Helpful Girl
It's cute but only if you're smoking hot to begin with. Otherwise you just look lazy unfortunately.