They're not all beauties, but you gotta try them at least once before you make up your mind!
1. ANZAC biscuits
Anzac biscuits have long been associated with the Australian and New Zealand Army Corps (ANZAC) established in World War I. It has been claimed the biscuits were sent by wives to soldiers abroad because the ingredients do not spoil easily and the biscuits kept well during naval transportation.
Technically, they're New Zealand biscuits as well, but everyone forgets about NZ so it's okay. :P
2. Bunnings Snags
Bunnings Warehouse is an Aussie hardware store, that's infamous for having a sausage sizzle outside its stores. The snags are so popular that memes have been made about them.
3. Caramello Koala
It's a small chocolate in the shape of a koala, with a tasty caramel filling.
4. Cheesymite Scrolls
Thank you, Bakers Delight, for these beauties. They're bread scrolls with cheese and Vegemite spread in the middle, and are absolutely delicious.
5. Cherry Ripe
Kind of like a bounty, but with dark chocolate, and sort of a glace cherry taste as well. They're GOOD.
6. Chiko Rolls
A Chiko Roll's filling is primarily cabbage and barley, as well as carrot, green beans, beef, beef tallow, wheat cereal, celery and onion. This filling is partially pulped and enclosed in a thick egg and flour pastry tube designed to survive handling at football matches.
Personally, I think it's gross. It's something the previous generation grew up with, but it's rare to find a place that still sells these now.
7. Fairy Bread
It's as simple as white bread, butter, and sprinkles! This is what all the cool kids have at their parties.
8. Fantales
Caramel dipped in chocolate, with really cool celebrity trivia wrappers.
9. Golden Gaytime
I know the name is funny, but this ice-cream is amazing. There's nothing else like it - with it's unique combination of smooth creamy ice cream and delicious biscuit pieces. (The ice-cream in the photo on the left is called a Bubble-O-Bill btw).
10. Hundreds and Thousands Biscuits
Sweet biscuits with pink icing and sprinkles! What's not to love?
11. Iced Vovos
Sweet biscuits with marshmallow, jam and shredded coconut on top.
12. Lamingtons
Squares of sponge, rolled in chocolate and shredded coconut.
13. Meat Pies
Especially Balfours, there's nothing like an Aussie meat pie.
14. Milo

Milo is malt drink powder that *is* available in other countries, but I still like to think it's Aussie. I mean, when we did cricket workshops in primary school, they'd hand out little sachets of these! Everyone has also eaten a spoonful of Milo without milk at least once in their life.
15. Mint Slices
Delicious mint and chocolate biscuits.
16.Minties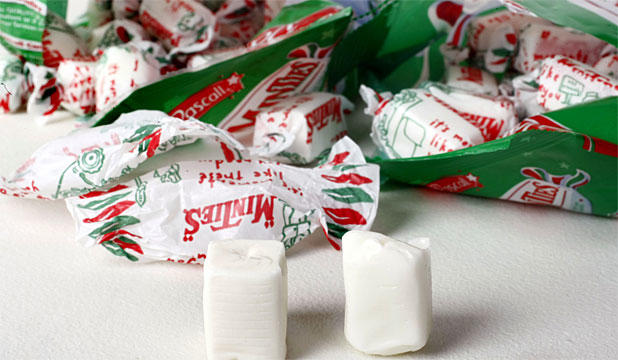 Chewy mint flavoured lollies that I associate with old people because my Grandma used to give them to me every time I went to visit her.
17. Paddle Pops
Ice creams that everyone loves.
18. Shapes
They're baked biscuits with seasoning, and are a staple of any Aussie kid's diet.
19. Tim Tams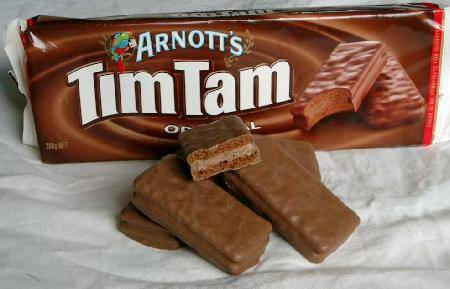 They've started selling them in other countries now which is really disappointing, but they're still Aussie!
20. Vegemite
This one doesn't need explanation, other than an obvious point, if you eat a spoonful of this thing with nothing else, obviously it's going to taste disgusting. So do yourself a favour and spread a very small amount on top of buttered toast, and you'll find your opinion of it might change.
(sorry for the lack of the image, there's a 20 image limit, but I figure this one is the most recognizable.)
BONUS: A few months ago, Cadbury decided to launch Vegemite Chocolate. It was a disaster and it's safe to say that *no one* liked it. This image pretty much sums it up:
Hope you enjoyed and that you'll try some of this stuff once ^^
---