Cooking after a long day can be very stressful and time consuming, and of course, lead you to just give up and throw a pizza in the oven or order out, but if you do a little prep work ahead of time when you aren't busy or have an hour in your week to spare (instead of being on GaG or other social media), you can help yourself do half the work or more.
1. Prepare ahead of time
Cut up your veg for the week and keep them in an airtight container. Most will last a few days to a week's time. If you use a vegetable chopper, your preparation time can be cut down to mere minutes. Buy meat pre-chopped or cut it up yourself when you buy it and stick it in the freezer until ready for use. Also consider a storage area in your pantry where you place all the dry ingredients for the nights or days meals in them, so all you need to do is just pick up the basket and you're ready to go.
2. Come up with a realistic meal plan for the week
It can be hard to come up with ideas for what to cook each day, but if you have a meal plan written down, all you need to do is follow it. By knowing what's on your list, you can prep accordingly. On your non busy day, write down and/or gather up the recipes for things you can make with the time you have for the week. Plan harder or longer to cook meals for your less busy days, and easier ones for the days you know you'll be too exhausted to do anything that requires a long cook.
3. A slow cooker is your friend
A slow cooker has been the favorite of home cooks forever because they allow you to literally set it, and forget it. We're talking drop in your meat/veg...even still frozen, pour in some liquid, put on a lid, and let it go on slow for hours. You can leave your house with the slow cooker on, and return home to a fully cooked meal. Recipes can easily be found online.
4. Double your batches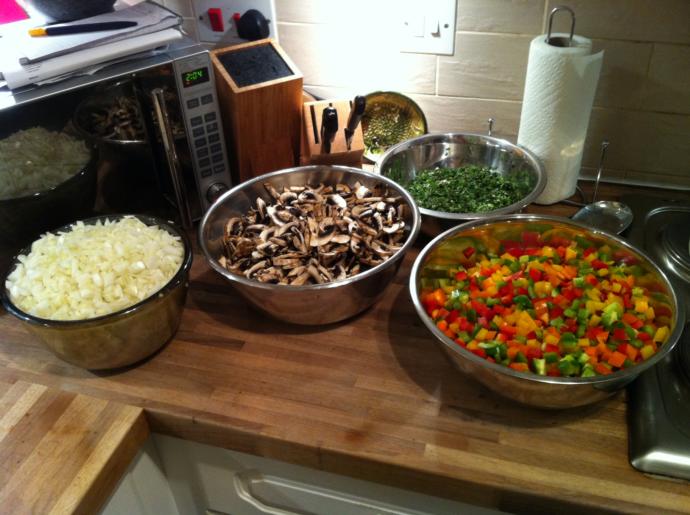 I never make things like spaghetti, or soups, or carnitas for one time meals. Think about it...if you're already going to cook the meal in the first place, why not just double or even triple the recipe and then freeze the other portions for later. You get double your output for around the same effort.
5. Create or Join a Freezer Meal Club
If you have a Mommy group, or a couple of friends who can come over, get together and buy some collective ingredients, and create meals for your group which you can each freeze and have a batch of your own. If everyone is working together, it makes cooking fun, and means you won't have to do cooking during the week. Even if you can't find or create a group, you can freezer cook for yourself or your family by making meals that just need to be heated in the oven or thrown into the slow cooker.
6. Use the internet
In this day and age, fewer and fewer people are being taught to cook by a relative or friend, but don't let that discourage you. Use the internet and specifically Youtube to help you learn what you need to. There are YouTube channels like Tasty that make it easy to see what's going on with each recipe, let you know all the ingredients and cook times, and make it easy for you to follow for even a beginner cook.
---