In the Cincinnati suburb of Fairfield, Ohio there is a shoppers paradise of all that is food. Me and my cousin Victoria took a day trip from Louisville to Cincinnati to visit this Mecca of International foods, and it surely did not disappoint us.
As we entered there was a Sushi Bar and a huge international cheese section.
The cheese section had cheeses from all over the World and in all varieties. Me and Victoria tried red wine and chocolate cheese! They were so yummy! There was also a liquor department showcasing all the best wines and spirits from all over the world!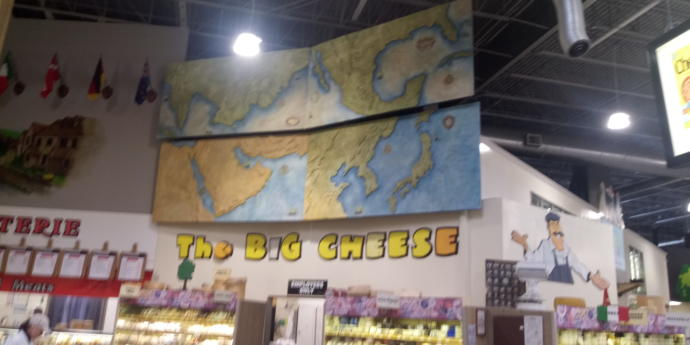 There were a lot of animatronics throughout the store as well. An Elvis Impersonating ape, The General Mills Cereal Mascot Band, and a Campbell's soup can.
The highlight of the whole store is that they offer foods from all nations whether it's fresh or packaged. Each country has it's own dedicated Aisles as well. You can buy Japanese Candy, Australian Vegemite, Kinder Eggs from Germany, and Stroopwaffles from Holland all in one store! There is also your average run of the mill grocery items as well. Another highlight of the experience is the Soda aisle. There are literally all the sodas made in the USA in every flavor. You have bacon-flavored, cookies and creme, popcorn, and even chocolate! Even regional sodas like Cheerwine Sun drop, Ale 8 One, Big Red, Frostie etc... all under one roof!
There is also an international Deli and Bakery. Seafood with live lobsters and fish as well!
There was also a toy store inside with all kinds of Funko Pops and nerdy collectibles.
The Bathrooms even look like Port A Potties!
The whole store is Gimmicky, but It works. There is also a full-service pharmacy, Starbucks, Jersey Mike's Subs, A convention meeting center with monorail once used at Kings Island, A Cici's Pizza, Petland Pet Store, and garden shop all on-site! They even have a fully functional post office. You can ship packages and mail letters or postcards from the store.
*
Overall, the store is very kitschy and gimmicky. But, it's the modern-day tourist trap! Sure the legendary tourist traps like South of the Border in South Carolina and Wall Drug in South Dakota have their place in roadside attraction history, but Jungle Jim's is a foodies paradise, an international food junkies dream, and a tourist trap all in one! It definitely should not be overlooked as another supermarket like Kroger, Publix, Walmart, Aldi, Meijer, or Safeway. This is one place that if you're ever in the Cincinnati/ Northern Kentucky area you should check out! By the way, there are lots of walkthroughs videos on youtube if you want to see it in action!