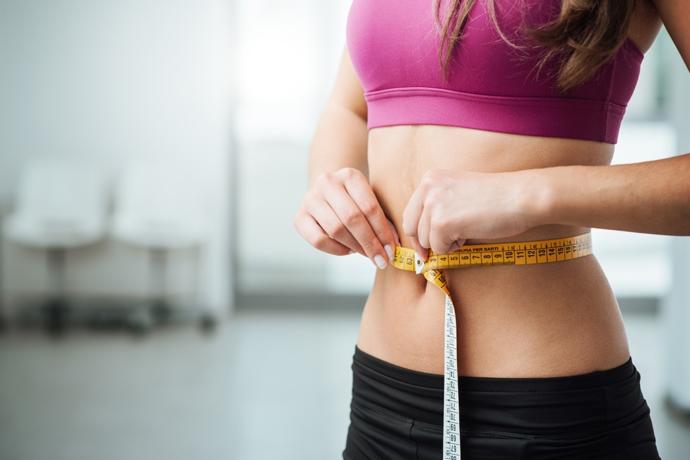 Many years ago, I had a lot of weight to lose before I got to a healthy weight range. I became really focused on my goal which was my night and day aside from school. I no longer wanted to feel fat, be fat, struggle up stairs, or have to go to the plus size section and buy clothes that were just different versions of the same tent on me. I think, like a lot of people before weight loss with a lot of weight to lose, they think that when you get to the promised land, everything will be great. A lot of things do improve, but there are just some things that no one really talks about when you lose a lot of weight.
Obviously, everyone is different and so is your experience with weight loss and the aftermath, so these may not have happened to you or maybe just a few or maybe even all of them, but either way, sometimes what we think is going to happen, doesn't, or at least not the way we expect.
1. People get brutally honest
Just because I lost some weight, didn't mean I was suddenly this different person. Fat me, was still chubby me, was still healthy me. Those were all the same person, but when I lost the weight, friends, family, and even perfect strangers would talk about "my former" self, as if "she" had no feelings at all. It really made me question with a few people how good of a friend they really were. You know, real friends can be honest with you, but bad friends talk about you behind your back, and there was apparently a lot more of that then I was aware of when it came to my weight.
2. You're never good enough
Whether I was fat or healthy, I found out after the weight loss that it didn't matter. People talked about me when I was heavy and they talked about me when I was healthy. I cannot tell you how many people told me that now I was too skinny, or I might want to gain some weight back, or thought I must have been starving myself. It sucked. You do all this work and come to find out that the same people who were telling you five minutes ago that you need to lose weight, and then when you do, for them, it's either too much or not enough. You just have to shut those voices off and learn what you feel inside and run with that, because no one else can be satisfied with you, and how much is enough, but you.
3. You might not recognize the new you
When you are working out and saying no to fried foods, you literally dream about being able to fit into a regular size, and have your jeans zip up with room to spare, and having a jacket fit nicely on you, and then when it happens, it can be a very tough mental adjustment to see the you, you have become. I shrunk down from a size 2x plus or 20 jeans, down to a size medium or size 8 jeans and out of force of habit, when I would go into a store, I would head to the plus section and have to stop myself, or pick out bigger clothing because I just could not process the smaller sizing in my mind. When you are a certain size for so long, you know where you fit in and where you go and what you use to hide, but after weight loss, you've sometimes got to convince your brain to accept the new and recognize your real sizing now.
4. Fear and panic
You drop the weight and now you know how hard it was to get to this place and you don't want to go back, so gaining 5 lbs or more can be a nightmare. You can start to have irrational fears about suddenly ballooning back up again. And it's not just you. Your friends and family can trigger that in you when they see you doing something they perceive as being detrimental to your diet or workout routine. You can start this crazy cycle in your mind that can become an obsession if you don't get a grip on reality, that you aren't going to destroy an entire years worth of work if you have one cookie or you miss one workout in three weeks.
5. Brand new attention
This was another dream of mine, to become that girl who gets all the attention. It's the hot skinny girl that gets all the guys, right? Be careful what you wish for. I came back particularly after the summer, and all these guys I'd sat in class with, I'd gone to games with, that I'd gone to parties with realized that, oh, she exists. I thought this would feel 100x better than I felt before, but it really felt more like, these guys only want me because now I have this body. They didn't want or didn't care about the person I was before or was now. It made me shy away from that kind of attention, and I ended up actually dating a guy who was my friend before the weight loss for a few years because no matter my size, to him, I was the same girl, and I needed to know our relationship was going to be about that girl, and not what that girl weighs now or tomorrow.
6. Haters gonna hate
Nothing makes haters come out of the woodwork like you finding success at something. Someone losing weight can make others feel like the spotlight is on them now as your friend or family member to maybe do the same. They think you think you're better than them, that you aren't the same person now that you've lost weight, and that you're going to be this jerk to them. Yes, some people do that, but you should be able to recognize the person in front of you, and not assume they are these things just because they've lost a few pounds. I was devastated when two of what I thought were my good friends, started treating me like an enemy because I chose to eat a salad and not a pizza. I wasn't giving them any lectures on what they were doing or not doing, it was just what I had to do for me, but they couldn't accept that, and we ended up parting ways. Yet another time in life where you learn unfortunately who your real friends are.
---