Everyday movements and postural habits can wreck your body. How you work, play, and sleep can really be a drag on your muscles, bones, and joints. Here are 8 ways to help feel better all day long.

SITTING AT YOUR DESK, STARING AT YOUR COMPUTER/TABLET
How long have you been doing this today? Hunching at your desk increase the pressure on the spine, leading to neck and shoulder pain. Learn the ergonomically correct way to set up your desk, or, if it's available to you, consider getting a stand-up desk.
As if prolonged sitting wasn't bad enough, adding a computer into the mix makes things even worse. Having your neck in a fixed, flexed position for hours throughout the day places neck muscles in a lengthened position, possibly causing headaches and neck pain. Adjust the height of your computer/laptop/tablet, your seat, or both, to ensure that you are sitting in an ergonomically correct position. Then, take your eye away from the screen and focus on distant objects to relieve the tension in your eye muscles periodically. Remember that our bones were designed for support: our muscles were meant for movement.

STARING AT YOUR CELLPHONE/ TEXTING
When you're hunched over, your neck is pulled into an awkward posture. Plus, it often happens when you're sitting for a long time, which only worsens the pain. This is different than just scrolling through your social media feed. In order to type, you have to severely flex your head and neck to look down. There are even names for the condition- "textneck" or "tech-neck"- which can increase the stress forces on your neck by four or five times what is considered normal. Arthritic changes in the vertebrae, degeneration or bulging of discs, bone spurs and muscle dysfunction are some of the un-cool consequences. Take breaks from your phone when you can. If you're at a table with friends or family members, that's a great time to put it away totally and enjoy each other's company- in person!
STAYING IN THE SAME POSITION
"If you're not getting 10,000 steps a day, your body will suffer."
That's the mantra of thousands of doctors and there is common sense wisdom in staying active. At an average of about 100 a minutes, that equates to over and hour-and-a-half of walking. While the 10,000 step goal might be a reach for many, weight-bearing exercises will help maintain bone mass as you age and walking is about the simplest exercise around! Walking helps burn a few extra calories and most exercises help hold A1C and blood sugar in check.
The bottom line is that muscles were designed for motion while bones were made for support. A sedentary lifestyle of being plotzed in front of a computer, tablet, or phone all day reverses those natural dynamics of the body: the muscles are artificially holding the body in one position for hours on end, while the absence of weight-bearing movement causes softer remodeling of the bones.
CROSSING YOUR LEGS
It's not just static sitting that gets you in trouble: sitting while crossing your legs makes the problem even worse, says most bodyworkers and sports doctors.
Although this may feel comfortable at the moment, this position puts increased compressive forces on the lumbar spine and puts your abdominal muscles in a poor position to work efficiently to stabilize your trunk. And that can all injure discs, leading to a variety of conditions, including referred pain patterns, sciatica and others. When you sit, keep both feet on the floor, and keep knees even with your hips.
PICKING UP A BABY and CARRYING A BABY
They're trouble, aren't they? (But we still love them!) Constantly bending over to pick up and put her down is another source of baby-related spine stress. There is a better way to handle the task. When "bending over" to lift up a baby, make sure you bend from the knees and hips, not your back, and keep your abdominal muscles tight. Lift with your legs! The result is more of a squat than the dreaded humpy "bend-over", if you are doing it correctly. Holding babies at arms-length multiplies the leverage- and the stress- on your spine exponentially, so try to get as close as you can to your baby before lifting her up.
Whether you're a parent or a grandparent, you probably have one hip on which you prefer to tote a tot. The problem is that carrying a baby creates increased- and unbalanced- stress on your spine, and habitually carrying a baby on only one side creates the probability of a repetitive stress pattern developing. It typically creates a pain in the low back of the opposite side of the toted tot. If possible, use a baby carrier whenever practical. It not only protects your back, but it frees your hands as well. If no carrier is available, at the very least try to alternate hips when carrying the baby.
OVER-RELAXING WHILE SITTING
When you're slouched while watching TV or just relaxing, your back arches into the shape of a 'C' as you "submarine" your lower spine and coccyx into a horizontal position. This can put pressure on lower back discs and trigger pain in the area. You have a couple of options to watch in a more healthy posture. When resting, sit with your lower back against the back rest of an upright chair. If there's still a gap, place a small pillow or rolled up towel in the small of your back.
Many have discovered that sitting on a large exercise ball can be a comfortable solution with an added benefit. Pick the appropriately sized ball for your height. It should allow you to sit in a comfortable position with feet flat on the floor with the weight of your torso rocked slightly forward on the pelvis and NOT submarined on your spine. As a bonus, your leg and back muscles will be exercised by making continuous "micro-corrections" to your posture, keeping you stable and upright.
SLEEPING "FUNNY"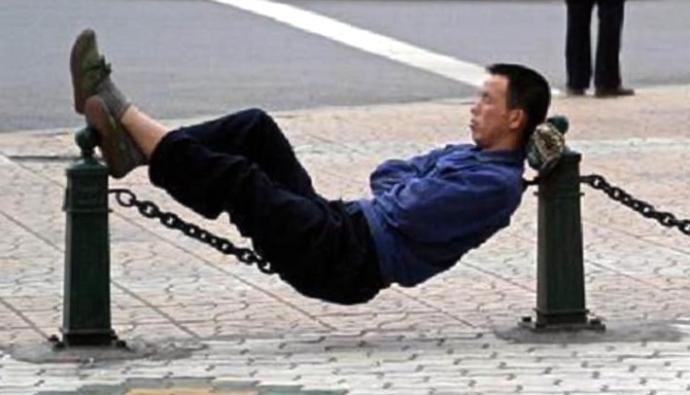 If you're a side sleeper, twisting or crossing your legs while you snooze can be problematic. This overworks your back and hips, causing discomfort. (Not to mention cutting into a good night's rest.) The fix is simply to lay on your side with a pillow between your knees to keep your spine in a neutral position, and use a pillow or towel roll under your neck- any type will do- as long as it allows to you keep your spine in alignment.
NOT PACING YOURSELF - PLAN AHEAD
Does this sound like you? Are you the "weekend warrior" who sits all week in an office and them tries to run a marathon at the drop of the Saturday hat? Or, you're so excited to start a new workout regimen that you go all-out right away?
Too much too soon can prevent you from allowing your body to make the adaptations necessary to get stronger. Plus, this puts you at a much higher risk of injury. Start out slowly in speed and lower in repetitions. Add a little more speed, a few more reps, or a few more pounds periodically as your body becomes accustomed to the pace and weight. And remember to see your Physician or Sports Doctor before starting or modifying your workout.
This list is far from exhaustive. We spend our days bent, hunched and twisted over our tasks. When we rest, we are just as likely to do that in an unhealthy position as a helpful one. Following these hints can help minimize the toll that everyday movements and postural habits take on your bodies.