Okay, so I have been on social media and as usual its bombarded with some of the most ridiculous posts you can imagine.
I don't pay much attention to those as they could be made up by attention seekers. And its not like they affect me anyway. But one thing that I sometimes like to do is to scroll comments and read people's opinions. And this part is often what infuriates me.
Women, you need to understand certain things regarding the whole "waiting for marriage" phenomenon. Waiting for marriage, only applies to women, who actually DID wait for marriage. If you already slept with someone, then you aren't waiting for marriage anymore. It doesn't work that way. Also, you cannot partially "wait for marriage". If you do anything except vaginal sex, that doesn't mean that you are a virgin. You aren't. So your "waiting for marriage" doesn't count.
This stuff is mostly towards, Christian women and tradcon women. But it can apply to other women who don't fall into this category as well. I have seen posts of women who had slept with multiple men, talk about "waiting for marriage" after they met the "right guy" aka their simp, basically. I have seen posts of mothers (women with kids) that want to wait for marriage after meeting a new guy!!!!
What in the world is this? Women, you cannot have your cake and eat it too. This is something you need understand. Men, we don't play this game. Most of us, except for the most desperate of simps are simply not going to participate.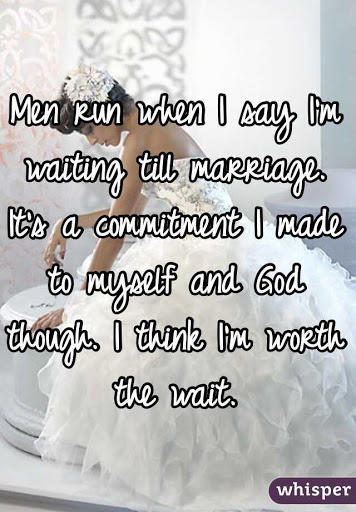 There are two things that girls need to realize:
1. The concept of "waiting for marriage" already lost its value and meaning, in the western world. By making sex available outside of marriage, you already devalued the concept of waiting till marriage. And yes, I'm saying " you" because you did this. After the sexual revolution and with feminists encouraging women to do what they want with their bodies with whom and wherever you wanted, you pretty much cheapened sex. We aren't gonna seek commitment for sex, when we can it can get it for free. Even if some men cannot get it for free, as long as other men can, the value of commitment for it has been destroyed. This is what you should realize first.
2. Despite this, there are some traditional men left in the western world who may be okay with "waiting for marriage". But, for that to happen you need to be a virgin yourself. No man is going to wait for a girl that gave it up for someone else. No man who has any amount of self value, would disrespect himself like that. So this whole concept of, "oh i did it before , but now i wanna wait" needs to go. It has to go.
I'm not going to argue whether or not waiting for marriage is the right thing. It doesn't have to be philosophical. But everyone should be aware of the economical aspect.
Seriously.