So if I haven't made it clear to GAG already- I love to read! And I've been thinking about what my next myTake should be, and I thought why not books? So here's Books You Should Definitely Read!
1. The Hunger Games- Suzanne Collins
To be quite honest I used to be addicted to the Hunger Games series.
In a world divided into twelve districts run by the Capital, each district must take part in a fight to the death, or The Hunger Games, and the lone winner receives fame and fortune while the others, well die. The story follows Katniss Everdeen and her battle in the Hunger Games, and throughout her battle for their freedom from the Capital.
2. Wonder- R.J. Palacio
Wonder is an amazing book about a young boy named August who suffers from a face deformity. August is finally going to go to school when he finds a struggle with bullies, friends, and trying to be a normal kid
3. Hattie Big Sky- Kirby Larson
To be honest when I first saw this book I thought it looked, well terrible. But once I started reading it I couldn't stop.
Hattie Big Sky is about a sixteen year old orphan who homesteads by herself in Eastern Montana in hopes she finds a place where she can call home.
4. The Maze Runner- James Dashner
Now keep in mind I'm still reading the final book, The Kill Order in this four book series.
Now I'm sure you've heard much about this book, so I'll just give you a brief summary. Thomas wakes up knowing nothing besides general knowledge (how to eat, sleep, drink, etc.) and his first name. It turns out he's in a place called the Glade, where they cannot escape. But Thomas finds a way out- through the maze. I won't spoil anymore now!
4. The Giver- Lois Lowry
In Jonas's community things are strict. The government decides everything from who your family is, to what you can wear and say, to what you get to be when you grow up. Jonas finally turns twelve, which means the government now decides his Life Assignment, or his job. But Jonas is chosen to be the Receiver of memories, which is a special job. But being the Receiver means Jonas learns the truth of things beyond his own community.
5. The Fault In Our Stars- John Green
Now I know what you're thinking, but this is actually a lot better than what I expected it to be when I started reading.
If you don't already know what The Fault In Our Stars is about I'll tell you- Hazel Grace Lancaster has lung cancer, and just when all hope and enlightenment seems to be lost, she meets Augustus Waters. Augustus Waters is a former cancer survivor himself, and he completely turns Hazel's world around.
Honorable Mentions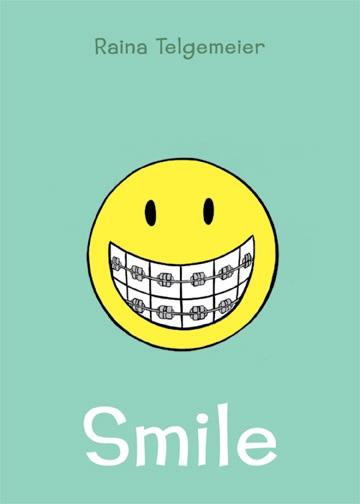 Smile by Raina Telgemmeier. This is actually more of a comic rather than a book, not to mention it's more targeted towards a younger audience, which is why I didn't include it.
Paper Towns by John Green. I figured having two John Green books in the same list wasn't the greatest idea, so I picked my favorite out of the two.
Anyways as always I hope you enjoyed! Let me know what I should do next! What books have you read?
---