Am sure a lot of you get angry for some kind of reason, and I would like to list a few things that make me go >:(
I might/might not have anger issues but all I know for sure is that I have a bad temper...
1. When people think they are always right >:(
Arggghhh i can't stand it when people never recognize that they're wrong or that they did a mistake even tho sh** is obvious
2. When people lie >:(
Can't stand it when people lie and pretend they're telling the truth...pffffff that's bulls**t
3. When people owe you ca$h but don't give you back your money >:(
In the case when someone was broke and you were kind enough to lend em cash...normally they should pay you back...but some pretend like they suddenly got amnesia.
4. When people break promises >:(
What's the point of doing "promises" to someone when you can't even f*****g maintain them uh??
the thing is...when you do a promise.....respect it!
5. When people get nosy >:(
Why can't those people simply mind their own business?? They have a life...look after it instead of trying to invade other people's privacy.
6. When people judge >:(
Why do some people even judge others based on how they look like or things they've heard about them when in fact; they don't know anything about that person's life or about stuffs those people are going through? -_-''
7. When people impose things on you >:(
C'mon why do some people will impose stuffs on you?? Or force you to do things you don't want to?? Why can't they let people choose what they think are good for them?....same goes for people who like to give orders...oh hell naw!!!
8. When people think they are superior >:(
To all those who think they are better than others ; guess what??? ......no one cares
It's as simple as that.
9. When people will discourage you >:(
Oh yes i think this gif is perfect to describe it. Some people want to see you stay left behind by constantly discouraging you from doing something you wanna do.
10. When people don't listen to you >:(
Nothing more frustrating than someone who won't listen to you when you're talking to them.
11. When a person doesn''t have time for you >:(

Each time i am being told that "oh I don't have time for this!" or "I am busy" this makes me wanna hold my peace forever and never talk again. :'(
12. People who are selfish >:(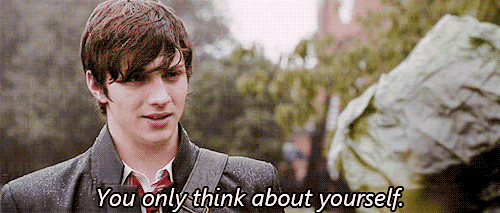 I guess selfish people only know one person: THEMSELVES.
*rolls eyes*
13. People who try to fool you >:(
Just don't let anyone fool you
GAGers what are things that make you go mad?
---