This is just a collection of things that tick me off. I'm guessing they might piss a few other people off too but it's mainly just a rant of mine that I usually keep to myself or scream about in my car. Speaking of that let's get the party started.

Driving-
I have never been able to figure out why the moron in front of me speeds up when I slow down and slows down when I speed up. Cars have had cruise control since the 40's! Set it so I can deal with it either by passing you or keeping pace with you, it's not that fucking hard! Aside from the moments where cops can be dicks can we all agree that 5 mph over the limit is the standard speed in Traffic.
And another thing when you're driving at night that little almost neon light on your dashboard means YOUR BRIGHTS ARE ON! I'm not trying to read a book and I didn't drop anything so dim the damn lights already. Oh and if I flash my brights that's a CLUE to turn yours down!
Netflix-
I don't know why it's set up this way but apparently Netflix only wants to pay for 3 episodes before prompting the "Continue Watching?" message to pop up. I usually have this playing at night for background noise while I do other things like laundry/playing games/cleaning etc. It's annoying as fuck to stop doing something just to keep a service I pay for going off air! They like to advertise you can binge watch all your favorite shows but not without pressing the damn play button every 4th episode! Some shows are barely 22 minutes long dammit!
Work-
Now all jobs have office politics to some extent but at my job it's a little different. (Or so I think.) We have something I like to call "Lift Politics." Basically I drive a Forklift all night or I'm supposed to. Each Lift Driver has to have their OWN special lift. They're numbered too so you can't just take someone else's number because "That's the one I always sign out."
They just stand there and stare at you like a deer in headlights until you give it back. I've argued with all of them about it: Look we're all adults. No matter what number is on the lift all of them preform the same basic function. They Lift and Lower pallets. So why can't we each just grab the next lift back there? "But... but... That's My Lift!" is the only retort I get.
I tried bringing it up to my Boss but that smug, self important, little douche says pretty much the same thing. "Well I don't care what you say Number 2 is MY LIFT!" Oh it is, is it. That's right I remember the company buying it just for your use. They even engraved your name on it and had that big ceremony just to say you own it now. (I actually said that to him.) "No, it's mine because the paint isn't all scratched up like the others. Because I don't hit anything." Right as if we're the only shift that uses them..., I said walking out of the office.
Day Walkers-
People that work and play during the day seem to think they can make all the noise in the world just because the Sun is out. But for Fuck's sake if I make any noise when the Sun goes down, because I work at night, they piss and moan how they can't sleep! Yet, to drown out all the morning noise I have to rock 2 fans and the T.V. so I BARELY hear a Vacuum, Construction Work or Traffic so I CAN SLEEP!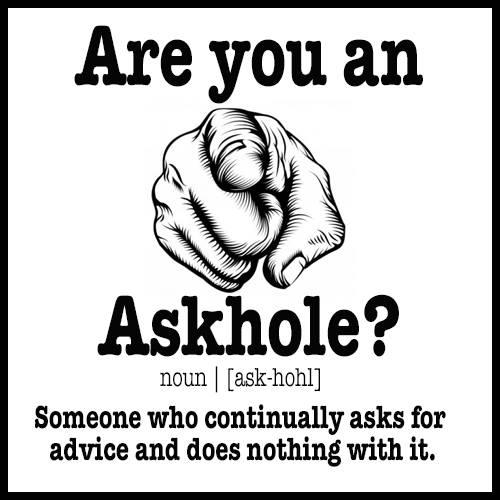 Askholes-
Usually a Friend (We all have one), sometimes a co-worker or maybe a Family member. You waste time listening to them talk and whine for hours, finally throwing in your two cents, only to have go in one ear and out the other. When what they're really saying is "LOOK AT ME, LOOK AT ME!" They just want to be the center of attention and they realized the best way to do that is abuse your Empathy. I've started giving them the worst advice possible, knowing they aren't really listening, because it's my way of not being bored to death.
Public Displays Of Affection-
That's right you PDA bastards are a special kind of annoying! I fine if it's just a matter of Holding Hands but anything beyond that and you might as well just start shooting the Porno. The double butt hold, kissing in hallways/alleys and those quick little private gropes (which everyone sees btw) are all things you should keep to yourselves at HOME! Either that or I should be allowed to piss in public to make things even.
Thanks For Your Service/Yellow Ribbons
Don't get me wrong, I am very proud of defending my country. The Navy taught me a lot and made me realize even more. But I draw the line at being "Thanked" and seeing "Yellow Ribbons" so bare with me here. First off, You don't know what I did in the Service. I could've sat on my ass watching T.V. for 4 years as far as you know and I'm not going to tell you. It's an empty platitude realized only after people spat on the Vietnam Vets for years. Apologize to them first!
Secondly, Ribbons saying "support" our Troops are a lame attempt at by people to get attention for themselves. "Look How Much I Care, Aren't I The BEST!" It seldom goes beyond that. No one listens to the Troops come Election time. They don't seem to realize that the only time the U.S. went five years without war (1935-40) was during the isolationist period of the Great Depression. Vets are the first people to tell you when it's time for war and when it's time for peace. No, most people just slap a yellow ribbon on their car preferring that Veterans be seen in Parades and Never Heard!
Meanwhile Cops/Fire Fighters and EMT's are hardly ever supported. Fire Fighters have gained some attention since 9/11 but we've gone back to hating Cops and EMT's never get mentioned. Yet these 3 Services deserve the same attention/support that the Troops supposedly get!
Well writing that last one really ticked me off just thinking about it so I'm going to end it here. Try and do something more once in a while for ALL the Services in your Community and I'll work on calming down.
---