I've wanted to write this take for a while now and I'm finally getting around to it so here we go.
1. The this car climbed Mt. Washington bumper sticker
Now Mt. Washington is a Mountain in New Hampshire and there is a road that goes to the summit. The fact is that there is a road that goes up it all the way and its freaking paved.
Let me put it this way, you drove up a road. That is not an accomplishment. This is not something that you should take pride in. Hiking this mountain is an accomplishment.
@FallOutBoy2001 I imagine this annoys you too.
2. People who act like punk rock or rap music is bad for promoting violence while the classic literature is squeaky clean.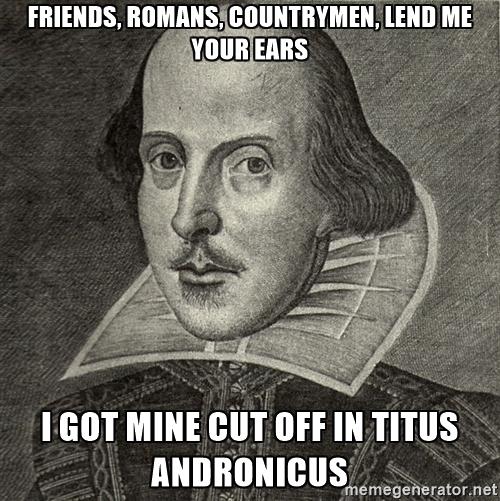 Let me put it this way Titus Andronicus has more atrocities that the film Pulp Fiction.
As S. Clarke Hulse says, Titus Andronicus is a play with "14 killings, 9 of them on stage, 6 severed members, 1 rape (or 2 or 3, depending on how you count), 1 live burial, 1 case of insanity and 1 of cannibalism—an average of 5.2 atrocities per act, or one for every 97 lines."
That is Titus Andronicus one of good old William Shakespeare's plays. I actually had a professor who did not like rap or punk rock because she found the acts described in it vile yet liked Shakespeare so one day in class I pointed out that most Rap music doesn't have jack on Titus Andronicus. She really didn't have a response.
3. Douchebags
Seriously, in college you see these assholes every goddamn day. They are just so fucking annoying. Its like they don't ever shut. I've met some of them who act like they are drunk or high all the time even on the rare occasions when they are completely and utterly sober.
4. Political bumper stickers of any kind
It doesn't matter what side you are on. Do you honestly think someone has ever thought, "Hm, that bumper sticker says, Trump/Pence-Obama/Biden-fuckwad/fucktard
I am now changing my political stance and am voting for them thank you anonymous asshole driving the car in front of me, you have completely changed my life and I am extremely grateful. If you actually believe that you are going to change someones opinion with a stupid bumper sticker, then you are a complete and utter fucktard. All this is is turning your car into a goddamn billboard for and you actually pay to do it. Its fucking annoying is what it is.
---