Sooo I just got a new kitten and well...she's kind of a bitch, the same as my other three cats. So yeah, I'm kind of a cat person I suppose; they're hilarious.
1. They go on your keyboard and computer desk for no reason
Oh hey, you're writing a paper for university? Now you aren't. Oh hey, you're playing a video game? Nope, I'm taking over. But at least cats are cute, like in an evil sort of way.
2. You're their slaves when they want food
They'll literally beg and whine for food like they haven't had a meal in days. Then when you finish feeding them, they want more food soon after.
3. They will play with anything, even your own body parts
Oh, is that your foot? No it isn't, it's now my personal toy and I am going to scratch you now. I can't even tell you how many scratches I have on my body because of cats. But they're still cute.
4. They will seriously fuck you up; they aren't playing around
They may be really cute and fluffy, but when the time comes they will fuck you up. They seriously are evil little devil creatures. But the fluffiness makes up for it so it's okay.
5. They are insanely smart at times
It's kind of like they're plotting against you, just watching and learning. You better watch out...
6. They have staring contests with you
Like seriously, there's been many encounters of staring contests with my cats; they just stare at me from across the room.
7. They scratch whatever the fuck they want
I have so many scratches on furniture and other things, it's crazy. They don't care about your fancy new couch or your fancy new chair; they just want to stretch their claws.
8. They don't give a fuck about your drinks
So.....much.....spilled....water......
9. They steal food like assassins
Those sneaky bastards. One of my cats stole half a burger from my brother and ran away.
10. They only love you if you give them affection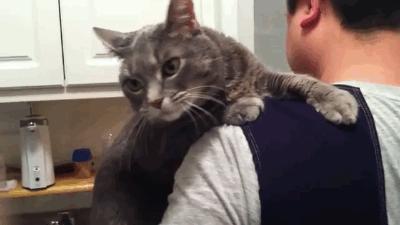 But don't be fooled by that, they are still EVILLLL.
But honestly, us cat people just love our cats either way. They may be little furry creatures from hell, but they are still family. Until one day they kill you.