Okay, I'm a girl and I admit I can't stop shopping.
I shop until I drop, I am a certified shopper. Seriously, I'm actually a certified mystery shopper to earn the cash for my shopping habit. As a professional shopaholic, I will attempt to address the allure of shopping by answering the baffling question - why do girls need to shop?
The thrill of the hunt

Sure, guys gear up their guns for a weekend to shoot at Bambi or tie themselves up in their own fishing line in a frenzy to hit the water. It's all about the unspoken, universally understood thrill of the hunt. The thrill of the hunt also holds true for girls and shopping. Can you imagine my delight when I discovered that gorgeous signature Coach bag on clearance at a remote outlet! After all, I had to drive many winding miles from home, tailgating old ladies and honking at farm trucks, to score that Coach deal. The chase for that handbag was a real adrenaline rush, much like reeling in the big bass for a trophy.
Competition

Even though there is basic camaraderie among the guys, there is also a healthy spirit of competition in the air - everyone wants to get the biggest, best catch of the day. Competition also exists in shopping, which is a marathon mall event. Girls push, shove, step on each other and use creative tactics to grab that last pair of Baby Phat jeans on sale. A girl imagines the envy of her friends at the club that night when she brags about how much she didn't have to pay for those hot jeans! Frankly, scoring a bargain makes a girl's self-esteem soar like a guy with a deer head over the mantle and a tale to tell.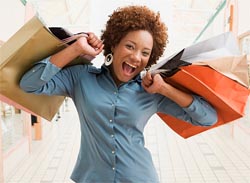 Prestige

Every guy wants the biggest gun or the most alluring lure and compares what he has to the next guy. If his gun is too small (poor guy) or his rig too flimsy, he yearns for that premium Penn. When girls shop, they are highly motivated to locate brand names for less to upgrade their appearance and the quality of their wardrobe. After all, prestigious designer labels make the girl wearing them feel a whole lot better about how she looks. Just as guys surf sporting goods stores to find better gear for less, girls comb clearance racks in search of that designer label for seventy percent off.
The desire to provide

Guys claim to hunt and fish so that they can bring home their catch to the girls, or at least mine does. He gets all pumped up when he bring home freshly gutted fish for me to cook up. Well, I get all pumped up when I find those cool Rockport shoes he wanted for fifty percent off with a coupon I printed from the Internet. Hey, I just provided for him and he doesn't seem to get it! As guys are natural hunters, we are naturally maternal and yearn to use our highly refined shopping skills to find bargains for the people we love. It's not only about finding those incredible shoes for ourselves we put ourselves into the shoes of our loved ones so we can find them cool stuff, too. Shopping fulfills the motherly instinct in girls to provide for themselves and the people they love.
Trends and updates

The guys I know always discuss the latest, greatest gear to bring along to get Bambi's attention or hook a big bass. Frankly, fashion changes every minute and a girl has to keep up with it. It's almost criminal among girls to be outdated and subtle suggestions to contact the fashion police will be made. Shopping is a necessary way to follow trends and stay up to date.
A pleasurable hobby

It's fun, they know how to do it and it becomes a pleasurable hobby. The more girls shop, the better they get at it and the more fun it is. We know where the bargains are, how to find them and when to look so it becomes a great way to spend some enjoyable time.
Why do girls shop? It is so much more than procuring necessary goods for sale for us - it's the thrill of the chase, the triumph of the score and the pleasure of enjoying the catch! So the next time your girl asks you to accompany her on that mall marathon, you can show off your understanding, along with those pumped up muscles, by toting her cargo trust me, the rewards will be great!
---