Reader Discretion is Advised
This is a fictional story which involves body transformations
Disclaimer
This is also something that is desired and enjoyed by fellow gaggers
"I love ur stories! good job" "That's a cute story" "Good story" "That's a great story. Well done!"
The concept of stories is also enjoyed
"I wish more fanfiction would be written on here." "Stories are cool" "I like it and I don't care about the grammar this is gag, not a book" "Sure. I like it."
Please don't read this if you don't like it but if you do, thank you.
How about funny stuff like grooming? it could be amusing..
They watched the lit dome yet again….

"your body is finding itself and it is blooming but with additional body perks comes a little grooming"
Adam: I went back to my normal age, it was tough being a teenager. Then I felt my hair grow out a little for style but turn quickly into a rat's nest. I was left in my underwear so I could see my whole body. My arms and legs now had a little bit of hair on them. My eyebrows were also a little bit too bushy. A vanity appeared before me with plenty of light. Then waxing strips appeared before me on the vanity. In my guy head I was thinking, no, no, no, no, (chuckling) that was not going to be happening. Then my girl brain took over, it was a necessary evil. Like taking out the garbage, just a part of the day you had to get over with. I got started and pulled the strip off the contact paper and placed it on my hairy leg, I let it rest for a bit after apply firm pressure than I ripped it off. My girl body just went with the pain, it was used to it. But in my head, I was screaming bloody murder. GIRLS DID THIS TO THEMSELVES ON PURPOSE!!! My leg still sensitive from the last pull had yet another wax strip applied. It was torture, pure torture. But after many pulls, I felt my leg and it was nice and smooth. It almost made it worth it, almost… I went from one leg to another, then to my arms and a bit in my arm pits. After a while I became numb to the pain, simply because it was going to keep happening anyway so I kind of just turned it off somehow.

Then my eye brows needed a trim, I pulled out a brow brush and started to use a pair of small scissors to trim them carefully. After all this, it made sense why beauty salons were so popular, they did all this work for girls. After many careful cuts my eyebrows were finished. My girl brain told me that I had a shower last night. I looked at the counter and saw a detangling brush with different types of detangling creams and sprays. I just got started with the comb and worked in the cremes, this was not going to be done in a minute or two, this was going to need at least ten minutes to do. It made me think of how I always rushed my girlfriend out the door. After brushing and brushing until I could almost not brush anymore, I finally had at least most of my tangles out.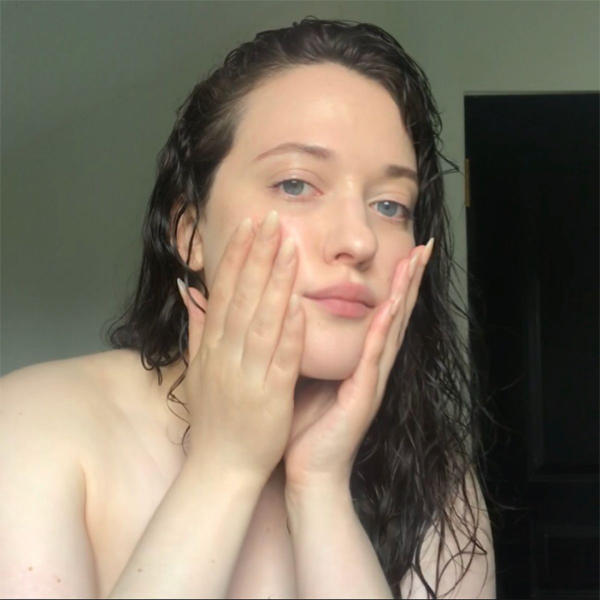 Then I looked at my blank face. And went oh no… not that…. Then various types of make up cluttered the counter. Yup… this was going to take a while…. I pulled up what appeared to be a moisturizer and I started rubbing it into my face. Shortly after that I started to add color to my eyebrows for some reason, I guess it made them stand out better. Then I started using something called foundation, it made them think of a building's foundation, like the bottom layer. Then I thought THE BOTTOM LAYER! THIS WAS THE START!! After the skin's appearance was to my liking, went for something called concealer and I went for awkward places like the dark spots on my face and started mixing into the spot with the foundation. Then it seemed to be time for the eyes, the eye shadow went on with some eye liner. Then I put on some lipstick and chased it up with lip liner. The process was finished with blush as the cherry on top. I thought to myself, that was a lot of work but I did look really good. Then I looked at my finger nails and toes, oops how careless of me. I got cozy on the floor with my cellphone close by and started by painting my toes doing one foot at a time waiting for them to dry while flipping through photos on my phone.

Sarah: I went back to my former age, I looked at my body. I looked at my gorgeous chest of hair. What I thought to myself. Nothing to do. Then I thought… well I guess I could shave a little bit. I felt my beard. Then I went over it, probably did not take me anymore than ten minutes. Then I put on some man spray. I looked over at Adam. She was waxing her legs. Girls, I thought to myself as I rolled my eyes and went on my phone to kill some time to wait for her.

Adam: As I looked into the vanity mirror. I realized how many times I was impatient with Sarah and other girls. I kinda knew this is what they had to do but it never really occurred to me that it took this much to do it.

Sarah: (Smacks Adam head) I hate you!

In Sarah's quick pout, they see the pieces move yet again.

What happens now, what happens next
---