My mind flows a bit differently...
We have all or most of us have been there. The point where you feel the other person is almost eggin you on the the point of outrage. We experience this anger in all areas of life, be it relationships, homelife, families, the internet, even people on GAG...Who knew!
To understand why we get so outraged and stop it from happening we must first notice what sets us off. First and formost, our emotions are always the ones driving us to curse or yell at someone. The emotions are because we feel be-rated, stepped upon, subdued and not heard. It is with great certainty I say that without reigning in those emotions that drive you to act first ask questions later, you will become trapped in the paradox that is the pinnacle of emotional dehabilitation. Meaning; you will simply allow yourself to become stupid.
Now though the human condition above all else preaches that we must be true to ourselves and our emotions. It fails to recognize the emotions we do not see as regressive. We come to a point where we realize (at least those of intelligence) that though we are born with the capabilities to act aggressive we do not. We simply notice these emotions floating by. We can acknoledge them, yes. However that does not mean act.
When we act we become blind to what is actually happening and in turn, we become less receptive or dull to alternative options as well as different perceptions. This is often known as giving a fuck. When we don't give a fuck we can simply allow ourselves to move on or notice the situation and figure out other alternatives.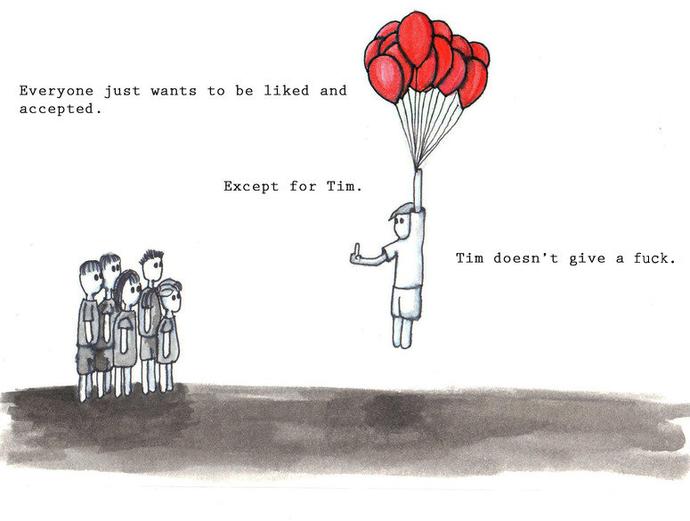 In our society today we spend far too much time thinking about what others think. It is really none of their business as to how to make us agree with them. It leads to a uniformity many have fallen under; either being too afraid to act out of term or simply giving up. When we approach a situation with a clear head and conscience we can begin to allow ourselves freedoms.
These freedoms can grant us choices no person would ever had if he/she continues to follow what others do. To conclude this short essay, it doesn't matter weather people think you should be mad sad or angry; you are in charge of your emotions, you allow yourself to go down that beaten trail or blaze a new one seeking a better self consensus. Regardless it is your choice no one person has the right to challenge or change you; you always have and always will retain the right in yourself to make your own decisions and choices. Thank you for readin' :)