I see a lot of talk about this lately, with people using this broad term to blame all kinds of issues. I never see any tangible solutions given however, and to me thats symptomatic that the problem is misdiagnosed, or misunderstood. It is also divisive to look at it that way and that in itself makes solving any problem much harder. Are there toxic male behaviors? Of course. Are there toxic female behaviors? Of course. Toxic white people behaviors? Toxic Christian behaviors? Toxic republican behaviors? Of course. Every group, every subgroup, every race has toxic aspects. Some of them have adapted to fit that group in specific ways (like with males being taught not to show emotion) but many of these learned behaviors transcend these gorups and subgroups until the most common denominator is male and female. In that sense I see where people are coming from with the term "toxic masculinity"

Aside from that though I disagree with the use of that term entirely. The problem is not just one thing, but a number of things.
-Toxic societal norms and toxic human behaviors. Women are just as prone to feeling pressured into being a certain way, looking, doing, acting a certain way. They are just as prone to experiencing negative, unhealthy, and detrimental responses to not following these norms, and like men, they also have behaviors that cause harm to not just themselves but both genders.

-Feminism as its portrayed currently, is a joke and pile of hypocritical trash. On the polar opposite side of things there are groups like MGTOW (I'm not even going to try and explain that circus of clowns, google it if you don't know what it means), and given how each group behaves I can somewhat understand how someone gets into being what I'll call a "modern" feminist or a guy in MGTOW. I can see how women would go to a MGTOW site and read some of their hypermasuline-to-the-point-of-being-gay-even-though-they-openly-hate-gays circle jerk content and become a modern feminists as a result. I can see how some men see these "feminists" saying such ignorant and discriminating nonsense that they think MGTOW is the answer.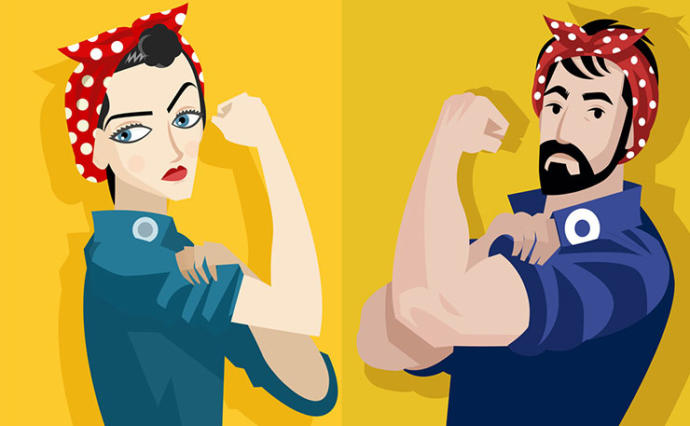 That's because both of these views are absurd, beyond stupid, and laughable. They're both insincere, detrimental, and take part in obscuring the truth. The only good thing I can say about them is that to some small degree they at least are aware that there is a problem, even if they're lightyears away from correctly identifying it, and therefore unaware that they are a big part of that problem. In truth, genuine feminism and genuine masculism are the same. They both see that there is systematic discrimination, and believe that it should be eliminated. What they don't see though, is the only way they can end discrimination is by operating in unity to end discrimination since both sides play a big role in the creation of these social norms to begin with, but also because both genders are impacted by these behaviors.
Rather than being divided and looking at it in a way that blames the other side we should work as one to eliminate any and all toxic human behaviors that are instilled by society. After all, we do have the same goals. What this also means is you can't pick and choose your discrimination, meaning you can't end discrimination against women if racial discrimination still exists and so on, so all of it would have to go (sexism, racism, religious discrimination, homophobia, political discrimination, etc.) That's because from a logical standpoint you cannot totally eliminate one group being discriminated against if they are discriminating against the other group still since they will in turn discriminate back. Or if you discriminate against them for one thing but not another, it doesn't work like that.

So the problem isn't "toxic masculinity", rather toxic parts of human behavior in general. Parts that can only be made better by acting out our desire of not being discriminated against by...not discriminating, against anyone, for anything. Until we approach these problems in unity and as one and see them in that manner nothing will substantially change. If we could though, just think of the whole world having one goal. We would be unstoppable.

Whether that's a realistic possibility for humanity or not is a matter for the comments section or maybe another post, the main thing about this post is just to accurately name the real problem disguised as "toxic masculinity" and offer a solution.
---