11.11 Singles' Day

11.11 Single's Day is started in China, it "is a shopping holiday popular among young Chinese people that celebrate their pride in being single."

"The holiday has become the largest offline and online shopping day in the world. . ." bigger than Black Friday and Cyber Monday combined.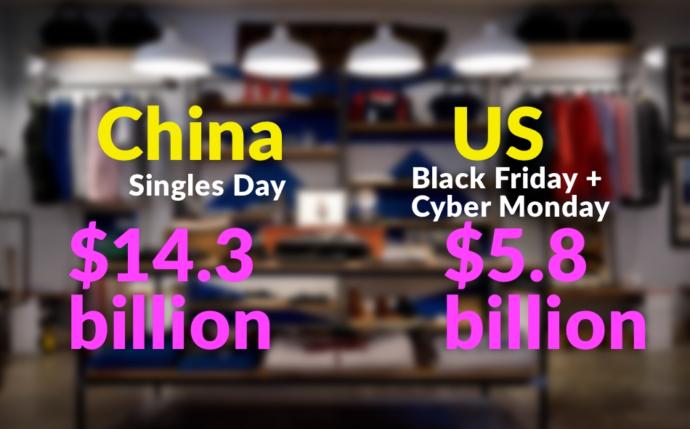 "Chinese Singles' Day, or Bachelors' Day, originated at Nanjing University in 1993. Singles' Day celebrations spread to several other universities in Nanjing during the 1990s."
"The holiday was named "Singles' Day" because its date, 11/11 (November 11), consists of four "ones," representing four singles."
The Origin of 11.11 Singles' Day
"There are several ideas explaining the creation of the Singles' Day festival. The most widely accepted idea is that the holiday grew out of Nanjing University's dorm culture.
"One origin story is that in 1993, four male students of Nanjing University's Mingcaowuzhu ("All single men") dorm discussed how they could break away from the monotony of being single and agreed that November 11 would be a day of events and celebrations in honor of being single."
"These activities spread through the university and eventually made their way into wider society. The spread increased with social media use, and the event has become increasingly popular within contemporary Chinese culture and society."

"Singles' Day serves as an occasion for single people to meet and for parties to be organized."
"The holiday was initially only celebrated by young men, hence the initial name "Bachelors' Day." However, it is now widely celebrated by both sexes. "Blind date" parties are popular on this day, in an attempt to alter the single status of the participants."
"Some universities organize special programs to gather singles together for the celebration. Singles may take on an annoyed or self-deprecating attitude in response to remaining single as a university student, but university initiatives have helped curb that negativity."

How it spreads outside China
"Singles' Day has since been popularized through the internet and is now observed at several places outside of China as well. The holiday has particularly grown in Southeast Asia. . ." through heavy promotions on southeast Asian's Lazada marketplace.

That is how I come to know about Singles' Day with Singles' Day sale being held annually by my favourite Southeast Asian based online stores such as fashionvalet.com and zalora.com. The 11.11 day does not have greater meaning for me and people in my country apart from getting the sale deal.
Do we celebrate Singles' Day at all in Brunei? No, we don't.
What do I think of the day? It is The Day to checkout my cart.
This year Alibaba broke its Singles' Day record with more than USD$38 billion in sales (https://www.abc.net.au/news/2019-11-11/singles-day-alibaba-china-shopping-trade-war-us/11691620). The shopping glitz hosted a number of celebrities, including Taylor Swift and Asian pop icon GEM, to generate buzz at Alibaba's Singles Day event.
11.11 in USA, UK and parts of Europe
USA – 11.11 is Public Holiday for Veterans' Day or Remembrance Day

"In the US, November 11 is Veterans' Day, which honors the Armistice that ended World War I on November 11, 1918, and which later was modified to honor all veterans who have served our country. I believe that Armistice Day is observed in at least some of the European countries. . ."

When I wonder if Veterans' Day is recognized as a public holiday, he explained:
"The federal government declares that it is a holiday for all federal government employees. Banks all follow the federal holiday schedule. Each individual state determines what holidays are observed by state government. To the best of my knowledge, Veterans Day is observed by every state. State schools, courts, state government offices are all closed. Each county of every state can determine which holidays to observe. Some local governments do not observe Veterans Day as a holiday.
With our schools, state laws require that students attend so many days per year In Florida, it is 180 days per year. A school calendar is set in advance. That calendar can be disrupted when schools are closed because of hurricanes, snow storms, and other events which make it impractical to open schools. Then the school must find extra days for students to attend to make up the regularly scheduled days when the school was closed. Sometimes, holidays are used for make up days."
@midnightmoon05 also added:
yes, the parade is happening now in my city.
Its a pretty big deal.
UK – 11.11 is Armistice Day
". . .11/11 is armistice day in the UK. . .".
It is not a public holiday but they observe the day by:
". . .we had 2 minutes silence but still [go to] worked. It signifies the end of WW1 at the 11th hour of the 11th day of the 11th month fighting ceased. So we have 2 minutes silence to remember those that gave their lives."

Belgium – 11.11 is a Public Holiday for Armistice Day
@esotericstory:
"For Belgium 11.11 is armistice day from WWI."
". . .Every year there is an armistice ceremony at the Grave of the Unknown Soldier."

11.11 is the start of the Karneval in Germany

"Carnival season kicks off in Germany on the eleventh day of the eleventh month of the year (November 11) at exactly 11.11am, though this day is marked by little festivities. The reason for this is not known for certain, but a theory suggests that this may have something to do with the fact that 11 is considered to be närrische Zahl (foolish number)."

@andreasderjuengere
"Germany ("rhineland" area): On 11.11. at 11.11 a. m. the 'Fool's Carnival' season begins."
How they celebrate the day is:
"Usually you dress up in costumes (think of Halloween, but leaving away the Pumpkin-and-Spirits details) and enjoy to do all sorts of silly things in public. Officially it starts 11th November at 11:11am and continues in a quite low-key way for about three months before the 'Crazy Days' which climax on 'Rosenmontag', the 42nd day before Easter - with large parades in the major towns. Carnival season is traditionally seen as a chance for people to go wild and 'have fun'."
As I could not find any answer with my own search about the historical background of the German's karneval, he also confirmed:
"Honestly, I don't know the full background. It is Christian motivated - the time before Easter fasting was used to 'fill up' through (almost) gluttony - could we call this 'anti-fasting? - and symbolically displayed evil and sins... this tuned in to the Fasting period which then thematically focused on the opposite. The costumes and parades turned up a lot later. Initially 'the Fool' stood for the weakness of humans versus evil. But 'the Freedom of the Fool' also was used to vent feelings towards 'the authorities'. Nowadays this all went much into the background and was replaced by more... worldly... enjoyment."
They mock political figures on the day too... I chose not to include the images I found as many users may find them very offensive.
Anything to add?

I don't know about Australia though? Does 11.11 also have a significance to you?

Those from other countries I did not mention here, feel free to add an opinion on the meaning of 11.11 to your country.

If any of you feel the information on here inaccurate, kindly leave your opinion to correct that mistake.
In Conclusion
When I first posted the question on 11.11 Singles' Day, I was unaware of Veterans' Day, Remembrance Day and Armistice Day which fall on the same day. It was not my intention to offend anyone, for me 11.11 only means the biggest sale deal I could get online.
How do you find the German's Karneval though? I'd like to assume they are in no way trying to offend those observing Armistice Day.
I'm going to end this MyTake with an opinion from a user which I find very fitting:

@Magicstar
"11 angelically, represents transmutation of self to a greater spiritual awareness. Seeing 1111 in it's various forms is to signify that you are on your spiritually guided correct path. Most who see 1111 often, have mastered themselves as humans, and to others around them, may seem a bit quirky. They often are working towards an inner drive to make a mark in the world by improving it in some form. Weather their impact helps one or many, they have been successful. Often, their world is filled with true friends that are grateful for them. 11 is mastery of spiritual tasks. Although it has taken on many definitions, all of which accurate, many fail to see the connection of mastery to their belief system. Singles Day, Veterans Day, or spiritual awareness, whatever 11 means to the observer, will continue to lead them to greater purpose and meaning."

Thank you for those who responded respectfully in the question and inform me what 11.11 means to you. I enjoy learning from all of you and thank you for making my time on g@g enjoyable!