Most of the time, when we think of empathy and emotions, we always see women as having more of it. But why do you think that is? A lot of studies have concluded that women seem to be more empathetic than their male counterparts. But listen to this...
We might conclude from this that females are indeed more empathetic than boys. But the difficulty is that this study (like most studies on empathy) relied on self-report: Participants simply reported how distressed they felt or how easy or hard it was to see things from the other person's perspective.

When physiological measures are taken, however, these sex differences tend to disappear. For example, in another study, male and female teens gave self-reports and had several physiological measures taken while they viewed animated clips depicting people being hurt. Female participants scored higher than males on self-reported empathy, and this sex difference increased with age. But no sex differences were detected in blood pressure, heart rate, or pupil dilation—all measures of emotional responsiveness. These results suggest that males and females feel the same thing, but report what they feel differently.
Source: Are Males and Females Equally Emotional?
Studies made on emotions and empathy most often depend on how the person describes themselves instead of what they actually feel. We humans are very biased on the way we feel, most of the time we label ourselves as less or more emotional than we actually are, and this largely depends on what gender we belong to. Most of the time, men seem to say that they're less emotional than they really are, and women seem to report that they're more emotional than they really are.
As you can see, these studies that have a black & white view of men and women are often very biased and don't truly examine where these differences even come from or explain what actually happens in the brain, they only rely on self-reports. Not the best way to come up with scientific results, in my opinion. It's largely known in the psychology & scientific community that the thought process of humans is affected by their culture, so why would we rely only on self-reports to come up with scientific conclusions? It almost seems redundant and repetitive, like we're going back to square 1.
Men are not less emotional/empathetic than women
A lot of people say that men are too logical to understand a woman's emotions and needs, but she's as much of a human as you are, and you're not as logical as you think you are. She experiences human emotions, human thoughts, human viewpoints and she also makes human mistakes, just like you. She is not an alien from outer space, you're just overthinking and overanalyzing what she truly means when she says "I need space" or "I'm fine".
Both genders get attached to their corresponding gender roles
Okay, so here's another more confusing fact. Men and women have specific roles in society, but mostly they are subconscious and involuntary. We as humans underestimate the level of influence these roles place on our behavior and thought process.
If society says women are more emotional and men are less, then women will act accordingly and men will also act accordingly, even if they are both equally emotional at a physiological level. This is why it's not a good idea to do research on this topic by asking people about their feelings and level of empathy. They will be biased most of the time, I promise you that.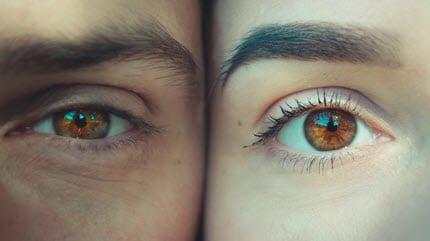 100 years ago, it was seen as strange for a woman to wear pants. 100 years ago, homosexuality was seen as a mental illness. As society's perspective evolves, human beings also change and we start to see the ignorance of the past. People in the future will look at us as ignorant for thinking women and men differ in their emotions/empathy solely based on their genitalia and biological sex.
If you're a man, embrace your human emotions. You're not more feminine for crying, you're not less manly for showing vulnerability, compassion and empathy.
If you're a woman, don't believe the people who say you're overreacting if you're just giving your civilized, reasonable opinion. Don't listen to the ignorant people who say you're being irrational if you're only expressing your perfectly logical thoughts.
Conclusion: YES, some people are more "emotional" than others, but it's not based on gender... Human beings are more complex, and boxing people into two categories as if it were *that* simple is only creating more ignorant stereotypes and biased expectations.
Have a good day everyone! I hope you liked this take :)!