Today, John Glenn, the last living member of a group of military test pilots known as the "Mercury Seven", died at the age of 95. His career was long and colorful, beginning with his enlistment in the U. S. Army Air Corps when the Japanese bombed Pearl Harbor. He was not called to duty though, so a few months later he enlisted as a United States Navy aviation cadet. After preflight training and primary training, he began flying military aircraft, and soon after transferred to the U. S. Marine Corps.
He began in the Marine Corps flying transport planes, then became a Corsair fighter pilot and flew 59 combat missions inn the South Pacific. Then during the Korean War, he flew 63 combat missions during his first tour there. He became involved in an interservice exchange program with the U. S. Air Force and flew 27 missions with them during his second tour in Korea.
After the cease fire there, he was assigned to the U.S. Naval Test Pilot School and graduated that in 1954. During his time as a test pilot he flew numerous types of aircraft, including the first supersonic transcontinental flight in a Vought F8U-3P Crusader from NAS Los Alamitos, California, to Floyd Bennett Field, New York. Total time was less than three and a half hours.
In 1958 NASA began recruiting astronauts. Glenn was just under the 40 year old cut off, and was accepted though he did not have the required college degree in a science based field, due to having left college his senior year to enter the military. On February 20, 1962, John Glenn circled the globe three times aboard Freedom 7 during a flight lasting just over four hours and 55 minutes. This made him the fifth human being in space and the third American in space. But he was the first human to completely orbit the Earth. This made him a national hero and he received a ticker-tape parade in New York City.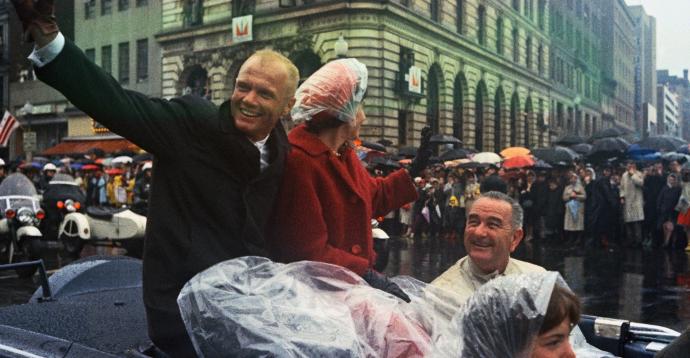 Glenn announced his candidacy as a Democrat for the U.S. Senate from his home state of Ohio in 1964, a day after resigning from NASA. However, he suffered a concussion from a fall and withdrew from the race. He went on convalescent leave from the Marine Corps to recover and retired on January 1, 1965. He tried again for public office in 1974 and won a seat in the Senate which continued till 1999.
At age 77, Glenn returned to space on the Space Shuttle as a Payload Specialist, the oldest person to go into space. He won that seat by lobbying NASA to be a guinea pig for "geriatric studies". This flight offered valuable research on weightlessness and other aspects of space flight on one person at two widely different times in life (36 year).
Although he died after a stay at the James Cancer Hospital at OSU Wexner Medical Center, his cause of death has not yet been stated.