He was the love of your life.
She was your dreamy princess.
You used to send and receive good morning or goodnight texts from each other.
You used to talk to each other a lot from sunrise to sundown.
You were each other's best friends and lovers.
Until one day, BAM!
They left you. The worst part is you didn't see it coming...
Suddenly, your once colorful life is now a picture of black and grey just like your feelings, hollow and dismal.
The love of your life took off with your heart. Your days are long and dragging. Your nights dreary and cold. You're withering by the day waiting for your love to come back.
Then one day, you hear your phone beep.
It's him/her!
Your heart is racing. Your world in a whirl. Your thoughts in a daze.
Your thinking, "What does he want from me?""Is she coming back to me?"
"Does he want me back?" "Does she still have feelings for me?"
Here are the signs your ex is not done hurting you yet...
1. They creep slowly back into your life.
It all starts with a simple "Hey stranger" by text or through your DMs. To break the ice. To test the waters. They want to see if you are going to fall for the bait. Ignore. Do not text back.
2. They want to be your friend.
Yes, the friendship card. They'd be like "Uhm if we can't be lovers, then can we at least be friends for old time's sake?" My answer? Hell no. I can't be friends with someone I used to fuck and spitswap with and worse, broke my heart! I know I used to love you and maybe still do, but I just can't right now. Maybe later when we 80. Fr.
3. They tell you they miss you.
Oh please... Is this after the other person dumped you? Or you had no one else that's why you crawling back to me? See, tread slowly. They can genuinely miss you for the memories that you had but remember they left you for a reason. Just don't reply I miss you back.
4. They start acting romantic towards you.
They try to do throwbacks on you to reminisce the good old times and make you feel warm and mushy again just like how you guys used to be. They act like you're still together minus the label. Sometimes they treat you way better than how they were in the relationship. Again, take note: HE LEFT YOU. Stop buttering me up when the toast is already cold.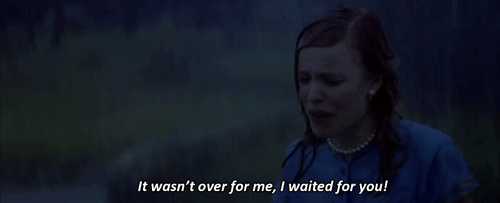 5. They get physical with you.
You guys used to have sex. It's all natural and familiar and you just can't resist. You wake up in his bed in the morning... Now what?
6. They talk about the breakup.
They will say they still have feelings for you but it just didn't work out. If he really wants you back, he'd say, I want you back baby. HE WILL PROVE HIMSELF.
7. They send you breadcrumbs.
She'd be sending you flirty texts to keep you guessing and you'd fall for it. Coz face it, you are not over her yet. She'd be sending you feelers here and there. She'd even initiate. Then goes quiet for a bit. Then you start wondering, where did she go? Then you text her, what's up and she'd act all cold and brush you off. Yes, it hurts. What did i tell you? IGNORE.
8. They're all over your social media.
They'd be liking your posts.Viewing your stories. Even commenting with heart emojis to get your attention. Of course, you'd fall for it. You like that shit.
9. They will tell you they miss you but never acts on meeting up.
Actions are louder than words. Enough said.
10. They will ask you if you still have feelings for them.
Please do not ever tell them you still are hopelessly in love with them. Might as well shove your foot up your mouth. I repeat DO NOT. They will only keep you guessing and playing with your feelings.
Do not be their ego stroker. Do not be their go to person to fuck or to cry to whenever they have sob stories to tell about their new banging lovelife. You do not need to be their anything anymore. They don't really love you. Stand back and watch the pattern. They will only keep you pulling backwards from pushing forward. Just keep walking away from them. Love yourself.
They left you for a reason. If they still do love you, they would HAVE NEVER LEFT in the first place.
These are only few of the signs of an ex who is not done hurting you yet.
Like Dua Lipa's song NEW RULES, "If you are under him, you'll never get over him."
It's hard but you will get through it. Be strong, baby. :D
Thanks for the time reading.
XO Pinay_Ako