I'm not a relationship therapist, but I've had enough experience with dysfunctional relationships to last me a lifetime. Here's my story...
Kathy and I met at work some years ago. I thought she was drop-dead beautiful - like Connie Celica the actress. At first I had a difficult time getting dates with her, I think she was still in another relationship but finally I was able to start spending a reasonable amount of time with her.
One thing that I noticed quickly in our relationship was that normally things get more comfortable over time but with Kathy even though we became increasingly physically intimate, she became more difficult to be around - constantly looking for fights, easily angered, mean spirited in her treatment of me.
Kathy had told me about some terrible abuse in her past. Her mother was stoned and drunk and beat her crazily until she ran the car into a light pole and passed out, dates had fed her booze and drugs and had taken advantage of her - one time even getting her pregnant, etc. As she told me about these horrible things, I became enraged. I couldn't believe that anyone could do such things to such a lovely young woman. I was ready to commit bloody murder on her behalf to punish the bastards that had so terribly wronged her.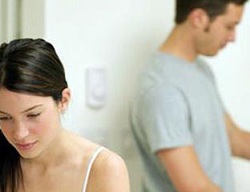 One thing I didn't see, that I should, was the pattern of crisis after crisis. Everything in her life was a crisis of one sort or another. But even knowing all of this I was sure that my love and patience would help her work through these things and that given time she'd be able to relax and be a normal happy person. Turns out that no matter how loving and patient I was, things didn't get any better and in fact got worse.
I was ready to have children. Kathy told me that was her ambition as well; so one night after a party I asked her if she wanted me to use protection. She answered "no, I want it". In about nine months we had a beautiful baby girl. We were married about 2 months into the pregnancy, things went downhill very quickly after that. Constant power plays and control issues on her part, endless threats, endless accusations, things I just didn't believe happened to normal people were becoming the norm for me. But I held on, there was a child to think of and I didn't want her to grow up with just her mother's influence around her.
Everyone has a breaking point, I finally reached mine. Instead of being loving and patient when Kathy would go on a rampage, I started to become unpredictable. Sometimes I'd not pay attention to her, other times I'm blow up with rage, always I'd make sure that her rampage had negative consequences. When she realized that she no longer had the control over me that she once thought she'd had, she couldn't tolerate the situation and filed for divorce.
"

Everyone has a breaking point, I finally reached mine.

"
That's been a couple of years now, I'm at peace with myself. My daughter lives with me and is turning out to be a normal and happy person; life is looking pretty good. My ex found out that the used spouse market wasn't as hot as she figured it would be and has made numerous overtures towards me to reconcile - not in this life.
What I've learned is that you can't fix someone else's problems. In children, maybe, but adults, no way. Damsels in distress continue to be in distress even after you rescue them. Their lives are an ongoing drama and nothing you can do will make it any better. I've also learned that being a man isn't anything to be ashamed of. No, you'll never be as sensitive as her friends are, you'll never figure out the perfect gift for every occasion, you'll never be just like she is but that's not a problem. Be happy with who you are.
---