This is a pretty heavily discussed topic on GaG, and while I generally don't like wasting my time on these kinds of arguments and just try to tune them out - or any of the over-discussed topics here - I'm gonna spend some time on this one. Just once. And I do understand both sides of guys and girls on the issue.

Should guys pay?...
For me as a guy the idea of paying for a date does not bother me. That's just what I think. If you have the money and can do it, why not? Even if she does have money and her own career or whatever, there's still nothing wrong with showing a gentlemanly gesture of paying for a date, especially your first one. In fact you may want to do it the most with your first date.
It's simply a gesture that says you're interested in this girl and you really like her and want to treat her regardless of if she has more money than you or as much as you do. Forget about that, it's about the fact that you're showing how you like her. It has nothing to do with whether you can impress her with your wallet or not. It's a sign that you like her enough to want to spend a little on her. The way I see it: if you're going to have a problem with paying for your girl, then you're either not really mature enough for a date yet, or you know you can't really afford that kind of thing. And if you can't afford it, that's okay, there's nothing wrong with that. Just do something else you both can enjoy. There really is no need to overcomplicate it.

Females who want to be treated too highly…
However, I can understand the guys who don't like the idea of having to pay for a girl who has very expensive tastes and really just wants a guy to pay so she can show it off or get a boost for her ego. Those are definitely a turn off, and you don't have to date them. If a girl you're with wants you to start buying shit for her like fancy handbags, makeup, or going to really high-end restaurants, cut her off quick. It'll never really be about a serious relationship for her, it will almost always be about a thrill for her that she gets to use you as a financial taxi. Not fun at all. And there are definitely a lot of women out there like that, but it doesn't mean you have to date them or settle for them.
There's nothing wrong with you as a guy laying down the law and letting a girl know that you're not about to pay for everything she wants. She doesn't have to like it, and she can be angry, and if she is then she obviously is not the girl for you and you can do better.
Women pitching in...
I don't mind if a girl wants to pay for her part of a date, but I do mind if she wants to pay all of it. I'm not like some of these New Age guys going around talking about "equality" and feeling okay with a woman paying for him. That's really not cool to me. I maintain traditional values about men and women, especially with relationships, so for a woman to want to pay for us going out isn't going to be too acceptable to me.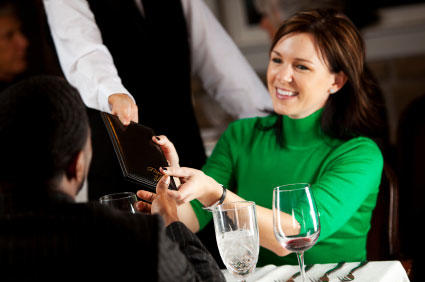 Now if it's my birthday or some special occasion that really does revolve around me - maybe I got a new job, maybe I was successful in some area and she wants to celebrate - that's okay, I don't mind that. That would be normal in any situation for the other person who loves you or likes you to want to treat you. And I wouldn't even mind it if she did insist on paying for a date once in a big blue moon, but overall I don't want or expect a woman to have to do that, regardless of how much money she does have. If she really is okay with paying half, that's okay. I won't make an issue out of it.
Females who don't think guys should have to pay...
It seems to me that a lot of the females who are all in favor of girls paying for dates or at least part of it, and firmly supporting guys in how they shouldn't have to pay, are really in this mindset only because doing so would show financial might on their part as a woman. Females today know they can make their own money and have big jobs and all that, so they do want to try to prove that to men or impress us with it, and I really don't care. How much money you have as a woman doesn't change my mind about how I may see you as a woman or a person with values.
Just cuz you may have a lot of money - or even more than me - doesn't impress me or make me see you as an important person you think I should desire. It doesn't work that way. I'm more concerned about what you can offer me as a woman in a relationship, what kind of character, personality, and values you have. So showing me that you have money by wanting to pay on a date is irrelevant to me.
It's simply a gentlemanly thing to do...
A hell of a lot of guys here on GaG disagree with me on this subject, and that's really okay, I'm no stranger to disagreement. But take some time to think about what I'm saying. I'm not saying you as a guy are necessarily obligated to serve some girl. I'm saying that when you really like a girl, or you think you really love her, you feel like you want to do all kinds of things for her. I know I do. When I really like a woman and have feelings for her, I always want to make her feel special. I want to make something artistic for her like my swans or teddy bears or lotuses and watch her face light up when she sees it. I want to do things she would enjoy or that make her smile or feel good, things that she appreciates. And if she can't appreciate it, then I don't bother and I don't stay interested.
It has nothing to do with wanting to impress her or giving her something just to get something back. It's about the fact that you like her enough to show her that. It's about making her feel special. If a girl wanted to give you a blowjob out of the blue one day, didn't she want to because she likes you? You didn't ask, but she wanted to because she wanted to treat you. She didn't put up an argument about how you should eat her out too just because she's blowing you. While there are women like that, some others are sincere about giving head. So in the same way, paying for a date is about a sincere feeling that you like this girl and want to do something special for her.
To me it really is a non-issue. Something that's not necessary to put so much thought and argument into. How has this kind of affection really been lost in these times? Why are we really throwing up the sandbags and digging the trenches to prepare for battle over this? Does every traditional gender role have to be canceled out now just because somebody doesn't like them? That even goes for women as well, who also have lost many feminine values and characteristics and cry about them being "sexist" yet want men to maintain theirs.
We overcomplicate things and destroy the beauty in what it means to be men and women when we fight for selfishness or the right to not have to respect and esteem the other side. Relationships are about showing love, and how do you show love? By giving. Not because the other person asked or expected to, but because you wanted to or cared enough to. It's that simple.
---