Nice guys finish last
That is a sentence that we all hear, dear nice guys. And unfortunately, it is the truth. Whether we try to impress girls by buying her sweet things or by being there for her if she needs us - we get rejected and friendzoned.
Now take a look at this picture, dear ladies and gents. What do you see here?
Normal human beings see a guy who takes care of himself, who is very well dressed and groomed and seems to be trying to give his crush some flowers.
Girls would say that this is a creepy guy trying to be her doormat in order to have sex with her. Of course girls would say that, they are saying this because they want a guy who looks like THIS
Ladies and gents, allow me to introduce the alpha male, the dominant one, the one guy who attracts all women and who lets all the good guys look like losers: Chad Thundercock.
Now, as you all know, nice guys, you will never be like Chad, and you don't WANT to be like Chad, because Mr. Thundercock is way out of your league. What you nice guys do, instead of trying to improve yourself, is becoming extremely bitter towards women, solely for the reason that you get rejected for them, BECAUSE YOU ARE JERKS. Because in reality, you aren't nice guys. Please mark my words, ladies and gents.
Nice guys aren't nice at all in reality
Let me give you an example. I have a "friend", let's call him Wolfgang. Wolfgang is your typical nice guy, submissive, never trying to smile, saying women are the reason for all the misery in life. He's a follower of MGTOW and Incel and ForeverAlone on Reddit.
One time, he had a date with a woman. What did he do with her?
He tried to be FRIENDS with her. Why? Simple, because he couldn't speak like a man and tell her, that he wants a relationship with her, so instead, he tried to do it the dirty, sneaky way by becoming her friend.
Rule 1: Be direct about your intentions.
Never, and I say it again, NEVER try becoming friends with a woman if you have romantic interest in her. At the and, you don't want her as a friend. Be straight forward and tell her that you like her in a romantic way.
What happens if a nice guy got rejected?
He becomes bitter and wines around like some pussy.
Rule 2: STOP being a fucked pussy bitchin' around if you get rejected
Simply be polite and walk away, thank her for her time and leave her, as she isn't the cause for you not being attractive to her.
See that guy? What makes him so attractive for women that they get wet down there simply by seeing him? He's muscular. If you compare him to the guy in the first picture, you can see that being muscular makes a difference. Even if you don't do it for women, do it for yourself and for your own health. You'll feel much better at the end.
Rule 3: Workout
Every person needs to have a circle of friends. Having friends will help you in becoming more confident and they will be there for you if you have any problems. They are a second family.
What I just said now ist the truth, but I want you to go a step further and become the leader of your friend's group. Be assertive and if you see your friends only sitting on the porch and watching TV, drinking beer (one of the most unattractive traits a man can have, I tell you) just take the lead and bring them out of this mood, decide what is best for you and your group to do next. Wanna go and play some sports? Do it. Wanna go to the club? Go and take your friends with you.
Rule 4: Be assertive with your friends
Finally, what I can tell you is to live your life and don't take it too seriously. Be spontaneous at times.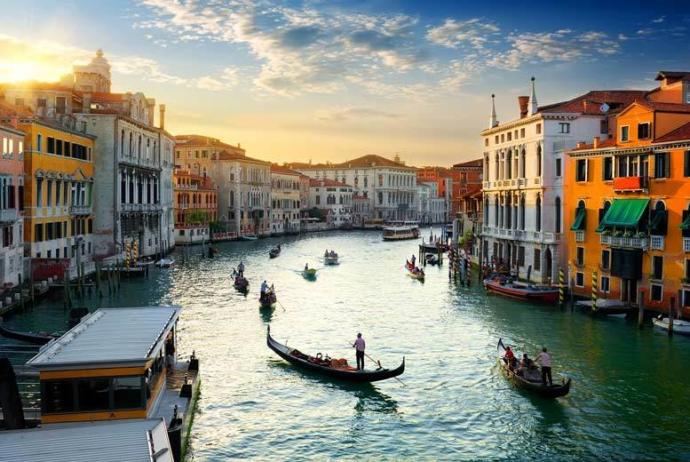 Always wanted to visit this magnificent city, Venice, one day? (Btw you really have to visit it, I was there recently and you must have seen it at least once) You have saved enough money and you have time in two weeks? Just do it, go there and stroll the city.
Or have you ever thought about visiting Egypt? This is the Sinai peninsula, one of the most beautiful places in the world. You have sceneries like this over there
So my last lesson for today
Rule 5: Enjoy life
Best of luck!