I spent a lot of time on Badoo, Tinder and Lovoo these past few weeks and want to share my stunning and interesting findings with you.
I chatted in German, my mother tongue, at least 95% of the time, but I believe that my experiences can also be applied to the US (where most users of G@G are from) and other countries.
Disclaimer
Why I used Badoo, Tinder and Lovoo: They simply are the apps where you find the most people in Central Europe in my experience.
I only started using my own pictures after two to three weeks. I used my friend's pictures with her consent for the first couple of weeks.
This graph applies to the states - it is not applicable in Central Europe. In Austria, Germany and Switzerland, very few people use Tinder and it is much easier to find someone on Badoo (though in CH and AUT there still is a lot of stigma when it comes to online dating in my opinion).
#1 Using online dating apps as a female is completely overwhelming
I think men completely underestimate how many likes and matches somewhat attractive women get on these apps. I used very old (my face hasn't changed that much ever since I'm 14) and in my opinion ugly pictures, but I was still overwhelmed with the response I got.
On some days, I got more than 1000 likes, while on others, I got 200, while 100 men visited my profile and 50 contacted me.
I loved using Badoo's automatically generated first messages ("hello + name of user + 'how are you' or something similar"), but some men were offended that I didn't send them a voice note right away or that I didn't invest that much time when I didn't know anything about them yet.
#2 Verifying your profile on Badoo is stupifyingly easy
I used a friend's (blonde, 26) pictures the first two weeks I used these online dating apps but was still able to verify my profile with my face (brunette, 18). This shocked me and made me lose trust in Badoo.
#3 Everyone lies a little, but men are fairly honest
I can only talk about myself here, I told everyone within the first five messages that the woman in my pictures was my friend, and
#4 I got much fewer dick picks than anticipated
I think this is mainly because people are too ashamed to send nudes when someone knows their face.
This was certainly a very pleasant surprise.
#5 Most men want sex but are not open about it
It was only after I told them that I wouldn't engage in sexual relations before marriage that some men told me they didn't want to continue talking to me.
#6 Not all men are assholes, some are genuinely nice
This one really shouldn't be a surprise. I love men. I love women. Everyone's awesome.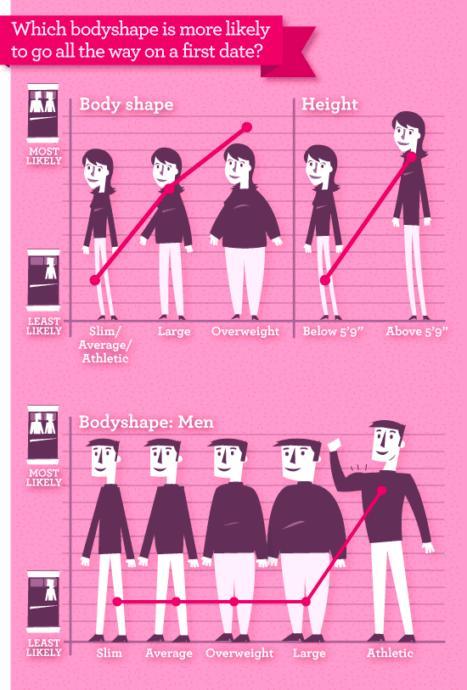 Source of graph: https://www.freedating.co.uk/dating-profile-attributes-vs-first-date-outcomes.html
If you want to read more about my encounters, the men I've met or ask questions about this topic, please read this take, where I go into more detail about that.
Did you enjoy reading my perspective on online dating?
What are your experiences when using Badoo, Tinder or Lovoo?
Have you ever met someone you met online in real life?