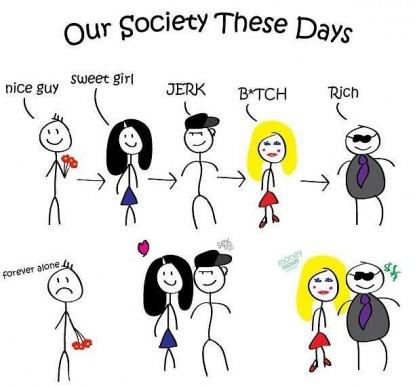 These are observations of realize on gag:

1. Girls these days think the vast majority of men don't want to commit and only want to sleep around.

https://www.girlsaskguys.com/relationships/q1794051-why-do-majority-of-women-today-believe-guys-are-all-sleeping-around

2. Girls and men think nice guy happens to be some sort of manipulative jerk who uses kindness to try and "sneakly" win a girls heart.

https://www.girlsaskguys.com/dating/a25487-why-the-nice-guy-may-be-the-worst-guy

https://www.girlsaskguys.com/relationships/q1834655-the-discrepancies-between-the-sexes-when-it-comes-to-nice-guys

3. A lot of girls on this site in the dating section write questions either complaining about getting played by someone, love not being real, or some tendency of their asshole boyfriend.

I can't find it but I believe a girl asked a question on here asking what to do because she overheard her boyfriend telling his friends that she was so bad in bed that he was thinking of dumping her [He just took her virginity]

So really why are nice guys being the main culprit to woman's problems in the dating world?


Updates:
---
Most Helpful Guy
cuz nice guys apparently dont respect women and treat them like they are dependent upon them. they think a girl will like him for buying her shit and taking care of her.

unfortunately when a women sees the nice guy she thinks this but in reality

most nice guys are trying to create the sexual attracting and peer to peer convo the girl is looking for but are less aggressive than the jerk about it.

I don't know something like that