I'm the kind of guy who likes to discover music beyond the mainstream. And this year I have been listening to lots of Rock-related music, unlike the previous years. That made me change my musical point of view by a good degree, leaning towards a more Rock direction musically. Whether it might be Progressive Rock, AOR or just Hard Rock.
Now listening to some Depeche Mode albums again after many months, I'm like How I was listening to this shit? These guys are overrated to the core.
Someone might wonder why I chose Depeche Mode. As I said above, the reason is those guys are praised more than they deserve. And I have a thing with such bands.
Let's see why they suck and they don't deserve their fame:
(In alphabetical order)
1) I listen to their music in the summer beach bars
Especially Enjoy The Silence. I just cringe! It's one of the songs that I know all the lyrics, because they are overplayed. Among all the classic hits you choose to play this. That's why DJs suck and have no idea about music. See below.
2) Most DJs are Depeche Mode fans
How is this bad? Because most DJs have no idea about music as I said before. They just play what they were told to play, even the most successful ones. They are just puppets. A guy told me once Ask any DJ if they like Depeche Mode. 99% among all, will tell you they adore them.
3) Their frontman cannot play an instrument or write the lyrics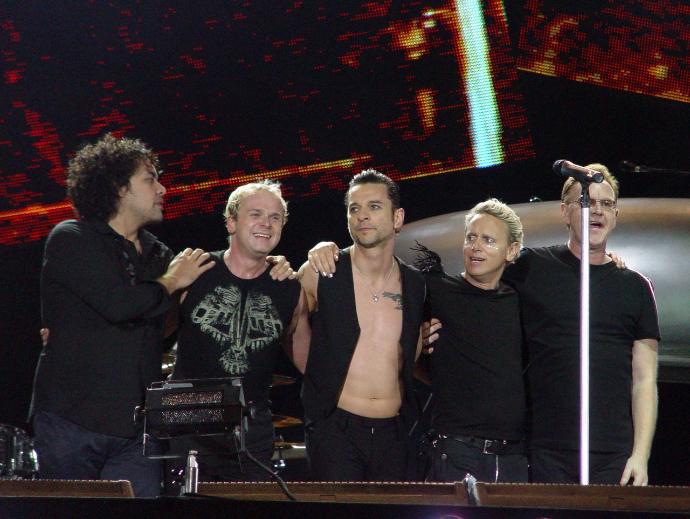 He just sings. Martin Gore writes the lyrics. And Martin Gore and Andy Fletcher plays the instruments. Dave Gahan technically does nothing. Isn't it overrated? Artists like Rihanna and Justin Bieber receive lots of shit because the songs they sing are written by others, but Depeche Mode are considered quality. Quality my ass! A singer that cannot write his/her own lyrics (at least) just sucks!
4) They are one of the few 80s bands that most youngsters recognize and listen to as well
So figure out about what kind of a band we are talking to. The average youngster nowadays, isn't notorious for his/her good taste in music.
5) They are sellouts
Any 80s band, who had commercial success in the 00s and 10s, they are sellouts in my opinion. They try to adopt the modern sound, just in order to have a piece of the pie. It would be better to remain as 80s legends, than trying to be acceptable in the current music industry.
6) They didn't invent Industrial music
Don't make me laugh. They attempted to make pseudoindustrial music with their song Pipeline from the album Construction Time Again, whilst Industrial Music existed before they existed themselves. Ultravox made an attempt at this genre in 1978, with the song Dislocation from the album Systems Of Romance, making Depeche Mode sounding like ridiculous bad copycats.
7) They didn't invent Synth-Pop
Many consider them also as Synth-Pop pioneers, but they are not. They came two years late. Yellow Magic Orchestra and Gary Numan were the true pioneers, in 1979. Depeche Mode made their debut in 1981.
---