I've written already written many takes about comics, so I thought I would write one about the live action films now. As the title suggests, this is going to have both facts and opinions inb4 someone comments saying "That's just your opinion". I'm aware that other people feel differently, and that's perfectly fine.
Scarlet Johansson isn't a good Black Widow.
I'm not hating on her acting skills since she's a good actress and I loved her in some of her other movies. I just don't think she's the best choice for the role of Black Widow. I was a little disappointed that she couldn't pull off a Russian accent, but that doesn't bother me as much. She just doesn't seem like a deadly assassin to me. I do think she did a good job portraying a spy and a double agent, but not an assassin.
Apparently, Marvel's first choice for the role was Emily Blunt, but she turned it down. I do think she would have been better but oh well ¯\_(ツ)_/¯
Hugh Jackman is too tall to play Wolverine.
I already mentioned this in my Wolverine take, but thought I'd share it here too.
Now this doesn't really bother me, but I just thought I'd point it out. It's hard to imagine someone else playing the role.
Chris Hemsworth is still too small to play Thor.
He actually did bulk up a lot for the role and apparently they had to make a new outfit for him since the old one didn't fit. He's 6'3" and 201 lbs, but he's still not like comic book Thor. I'll just post a screenshot from Marvel's website.
His weight might surprise a lot of people since he doesn't look that heavy even in the comics. One of the reasons he weighs that much is because his skin, muscle, and bone tissues are several times more dense than that of a human being. This is also one reason why bullets and sharp objects usually don't hurt him. That being said, I don't expect him to actually weigh 640 lbs, but they still could have made him look more muscular.
He did seem really big in Thor since he towered over almost everyone in the movie. This didn't seem to be the case in The Avengers though, since he was alongside Chris Evans and Samuel L. Jackson. He was still the tallest among the entire cast, but he didn't look like someone who could bend steel with his bare hands.
Christian Bale's performance as Batman was mediocre.
I did enjoy the trilogy and The Dark Knight is arguably my favorite superhero movie, but very little of it had to do with his performance. It was good because of the script and the villains. I did like the majority of the cast, but he was just average. He did make a good Bruce Wayne but not a good Batman. One of the reasons was his facial expressions. His expression for the entire trilogy was something like this.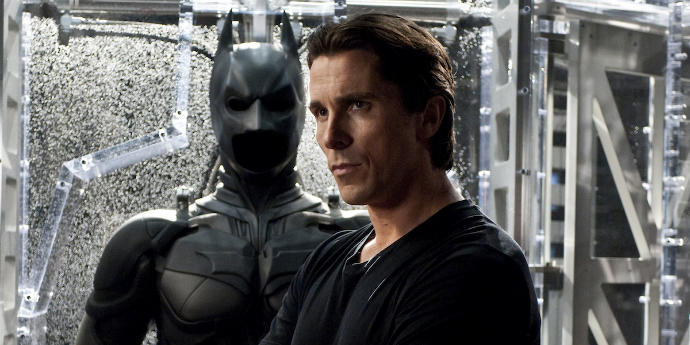 I do think he has the serious look for the role of Batman, but it doesn't make sense to have that expression pretty much all the time. The same applies to his voice tone too. It was just hard to say what he was feeling and he did a bad job at showing his emotions.
I feel the opposite about Ben Affleck though. He had the best live action performance till now but his character was written terribly and wasn't in the least bit likable. He would have been my favorite live action Batman if the writers did a better job. Right now it's Michael Keaton, but my favorite Batman is Kevin Conroy.
Flash Thompson is now Deathstroke.
Yes, I'm talking about Joe Manganiello. He played Peter Parker's bully, Flash Thompson, in the 2002 Spider-Man film.
He's been cast as Deathstroke in the DCEU. He might be playing the role either in Suicide Squad 2 or the Batman solo film.
Green Goblin is now Vulko (and sadly not Joker).
William Dafoe is a pretty well-known actor and people really liked him as Norman Osborn/Green Goblin. He's confirmed to play Vulko in the DCEU. For those of you that don't know who Vulko is, he's been an on-again-off-again confederate of Aquaman in the comics.
I'm surprised he hasn't been the Joker though. I think he would be perfect for the role. He has the look and talent for it. He represents the exact, insanely crazy Joker I've always imagined.
J Jonah Jameson is now Commissioner Gordon.
You heard that right. J. K. Simmons is playing Commissioner Gordon in the Justice League movie.
Batman is now Vulture.
It was confirmed a long time ago that Micheal Keaton would have a major role in Spider-Man: Homecoming. There were rumors that he would be the villain and also that the primary villain in this movie will be Vulture. These rumors have been confirmed now. For those who don't know who Vulture is, he was the second supervillain that Spider-Man ever fought.
Iron Man's Hulkbuster suit in Avengers: Age of Ultron was named after a character in one of my old profile pictures.
That might be confusing to understand by reading just that, so let me explain it. In the movie, Tony says "I'm calling Veronica" right before bringing out his armor to take on the Hulk.
This is a reference to Veronica Lodge from the Archie Comics. I loved reading them as a kid and they were among the first comics I've read (which ironically isn't about superheroes but more of a teen comedy). The series is usually about a love triangle between the characters Archie, Betty, and Veronica. If you're a fan of Hulk, you probably know that he's in love with the character Betty Ross. I'm just going to quote Joss Whedon directly to explain the rest.
You know, I just decided to call it Veronica because he used to be in love with a girl named Betty. And Veronica is the opposite of that.
Veronica used to look like this for the majority of the series.
That's the look I'm more used to. However, they rebooted the series last year and gave her (along with many other characters) a new character design.
A lot of people have been asking me who that was in my profile picture, so there's the answer. If you wanna know who the one in my current pic is, that's Betty; Archie's other love interest.
Jared Leto isn't the most attractive Joker. Heath Ledger looked so much hotter (even with his Joker makeup).
I've been hearing so many people say that Leto's Joker is the most attractive but I don't see it. Heath Ledger is gorgeous though. Just look at that face.
I can't really comment on Leto's performance though, since I haven't seen Suicide Squad yet. But from what I heard, he hardly got any screen-time and his relationship with Harley Quinn is actually romantic (which is just wrong on so many levels).
It's good that Captain America: Civil War didn't follow the comics.
There are a bunch of reasons I feel this way but it all boils down to this: Tony was a dick.
I was actually Team Iron Man in the start of the Civil War comics since I agreed with him only because of the situation they were in, but he was just very out of character. A lot of villains used the Superhero Registration Act as a get-out-of-jail card and he even let them do it. He also started hiring villains to fight for him and hunted down anyone who opposed the act. I was able to look past all of that but I ended up switching sides after the "Thor" incident. I knew he had gone too far. I lost respect for both Tony and Reed. The only pro-registration character that I agreed with was Deadpool, and his reason was "It's for people like me!" (although I wouldn't be surprised if Tony was paying him).
Thor himself was pissed when he found out after the war what really happened and gave Tony the beating he deserved.
Now I was Team Cap in the movie, but I could see where Iron Man was coming from and even felt sad for him towards the end. The movie did a much better job showing both the sides. There were a few things that I do think that they should have taken from the comics though, like more characters besides the Avengers. I could see why they chose not to do that though, especially since Marvel doesn't have the movie rights to all the characters.
This is probably another unpopular opinion, but I was disappointed with Spider-Man in the movie. He had a much bigger role in the comics but only made an appearance for one fight in the movie. I don't think the movie was perfect and it definitely did have its flaws, but I still enjoyed it.
Jason Momoa should play Lobo rather than Aquaman.
I haven't seen him as Aquaman besides a cameo, so I can't really form an opinion yet. He does fit the look of Lobo more though. I'm sure I'm not the only one who feels this way.
Captain America and Bucky are the only characters in the MCU who are stronger than their comic-book counterparts.
A common complaint I hear among Marvel fans is that many of their characters are portrayed as less powerful in the live action movies. This is actually true for characters like Thor, Hulk, Scarlet Witch, and Ultron. However, Captain America is actually stronger in the MCU.
For those of you that haven't read comic or didn't know about this, he does not have superhuman strength in the comics. Marvel's official handbook describes him as peak human. Here's a scan directly from it.
He definitely can't toss motorcycles or stop helicopters from moving in the comics.
Warner Bros. should stop trying to make all DC films "dark and edgy".
That was my biggest problem with Man of Steel. We got a Superman that rarely ever smiles, which is very unlike him. He seemed more like Batman with powers to me. I thought that would change in Batman v. Superman: Dawn of Justice, but nope. It seems to me like they're trying to make all their characters like Batman. I love Batman too but I'd really like for them to focus on other characters.
Let's not forget that even Arrow is a Batman rip-off since they can't have a Batman show. Even many of the villains are Batman villains.
Kilgrave is the best villain in the MCU yet.
I do think Loki is a close second but even he doesn't come close to Kilgrave. Kilgrave seems more evil and I got a more scary vibe from him. For those of you that haven't watched Jessica Jones, Kilgrave is the primary villain in the first season.
He's called Purple Man in the comics and is played by David Tenant, who is one of my favorite actors. I loved him as the Tenth Doctor in Doctor Who, so it was weird seeing him as a villain.
---