Well, I will try to make this list as accurate as possible, using the album sales and chart positions of the songs (with the US market coming first, then the UK market, and then everyone else) as the main measure.
Also, bands who have been involved with Glam Metal for one or two albums but they started as a Hard Rock band (like Kiss, Krokus or Aerosmith), are not included. Also bands like Guns 'n Roses or Mr. Big (!) who are labelled as Glam Metal sometimes but I believe they were more like Hard Rock (in G 'n R case) and Alternative Rock (in Mr. Big's case), are not included too.
20) Faster Pussycat
Apart from two Gold albums (Self-Titled debut, and Wake Me When It's Over) and a US Top 30 Hit (House Of Pain), the band had no further success, but still they remain a popular name among the Glam Metal crowd.
19) L.A. Guns
Two Gold albums on their backs (L.A. Guns and Cocked & Loaded) and a US Top 40 hit (The Ballad Of Jayne), the band achieved nothing more, but more like a cult following. It's also notable that the band was one of the few Glam Metal acts that met success in Japan. Particularly their album Hollywood Vampires reached #20 in the Japanese album charts!
18. Kix
A one hit wonder band for sure. But the song Don't Close Your Eyes, is one of the most recognizable tunes of that genre, so they deserve a place in the 20 most successful bands of the genre. Thanks to this song, the album Blow My Fuse (which included Don't Close Your Eyes) reached Platinum status.
17) Steelheart
Although not commercially successful unlike other bands (they had only a Gold album), judging by the number of views in YouTube, of the songs She's Gone and I'll Never Let You Go (both have more than 10 million views!), seems like the band found success much later (I ignore, how they found though). I don't know but my guess is, they are more successful in other countries than the US, and their sales there are not mentioned.
16) Vixen
Vixen were pretty unique for a Glam Metal band for two reasons mostly. They were an all-female Glam Metal band (and maybe the only one all-female band of the genre), and also their success in the UK was slightly bigger than in the US! They almost made it in the US Top 20 twice with Cryin' and Edge Of A Broken Heart (#22 and #26 respectively), but in the UK they had seven minor hits ranging from #27 till #59 spots.
15) Dokken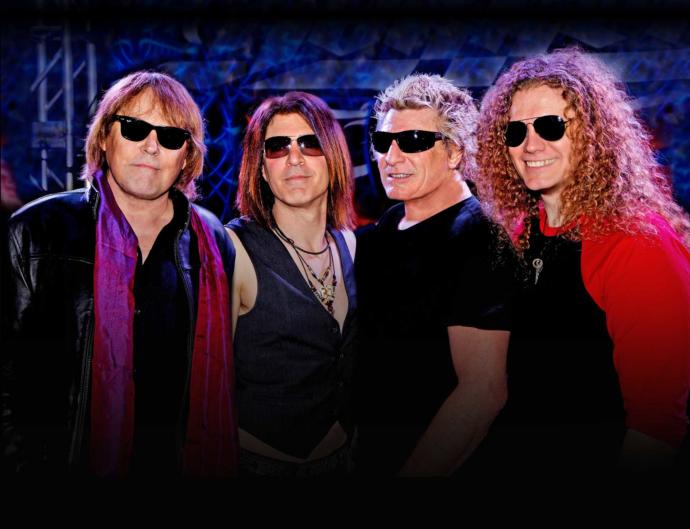 Not so successful in the US Hot 100, but they were moderately successful in Mainstream Rock charts pretty frequently. They didn't have any huge hit, but multiple minor hits instead. And three Platinum albums, are not a bad achievement either.
14) Winger
Winger reached the US Top 20 twice. Once with Headed For A Heartbreak (#19) and once with Miles Away (#12) from τheir Self-Titled album and In The Heart Of The Young respectively. Both albums achieved Platinum Status in the US. Although since their second album their commercial success declined dramatically, they still hold a high reputation as a Progressive Metal band.
13) Twisted Sister
Twisted Sister started more like an almost NWOBHM band (!), gaining success in the UK first, and later gaining success in America with the album Stay Hungry and their commercial hits I Wanna Rock and We're Not Gonna Take It, mostly famous for their signature MTV videos, featuring the actor Mark Metcalf as a teacher and as a parent respectively. Although the band has to release a new album since Love Is For Suckers from 1987 (OK they released a Christmas album in 2006, but those don't count), they remain popular thanks to Dee Snider's (the frontman of the band), outrageous personality.
12) White Lion
There's a debate whether they are Glam Metal or not, because they were different than most acts of the genre when it came to lyrics. Most Glam Metal acts were singing about women, sex and fast cars and generally about the good things in life, but White Lion had deeper lyrics (see songs like El Salvador, All Join Our Hands, When The Children Cry or Cry For Freedom). Sound-wise also they were a little bit more serious, but image-wise they are closer to the Glam Metal realm, hench they are considered part of the Glam Metal family as it seems. Their album Pride became double Platinum featuring the two US Top 10 hits, Wait (#8) and When The Children Cry (#3). Their third album Big Game, also reached Gold status, but apart from that no hit singles came out of the album. Surprisingly, the song Cry For Freedom, was their biggest hit in the UK reaching #47, surpassing both Wait and When The Children Cry (both reached only #88 there).
11) Quiet Riot
Quiet Riot are known perhaps as one of the first band that brought Glam Metal to the masses, and also the first Metal –in general- act, that made it in the #1 spot in the US albums charts (Metal Health). The album achieved multi-Platinum status indeed, becoming six times Platinum and also a US Top 10 hit (Come On Feel The Noise) which was a cover by Slade. Their second album Condition Critical reached Platinum status, a great achievement generally, but a disappointment if we compare it with Metal Health. Although less successful in the US, Condition Critical charted in various European countries, making them known outside the US borders. This album also featured another Slade's cover, Mama Weer All Crazee Now, which was a minor US hit (#51). Their frontman Kevin Dubrow was known for his improper behavior at the time, bashing the other Glam Metal bands, which was perhaps the main reason Quiet Riot lost their momentum, and even ending up firing him from the band. Also the fact that they chose another Slade's cover as the single from the second album, contributed to their fall from grace, since it would give the impression that they have no original material themselves, but they were more like a Slade tribute band.
10) Warrant
Despite Cherry Pie being their signature song, their biggest hit in the US was Heaven, reaching #2 in the US charts. Both Dirty Rotten Filthy Stinking Rich and Cherry Pie albums went double Platinum, but since then the album started to lose momentum, because of…well you know that already, I don't need to repeat it. Even If Warrant embraced the Grunge genre, and during the mid-90s they became essentially a Grunge band with the albums Ultraphobic and Belly To Belly. But again they came too late to the party, because Grunge trend was also on its last legs during 1995-1996 (I believe it started to decline since Kurt Cobain's death in mid-1994), and what was popular by the time was more like a generic Alternative Rock sound a la R.E.M. or the 90s version of U2.
9) Ratt
Unlike the other Glam Metal bands mentioned below, Ratt were virtually unknown outside of the US borders, apart from Australia or Canada by a small degree. But in 1984 they were the biggest Glam Metal act for sure. Quiet Riot have lost momentum since Condition Critical, and Def Leppard's Pyromania circle has been put an end. Bon Jovi were still an opening act by the time.
8. Extreme
Well, sometimes their sound is described as Funk Rock/Metal, and being closer to the sound of bands like Red Hot Chili Peppers. But during the first couple of albums, they were more like a Glam Metal act I believe. Anyway, they are widely known for their song More Than Words, and frequently described as an one-hit wonder band, despite the fact that Hole Hearted reached #4 in the US charts. The former's success was so huge, that overshadowed the latter. Anyway, the album Pornograffiti, became double Platinum, and it's considered one of the most successful Glam Metal albums ever. Still I believe it's not so representative of the Glam Metal sound. Their debut is more representative in my opinion.
7) Cinderella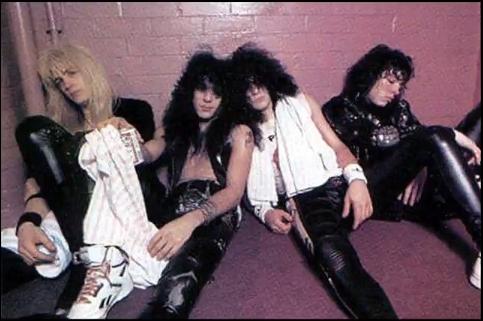 Nowadays, Cinderella are unfortunately remembered as a two-hit wonder band (Nobody's Fool and Don't Know What You Got (Till It's Gone) are their biggest hits). Coming Home also hit the US Top 20, but it remained as one of the "forgotten" Top 20 hits. Their debut album Night Songs, brought them huge American success, and they were for sure one of the Top 5 Glam Metal acts during 1986. Their second album Long Cold Winter made them big on an international level, so by that point they were on top of their game. Their third album Heartbreak Station did fairly well (it went Platinum in the US), but since then, the band lost momentum, even if they changed their style to cater the 90s audiences.
6) Skid Row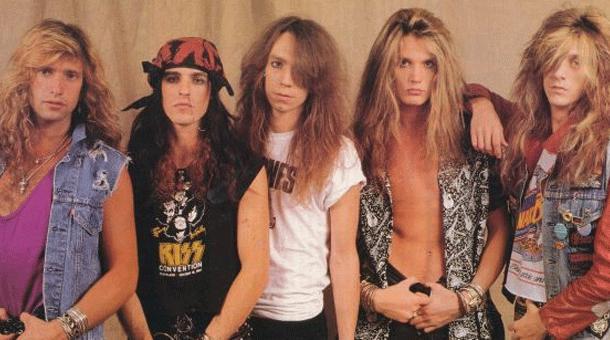 Not a band with a huge discography (only five albums since 1989), but still I see people here and there, wearing Skid Row t-shirts, and that means a lot. Actually they released only one Glam Metal album (their debut). Maybe Slave To The Grind would be considered borderline Glam Metal, but leans towards a traditional Heavy Metal direction. Anyway, both albums were a huge international success, and Slave To The Grind reached #1 in the US album charts! It's notable to mention, that this album was released a few months before Nirvana's Nevermind though. If STTG released after it, then I believe it would not have the same luck.
5) Europe
If there is a Glam Metal signature song, then this would be The Final Countdown. Perhaps the most successful song of the genre, reaching #1 in twenty five countries in total! Although in the US (which was basically the main Glam Metal market) reached only #8. A great spot generally, but if we consider that it reached #1 in twenty five countries, then yeah #8 is a little bit disappointing. But the song Carrie did better in the US, than any other country (including Sweden), so not a disappointment at all. In the US they also had two other Top 40 hits (Rock The Night and Superstitious) The band was already popular in their homeland Sweden before The Final Countdown album (which was their international breakthrough album) and still remained popular there after it. Actually Superstitious from the album Out Of This World was their last big international hit and a #1 in Sweden, but after it their popularity declined on an international level.
4) Motley Crue
Along with Quiet Riot (Metal Health) and Def Leppard (Pyromania) they are considered one of the bands that started the Glam Metal trend, with their album Shout At The Devil, which reached its peak during the second half of the 80s. Motley Crue reached their peak with the release of the album Dr. Feelgood in 1989, which reached #1 in the US album charts, and also #4 in the UK charts, and became Platinum six times! But since this album they suddenly…fell from the top of the mountain! I cannot tell whether it was tensions between the band members or the rise of the Grunge genre, but Motley Crue never recaptured the success they had during the 80s, but they were pretty successful in the 90s (not as much as they were in the 80s of course) with their two 90s albums (Self-Titled and Generation Swine) reaching the US Top 10 in the album charts and also reaching Gold status. Not bad if we consider most Glam Metal acts vanished from the map during the 90s.
3) Poison
One of the few Glam Metal acts that reached the #1 spot (Every Rose Has Its Thorn) and one of the biggest bands during the late 80s and early 90s, especially in the US. Their success in other parts of the world was big as well, but since their album Flesh And Blood, as the music scene started to change, their success has declined. Their album Native Tongue from 1993 was moderately successful though.
2) Def Leppard
Well, not a pure Glam Metal act, since they have NWOBHM roots and their first two albums (On Through The Night and High 'N Dry) are part of the NWOBHM genre. But most people remember them as a Glam Metal band, for songs like Love Bites and Pour Some Sugar On Me. But their biggest triumph actually was the album Adrenalize. Released during a time when musical scene has been changed drastically (in 1992), it reached the #1 spot, both in the UK and in the US. Their album Hysteria is of course their biggest selling album, where the singles Love Bites, Pour Some Sugar On Me and Armageddon It reached #1, #2 and #3 in the US charts respectively. But after Adrenalize their success has been toned down by a good degree, yet without disappearing completely from the map.
1) Bon Jovi
I believe you would knew the answer already. Nobody can deny that Bon Jovi are the kings of that genre. Reaching the #1 spot four times in the US Hot 100 (Livin' On A Prayer, You Give Love A Bad Name, I'll Be There For You and Bad Medicine) and also having five other Top 10 US hits, and carrying on their success in the 90s (Always) and in the 00s (It's My Life), when almost any other band of that genre vanished from the map even when they changed their style, leaves no room for doubts that they are the top dogs of their genre. Of course their fame isn't limited in the US, but it's global. Their first four albums (Self-Titled, 7800 Fahrenheit, Slippery When Wet and New Jersey), are milestones in the whole Rock 'n Roll history.