As many of you on here know, I am a big baseball, and American Football fan. While I'm not much into any other sports, I still appreciate arguments involving sports. These arguments can include the best teams/players, how a game is won, analyzing statistics, and just flat out arguing of why a team should/shouldn't exist. That's the beauty of being a sports fanatic.
The problem is, so many people use very common arguments for team sports which are irrelevant, invalid, or just flat out absurd. Some of these arguments can be used for solo sports such as golf, Singles Tennis, auto racing, swimming, boxing, wrestling, etc., but when it comes to team sports, they simply don't work. If you're ready to read the list of stupid arguments, keep going. When you read them, you will notice every argument pop up on your local Twitter/Facebook feed, or ESPN news reel on a daily basis.
Argument: The "Homer Fan" Who Defends His/Her Team No Matter What
I'm not sure where the term "Homer Fan" came from(The Simpsons maybe?), but this is a fan who shows such extreme favoritism for his/her team, that this particular fan defends their team no matter what.
I don't see this as much in baseball, or hockey, as much as I see it in football, and basketball it seems. For instance, in the NFL, there is a continuous debate as to who the "greatest quarterback of all time" is. Many of the fans are Homer Fans, and it looks something like this: Patriots fans will say Tom Brady is the "GOAT", 49ers fans will say Joe Montana is the GOAT, Colts/Broncos fans will say Peyton Manning is the GOAT, Steelers fans will say Terry Bradshaw is the GOAT, Saints fans will say Drew Brees is the GOAT, Packers fans will say Aaron Rodgers is the GOAT, and the arguments continue. In the NBA, Cavaliers fans are arguing LeBron James is the GOAT, while Bulls fans will say Michael Jordan is the GOAT.
Aside from competition, they will defend their favorite players, from on-field antics to criminal behavior. For example, back in 2010, my favorite team the Reds got in a huge brawl with the Cardinals. But I even admitted that the player who instigated the fight(Brandon Phillips) who was on my favorite team should have been suspended. I've seen Homer Fans defend the players on their teams for on-field antics, cheating, off-field criminal behavior, you name it.
Please-just admit your team isn't perfect, and can do no wrong, and has no faults. Even if you have the best team in your particular sport, there are always flaws.
As a Reds fan, I think Homer Bailey is the best Pitcher of all time!
Argument: Defense Wins Games
This argument is universal in team sports these days. The reason why you don't hear "offense wins games" is because offense in sports is already overrated(I'll admit that much). However, this "defense wins games" argument is over-blown these days, and it seems to be more, and more common.
Basically, it's as simple as it sounds: Defense is either the sole reason, or main reason a team wins a game. Let's attack the first notion: It's not the only reason a team wins a game, as that's literally impossible. In baseball, if no team shows up for pitching, or defense, the game can't go on, and will be forfeited. In football, if no defense shows up, the Quarterback would just throw it to an open Wide Receiver, and get a Touchdown every time. I don't need to go through every sport, but you get the jist: There has to be an offense to win a game. Period.
Now, onto the other notion: Is defense the main reason a team wins a game? Not necessarily. For instance, in the MLB, there are top tier defenses who don't even make it to the postseason. In the MLB for 2017, five out of the top ten defenses in baseball didn't even make the postseason. That's half. Four of those teams didn't have a winning record. The reigning World Series champion Astros were ranked 29/30 in defense in 2017.
In the NFL(or football in general), the top defenses don't necessarily win the Super Bowl, or win games either. The Patriots' are in the midst of a dynasty, and putting their cheating scandals aside for the sake of argument, they are definitely more of an offensive team than a defense team. And in the NBA, the "super-teams" are a good blend of offense, and defense-And is Sydney Crosby known for his defensive skills in the NHL?
The bottom line is, if a team is unbalanced, it more than likely won't win games. In the 2016-2017 NFL season, the Houston Texans had the number one defense in football, but one of the worst ranked offenses in football as well-and they lost in a blowout to the Patriots in the playoffs. On the other hand, a team with a number one offense, and bottom tier defense wouldn't do well either, just ask the 2016-2017 New Orleans Saints. If a team has a top tier defense, and average offense, that can work, and easily win games. Vice versa, and it can work well too.
But please, quit saying "defense wins" games. Just say: "Well balanced teams" win games.
The Bengals won 2-0 today thanks to a Safety. See, defense wins games!
Argument: If [Insert League] Has Another Lockout, They Will Lose Most of Their Fans
This argument was common in the NHL in 2012, when they decided to go on another lockout. Basically, it's saying the fans will become so angry at the players protesting the sport to make even more money, that the fans will quit showing up. This makes perfect sense-except, sports fans are sports fans for a reason: They like to watch sports.
The fans always come back, which is why millionaire athletes and billionaire owners get so contentious when divvying up enormous profits during the offseason. When the NFL had their lockouts in the 1960's/1970's, the sport actually became more popular afterwards. The NHL lockout in 2012-2013 was very recent, and now we have a Las Vegas NHL team which is in its inaugural season, and the NHL is more popular today than it has been in decades. After the MLB Strike in 1994, the sport peaked for attendance, mainly due to the "steroid boom", and offense era. Oddly enough, there seems to be a correlation between lockouts/strikes, and growing attendance numbers the years that follow.
The fan who says he/she won't watch if their league has another strike is like the person who keeps saying they will deactivate their GAG, or Facebook account: It makes moral sense, it looks tempting, and should be done-but at the end of the day, you aren't going to do it. Don't deny it.
Due to this Strike, baseball will fold under in the next ten years, and become obsolete. Mark my words-MLB fans, circa. 1994
Argument: Many Players/Teams Cheat, So Who Cares If [Insert Player/Team] Cheats?
This argument is valid for non-team sports as well. You know where I'm going with this:The New England Patriots. They have been heavily speculated(basically caught) for their 2007 antics in the Spygate scandals, and most recently, the 2014 antics in Deflategate. Sure, it's speculation, but it's speculation with an abundance of evidence as well.
The problem is, this is assuming cheating isn't wrong just because other people cheat. As a teacher, that's like me allowing a student to cheat, because I know other students are cheating. It's like saying murder isn't bad because many people murder. I could go on, and on showcasing how flawed this premise is.
I'm not saying cheaters should be outright *banned* from professional sports, but I do think they should lose their privilege to their respective Hall of Fame, and have an asterick which haunts their record forever. If I were to get caught cheating in college, it would do the same to me.
Barry Bonds, Mark McGwire, Roger Clemens, Sammy Sosa, Lance Armstrong, and Tom Brady may have cheated, but they're all sports legends.
Argument: Championship Titles Define an Individual Player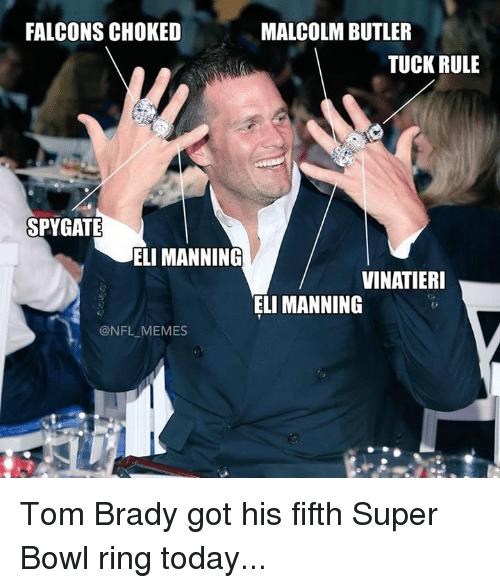 I saved my most passionate argument for last.
I won't touch the NHL, or NBA too much here, because as I previously mentioned, I'm not too informed in those sports anyway. Just answer me this: Do you think Henri Richard is the best NHL player of all time? Do you think Bill Russell is the best NBA player of all time? I've heard people answer "yes" for both of them.
In the NFL, I'll set aside Deflategate, Spygate, and any other "gate" I can think of, and just focus on Tom Brady without that fuzz: Tom Brady doesn't have any individual, or semi-individual career records. He doesn't have the single-season record for Passing Yards, Touchdown Passes, or Quarterback Rating. He does have the most Super Bowl titles, with five-but Bart Starr also had five championship titles before Super Bowls existed. However, the NFL doesn't preserve its history, so they "don't count." Either way, it's a team sport. Team Sport. Team sports are known as team sports because they involve a team to win them. Despite this, Tom Brady is hailed as the "GOAT" Quarterback because he's the only one with five Super Bowl wins. His first three Super Bowl titles were defensive wins, and he won his fourth one due to an Interception by Malcolm Butler. Even in the "comeback game", he still needed his defense to step up for him to win. And don't even mention defensive player Charles Haley, as he wasn't even that great, yet, won five Super Bowl rings. I don't care if the Quarterback is the most important position on the field, and I don't care if they "lead" their team to victory. Quarterbacks can't play defense. Quarterbacks still need a beefy Offensive Line, sufficient Wide Receivers/Tight Ends, adequate coaching, and a good Running Back helps. Tom Brady has also been blessed with a legendary coach his entire career, Bill Belicheck. Quarterbacks still need at least a mediocre team to surround them for success.
In the MLB, I don't hear this argument near as much, but I've seen Yogi Berra revered as the best MLB player of all time, due to his ten World Series rings. He was on the dominant Yankees in the 1940's/50's, and part of the best team in MLB history. Yogi Berra is an easy top ten Catcher of all time-and even then, I would have a hard time calling him the best Catcher of all time. Out of all MLB players in history(even not comparing him to Pitchers), I wouldn't put him as a top 20 player. Mike Piazza is arguably a better Catcher, yet, finished his career with zero World Series titles. Zip. Nadda. He only went to the big series one time in his career, and was unfortunate enough to face the 1990's-2000's dynasty-led Yankees. With Pitchers, I don't think too many people are calling Javier Lopez the best Relief Pitcher of all time, due to him having the most World Series rings out of all career-long Relief Pitchers, with five(tied with Mariana Rivera). Ernie Banks was a Hall of Famer who never even smelled a postseason game. Not one playoff game, dammit.
At this point, you might tell me there is a correlation between elite athletes, and championship titles in all sports-even team sports. True, but this is very simple to understand: Chances are, if a team has a championship titles(especially a dynasty), that team had elite players. The Patriots in the NFL have not only had Tom Brady, but Wes Welker, Randy Moss, Rob Gronkowski, Brandin Cooks, and the legendary Belicheck during their dynasty. The 1990's Yankees were basically an all-star team. Do the Golden State Warriors not have a "Super Team" right now?
Please, quit using this argument. I don't care if you use every other argument on this list, just nulify this one.
Trent Dilfer is better than Dan Marino, because of rings, that's why.